Who Was Marchesa Luisa Casati?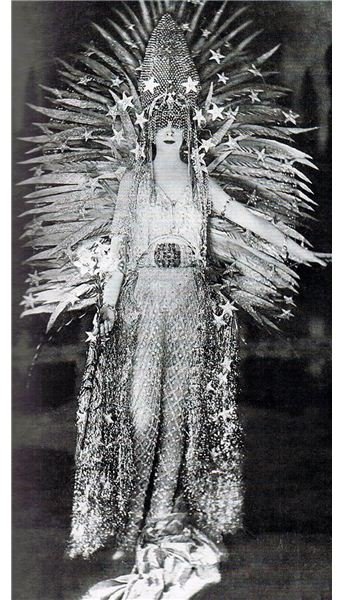 Her Birth and Place
Milan, Italy was enjoying a cultural boom and an economic renaissance in the year Luisa was born: 1881. Just a mere 25 years before, her birthplace had won its independence from foreign control and joined the newly united kingdom of Italy. Having been dominated by other cultures previously, this burgeoning territory wore its ambience as the result of being under the thumb of French, Spanish and Austrian empires. Setting and place factored heavily into Luisa Casati's life and this bustling region, known as one of the world's most refined cities, fostered an ever-increasing prosperity.
Luisa's father, Alberto Amman, certainly prospered because his father had developed a lucrative commercial enterprise with the Hapsburg Empire in the textile and yarn trade. Known foremost for the business of cotton, Milan's, and indeed, Amman's advances in engineering and technology would make the city the world's premier exporter of textiles.
Thus, the second girl child born to Lucia Bressi and Alberto Amman arrived in the city—one of several residences—on January 23, 1881. Her sister Francesca had been born only one year before on January 22. Luisa was christened Luisa Adele Rosa Maria Amman, although affectionately called Ginetta by her family. The Amman sisters grew up in the style of the affluent, with a governess in a mostly secluded environment, as was the custom.
The Little Artist
Luisa showed a propensity for art and every day she would attend to her drawings. The little artist pored over images in her mother's magazines—mainly the ones that featured portraits of contemporary personalities such as would be found in L'Illustration, a Paris periodical. She often imitated them in her own self-taught way by making ensemble portraits of her family including cousins, uncles, aunts and the lot, showing them playing croquet or in more formal poses.
Despite her talent and access to museums and cultural outings, Luisa was shy and in keeping with the existence of other well-to-do children of the era, she had very little contact with girls her age. Unfortunately, Francesca and Luisa's mother suffered an untimely death when she was only 37 years old. Everything became all about private tutors. The girl's father could not separate himself from the affairs of his complex industry and he died just two years later at age 49. This made the girls the wealthiest heiresses in the country with holdings including the Amman cotton factories, villas at Erba and Monza and apartments in Milan, along with a fortune in stocks, bonds and funds.
Coming Out
In 1898 when Luisa was 17, she cut her own hair in a bob. Her wisps and curls framed her face and softened her features—and even though during her lifetime she would change the red hue, the self-created hairstyle became her signature look.
As a debutante, Luisa attended countless parties, cotillions and theatrical productions. This is where the 18-year-old heiress would meet her future husband, Camillo Casati di Soncino, a 21-year old dashing lieutenant in the second cavalry reserve. Italy's register of national nobility contained the name of Casati many times in the guise of dukes, marcheses, counts, senators, bishops, etc. The Casati coffers were scant, but the marriage would now give Luisa impressive ancestry and in turn, give his name nouveau riche flair.
Vitellini, a Milanese society portraitist captured the newly engaged, bride-to-be in the title of Marchesa, and she was immortalized on canvas. The portrait is unfinished though, as she grew tired and would not sit for more than a half-hour at a time. The couple was married in 1900, and her venture as a sophisticated Belle Époque—the Gilded Age woman began.
The Belle Époque woman was part of an era that christened the Paris Exposition; also, in came an era of Art Nouveau style, an era of fashion consciousness, an era of scientific and technological advancement, and the era of super rich and very poor. An 1882 study of Parisians concluded that 27 percent of Parisians were upper-or middle-class while 73 percent were poor. During America's "Gilded Age," the wealthiest 2 percent of American households owned more than a third of the nation's wealth, while the top 10 percent owned roughly three-quarters. Extravagant parties consumed the upper class of all nations.
The D'Annunzio Connection
The Villa Casati at Cinisell Balsamo, a stately house at the edge of a fashionable park in Italy, was home to the married couple most of the year including their neglected daughter Cristina, who was under the thumb of a strict German governess. Luisa took to organizing lavish parties and the decoration of the occasional costume ball for charities. Some of the galas were legendary.
During an aristocratic party of foxhunters, Gabriele D'Annunzio, a popular poet, playwright, novelist and womanizer, caught sight of the Marchesa Luisa Casati. This moment of his seeing "a young, slender Amazon" as he called her, began an intense and bizarre union. Luisa, already at age 22, felt constrained in her role of the demure Catholic wife of the Marchese Casati. At first, she put all her angst into remodeling their homes. Then, Camillo's inattention and her own boredom threw her into uncharacteristic boldness. The zest for new experiences put Luisa and D'Annunzio together in infidelity—and in a friendship that would last their lives.
Fancy Dress
Because of the loveless marriage and the urge for new experience, Luisa Casati took a home in Venice in 1914. A somewhat derelict 18th century palace had been used as a kind of rent house on the Grand Canal called the Palazzo Venier dei Leoni. She redid the design, hiring a team of the country's best designers, carpenters and painters to restore the sprawling wreck. Chandeliers cast a glow on white marble, alabaster vases held ivory roses and chunks of crystal, all lit. Gold lace curtains adorned the windows—in other words, it was over-the-top and she spent millions. What would be the crowning touch?
Animals. In keeping with a black and white theme, there were flocks of white peacocks, albino blackbirds—their screeches echoed across the lagoon. The black and white greyhounds were constant companions. She added a pet boa constrictor, cheetahs dressed in diamond collars, other assorted cats and gold-painted servants. The perfect backdrop for outstanding parties. A reliable gondolier was on call at all times. He wore a velvet suit, embroidered waistcoat, powdered wig and panther-skin skullcap. Even the gondola was decked out in black damask, silk scarves and tiger and leopard pelts.
Men noticed and she had lovers in addition to D'Annunzio; and artists willing to immortalize her, although mainly, Luisa Casati made her conquests through the art gallery rather than the boudoir.
During those years, she transformed her look. She was six feet tall and quite thin with chiseled cheekbones; her red hair became redder, her face paler. She rimmed her eyes with layers of black kohl and even pasted on black velvet lashes for a more intense look, and this contrast of light against dark fought for attention from her red lips. Accounts say she took doses of belladonna, a poisonous plant, to dilate her pupils and make them darker.
In keeping with her new image, she was photographed by Beaton, painted by Augustus John and Giovanni Boldini and sculpted by Jacob Epstein. She was famously known for having said: "I want to be a living work of art" and she was. Designers and couturiers of the day—Paul Poiret, Mariano Fortuny, Jean Patou, Léon Bakst and Erté—designed extravagant costumes and sent her clothing. She invested exorbitant amounts of money in outrageous outfits and headdresses—and helped to usher in early 20th century haute couture.
Decadence and Art
In keeping with her image, Casati took to au naturel nighttime strolls about the Piazza. The stunned local aristocrats and gawking tourists began to look for sightings. She would be deathly pale, cloaked in scarlet or black, preceded by a "Negro page" that led a panther on a chain. Oftentimes she would be in tiger skin fur, naked underneath, wearing the cat's ferocious head atop her own. The Italian futurists longed to attend her parties and finally, to depict her in their own medium whether that was paint on canvas, pen and ink, sculpture or posters.
Luisa's mania for parties and entertainment resulted in at least three masked balls: a Renaissance party, a Hindu party and a Persian party. Guests were greeted by smoked incense, naked slaves striking gongs, and smoldering braziers. At one event, the heat became too much, and she is said to have marched to the serving tables, seized a carving knife, and slit her dress open in the front. At another event, she made an entrance draped in a gold-painted snake—and not just any snake, but an enormous boa constrictor wound around her several times. Always the entrance, her companions on arrival caused a stir; they were always ferocious beasts and costumed men.
Casati spent every penny of her family's gift to her. Between palaces, parties, antiques, cars, clothes, jewelry, trips to Paris, London and the art acquired in each, she exhausted funds until by the late 20s Depression, she was $25 million in debt.
The Aging Marchesa
As the money dwindled, Casati became obsessed with the occult, took to creating collages of favorite events and photos in a journal, and by the spring of 1957, she was living in a flat in London. Casati had also retreated in both mind and spirit. In June, she died of a cerebral hemorrhage in her flat on the afternoon of the first. She was 76 years old.
Casati was interred in Brompton Cemetery, a sprawling Victorian burial ground in the Kensington district of London. A sculpted urn draped with floral garlands decorates the monument. She was buried with one of her Pekingese, who she had stuffed by a Regent Street taxidermist.
Her granddaughter chose the epitaph, which is from Shakespeare's description of the Queen of the Nile in Antony and Cleopatra:
Age cannot wither her, nor custom stale her infinite variety.
References