All about the Art Nouveau Movement and Artists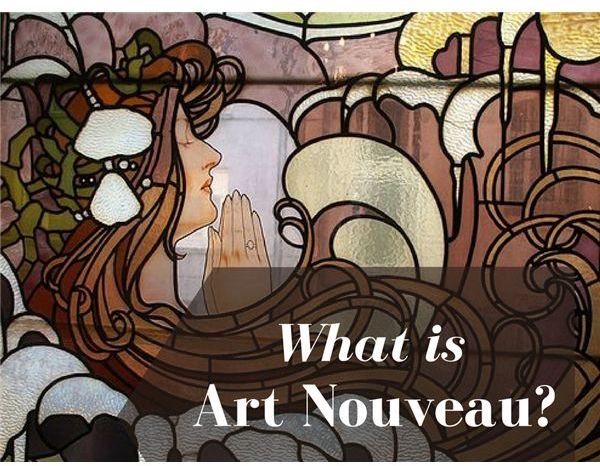 Reactionary
Art Nouveau sprung up in a short period, from 1890 to 1905, and was the artist's reactions against progress and industrialization. Previously there were limitations with classical art being the standard; classical art were realistic depictions painted by the Masters. Artistic creation under the Masters meant a student would become part of a studio and spend years working there to assimilate into the culture. In other words, the student tried to acquire the Master's style by imitation and copying.
"Synthesize"
The artist Eugene Henri Paul Gauguin was French, post-impressionist artist who used light, symbolism and abstract qualities to distort images and emphasize geometric forms. This synthesizing spirit—coined by Gauguin—became a great popular movement among other artists that affected the taste of every part of the population in both Europe and the United States.
The world had become smaller in artistic scope because of common trade and the huge strike of colonization that many countries became part of—thereby drawing attention to Japanese and Chinese art, which often made people part of nature such as in their wood-block art, placing characters into a floating world or "ukiyo-e".
Many Names
As Art Nouveau swept through the world, it was called many things: the Glasgow Style; in German, it was Jugendstil—Youth Style—and, in Vienna Sezessionsstil, Secession Style. It was also known as Modernismo in Spanish, Modernisme in Catalan, and Stile Floreale (floral style) or Stile Liberty in Italy; and in France Moderne Style.
Many people think Art Nouveau originated in England as part of the Arts and Crafts Movement—a reaction against cluttered designs—and was heavily influenced by Aubrey Beardsley the English illustrator, perhaps the most controversial Art Nouveau figure due to his combination of the erotic and the macabre. Beardsley's book jackets, posters and the work he did in a periodical called the Yellow Book, were strong black-and-white illustrations that pushed the envelope on the formal conventions of high Victorian ideals. His work was admired for its beauty and condemned for its sexual content—romantic visions of evil, the erotic and decadent.
Character of Art Nouveau
Art Nouveau was aimed at modernizing design, drawing inspiration from both organic and geometric forms—elegant, flowing, natural forms sometimes resembling the stems and blossoms of plants.
The emphasis was on long, sinuous organic lines and contours and that element took precedence over color, which was usually represented with hues such as muted greens, browns, yellows and blues.
Gustav Klimt, Emile Gallé, and James Abbott McNeill Whistler began imparting their own works with floral and bulbous forms, and "whiplash" curves, all key elements of what would eventually become synonymous with Art Nouveau.
Applications
Art Nouveau was soon employed everywhere in architecture, interior design, furniture, jewelry and glass design, ceramics, poster art, illustration and book illustration. The Art Nouveau movement continued into textiles, household silver, utensils, and it flourished in theatrical set designs and costumes.
In architecture, Art Nouveau exemplified a more humanistic and less functional approach to the urban environment. Hyperbolas and parabolas (curves) in windows, arches and doors were typical as were plant-derived forms for moldings.
The Spanish architect Antonio Gaudi, the most original architect of the time, used it to transform buildings into sinuous, bulbous constructions, and the style was employed with breath-taking effect in the Basilica de la Sagrada Familia, a miraculous exotic and decorative exuberance, slated to be finished this year.
Prominent Artists (Just a Few)
A great number of artists and designers worked in the Art Nouveau style. Some of the most prominent include:
Austrian painter, Gustav Klimt, made extremely popular paintings of famous rich women such as Emilie Louise Flöge—who became a well-known fashion designer in her own right with a fashion salon, Schwestern Floge, (Flogel Sisters)—it was so unusual for women to run their own businesses at the time.
Charles Rennie Mackintosh—painted The Wassail in 1900–a canvas adhered to the wall of a restaurant and the Nouveau character of it included everything in the room from paintings to furniture. (The design is women's bodies transformed by stem-like lines and curves, with roses in their hair.)
Louis Comfort Tiffany, American Glassmaker, produced leaded-glass windows, mosaics, glass pottery, enamels, and was originator of the Tiffany lamp.
Louis Majorelle, furniture designer, Art Nouveau cabinetmaker extraordinaire.
Alphonse Mucha, talented Czech Art Nouveau painter and most often associated with Art Nouveau posters.
Louis Henry Sullivan the celebrated American Art Nouveau master of building and ornamentation.
Siegfried Bing
Siegfried Bing was a German art dealer who was very influential in introducing Japanese art and artworks to the West and in developing the Art Nouveau style in the late 19th century through his gallery in Paris, the Maison de l'Art Nouveau. One of the main purveyors of the Art Nouveau style his store became synonymous with the decorative arts and furniture of that period from all over the world.
Renaissance
The Art Nouveau style went out of fashion for the most part long before the First World War, paving the way for the development of Art Deco in the 1920s. There have been many eras of popular revival—in the 1960s especially—but Art Nouveau is still highly collectible, difficult to find, and priceless.
References
Finger, Brad. 13 Art Movements Children Should Know. London & New York: Prestel Publishing Ltd., 2014. Book.
Arnason, H.H. and Mansfield, Elizabeth C. History of Modern Art. London: Pearson Education Inc., 2010. Book.
Mondadori Electa. Modern Art: 1900-1945: The Age of Avant-Gardes. New York: HarperCollinsPublishers, 2007. Book.