Pioneering Women: The Lives and Adventures of Gertrude Bell and Mary Kingsley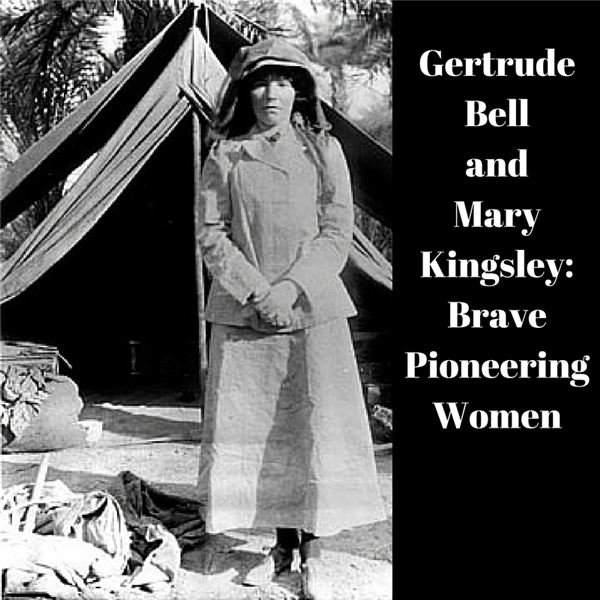 One of the great woman adventurers of the twentieth century and someone who helped carve out British policy after World War I in the Middle East was Gertrude Bell.
The other adventurous woman of 1895, predating Bell, was Mary Kingsley, an African explorer and zoologist (a student of animal life). She ventured into "raw Africa"—up the Ogooué (Ogowé) River—further than anyone else had, where no villager had ever seen a European woman.
What did these women have that motivated them to seek out the unknown? What beat in their hearts to make them shun comfortable lives in order to breathe in unpredictable, even life-threatening situations? This was a time when people lived their entire lives without traveling from one valley to the next, let alone sailing across oceans or trekking the hostile desert.
Leaving Normal
"Already I have dropped back into the desert as if it were my own place; silence and solitude fall around you like an impenetrable veil," Gertrude Bell wrote, while wandering across central Arabia before World War I.
In December 1913, Gertrude Bell went by camel train 1,430 miles (2,300 km) across a windswept desert fraught with danger from warring tribes. This was not Bell's first trip—she had warmed up in 1899—taking a year's jaunt around the Near East, grooming her love for the Arab peoples.
Western Style
Bell became one the first women at Oxford University, earning a degree in modern history. After that, she ventured further and further away from home, falling in love with the desert of the Middle East.
The etiquette of the day meant riding a horse sidesaddle and ladylike. Not Bell; she sat astride a horse much like a cowboy and in a much more practical position. It took a passel full of courage to bridge the harsh landscape in an extreme climate where women never traveled alone.
She was a spy for the British government, collecting information. Her government offered her no protection at all. Once, she was imprisoned in Hail, a harsh oasis town in Saudi Arabia, halfway south between Baghdad and Damascus in Syria. The first woman to visit Hail in 20 years, she was promptly arrested by anti-British leaders. During the 11-day imprisonment, Bell asked questions and made notes on everything she could learn. The leaders, perhaps sensing her savvy, let her go.
Diplomate Extraordinaire
Bell helped to establish the nation of Iraq and founded the Iraq National Museum; and as conflicting as it was, her mission was in securing a complete autonomy for these nations. She wanted temporary guidance and support from Britain for them. There was reticence about having a woman in conjunction with the military; objections came down from officers about her rank and her presence on the front line.
Her lifelong principle was to seek out and engage with the opposition in order to understand their point of view. She spoke their language and never lied to them. She understood Bedouin rules, etiquette and the pecking order of Arab families. (She also was not above trading government favors, courtesies and small presents to establish cooperation.)
Among her accomplishments: she became fluid in Arabic and many other languages (seven altogether) and their dialects. She returned with 16,000 letters, 16 diaries, seven archaeological field guides, dozens of small leather notebooks, several thousand photographs and enough intel to supply military officers and civil students an introduction to the region. Her work at the Intelligence Bureau was secret and there was much omitted to many people.
After her death, King Faisal of Iraq, who ran a constitutional monarchy that lasted from 1921 until 1958 said, "Death had no fear for her."
Crocodile Waters
There is a river in Gabon, West Africa called the Ogowé (also Ogooué). The hostile environment had jungle traps, crocodile-infested waters and tribes rumored to eat human flesh. During Victorian times, Mary Kingsley not only sailed this river further than any explorer had ever traveled, but she was the first European to climb Mount Cameroon in Africa, some 13,435 ft. (4,095 m.).
After her parents died, Mary fulfilled her lifelong ambition to travel at age 30. She wanted to see the places in her father's books (one about Livingston's travels in Africa in particular). She made an agreement with the British Museum to collect specimens for them. She traveled through Africa without a tent, paddling a canoe at times and hacking a path through the bush with a machete knife. One time she even used an umbrella to clobber a crocodile that climbed in her boat.
Fang Ways
It was a good thing too that she wore long skirts (despite the heat), because one day she fell into an animal trap lined with 12-inch spikes. Those long skirts saved her life, protecting her from a sharp and very slow death.
Luckily, the Fang people welcomed her and she lived among them. She learned their customs, got the recipe for cooked snake and traded goods. The book about her adventure, Travels in West Africa published in 1897, made her a celebrity. No doubt, there must have been a story about the time she awoke to a terrible stench, only to find a human hand, three big toes and other body parts, hanging in a bag in her hut.
Among her triumphs, three new species of fish of the 65 species she brought back from Africa were named after her: Ctenopoma kingsleyae (after she had braved the thunderous waterfall of the Alemba Rapids to get them). She saved lives by dispensing Quinine when there was a malaria outbreak, a deadly tropical disease spread by the bite of an infected mosquito.
Untimely Death
Kingsley was greater than her peers and annoyed government officials because her message was that all races were equal and, consequently, they called her a dangerous woman. She helped encourage Europeans to stop thinking of Africans as savages and to stop stealing their lands.
Unfortunately, while caring for the Boer War prisoners of the South African war (at the filthy Palace Hospital in Simonstown), she died at the tender age of 37 from typhoid in June 1900.
References
Kespert, Deborah. Explore! The Most Dangerous Journeys of All Time. London: Thames & Hudson, 2013. Book.
Ross, Stewart. Into the Unknown: How Great Explorers Found Their Way by Land, Sea and Air. Somerville, MA: Candlewick Press, 2011.
Krull, Kathleen. Lives of Extraordinary Women: Rulers, Rebels (and What the Neighbors Thought). Orlando, Florida: Harcourt, 2000. Book.
Howell, Georgina editor. Gertrude Bell: A Woman in Arabia: The Writings of the Queen of the Desert. New York: Penguin Books, 2015.
Image Source: Gertrude Bell in Irag - Public Domain
Claybourne, Anna. The Story of Exploration. London: Usborne Publishing Ltd., 2008. Book.
Dugard, Martin. The Explorers: A Story of Fearless Outcasts, Blundering Geniuses, and Impossible Success. New York: Simon & Schuster, 2014. Book.