Biography of Amelia Earhart for Students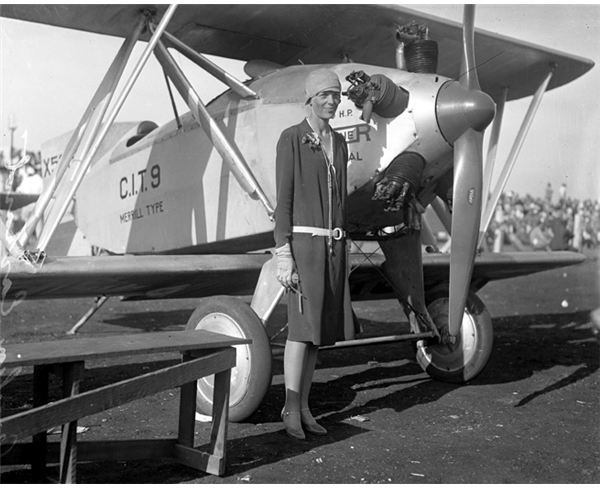 Her Early Life
This biography of Amelia Earhart for kids begins in Atchison, Kansas. Named after her mother, Amelia "Amy" Otis Earhart (1869–1962), Amelia Mary Earhart was born in her grandfather's home on July 24, 1897. Her father's name was Samuel "Edwin" Stanton Earhart (March 28, 1867). So, her life began in the Midwest United States.
Earhart was a die-hard tomboy and was always getting into exciting and sometimes rough activities. You would not find her sitting indoors on a cold, snowy winter's day. Oh, no–she was outside body-slamming as she took off down the hills near her home. She may not have been dainty, but she was quite an adventurous and smart girl.
As a child, she could be found daily out and about with her sister Grace Muriel Earhart (1899–1998), who was nicknamed "Pidge." The family was known to use nicknames, and the sisters continue to use theirs well into adulthood. Earhart was the leader on their adventures; her sister Pidge always followed her wherever she went.
Her parents left Earhart and her sister with her grandparents for a while, during which time the two sisters were home schooled. Over her school career, she attended various schools as the family moved around. She graduated from Hyde Park High School in 1915. After graduation, Earhart went to Ogontz, a girl's finishing school in the suburbs of Philadelphia. She left there during her second year to begin her life of adventure.
At the age of 19, and after a visit with her sister, she went to Canada during World War I to aid wounded soldiers by working as a nurse's aide at Spadina Military Hospital in Toronto, Canada. When the Spanish Flu reached Canada in 1918, Earhart came down with it and had to be treated in the hospital. Her next adventure took her to Boston, where she worked as a social worker at a settlement house called Denison House.
Destined to Fly
Earhart saw her first plane up close and personal at the age of ten. She was not very impressed as it looked like a pile of rusty
metal to her.
However, that opinion would change when she attended an aviation exhibition almost ten years later on December 28,1920. There a pilot named Frank Hawks gave her a ride in a little red airplane that forever changed her life.
That flight cinched the deal for her in her mind. She had to fly.
Earhart took her first flying lesson on January 3, 1921. Six months later, after diligently saving her money, she bought her first plane. Even though it was a second-hand Kinner Airster, she was just beginning a life of adventurous flying. One could not miss her as she shot off the runway in her two-seater biplane, which was painted brilliant yellow. Earhart aptly named the plane Canary.
In 1928, she received the call that led her to fly the Atlantic. Three women had died that year trying to do that very thing. Of course, she accepted the opportunity with great enthusiasm. The flight began at Trepassey Harbor, Newfoundland and ended at Burry Port, Wales, approximately 21 hours later. This historic flight was done in a Folker F7 named Friendship.
Her husband-to-be was a publisher named George P. Putnam who saw Earhart's flight as great material for a best-selling story. They were married on February 7, 1931, but she continued her career as a pilot, which was unheard of in the 1930s. Women traditionally became housewives and mothers when they married, but this high-spirited woman could not sit still for that. She needed to explore.
Putnam and Earhart made a good team. He published her books, organized her public appearances, and helped her gain an endorsement for flight luggage and a sports clothing line to help pay for her adventures. She retained her maiden name and referred to her marriage as a partnership.
She went on to break her first record by flying at 18,000 feet, becoming the first woman to do so. For the first time, she had made the headlines and was on her way to making a lasting impression in history.
A Flying Career is Born
A true celebrity was born on that flight across the Atlantic. Upon returning home to the U.S., she was treated like a celebrity. The whole city of New York came out to greet her as they honored her with a ticker-tape parade. She was then carried off to Washington, D.C., as President Calvin Coolidge insisted on having a reception for her.
Her secret goal was to be the first woman to solo the Atlantic. On May 20,1932, she took off on a flight from Harbor Grace, Newfoundland, to Paris. Bad weather and technical problems forced her to land prematurely in a farmer's field near Londonderry, Ireland. This made news in the U.S. and got the attention of those abroad. She had captured the hearts of the world.
She was awarded a gold medal from the National Geographic Society by President Herbert Hoover. She was also honored by Congress with the Distinguished Flying Cross; the first ever given to a woman.
Her honors were piling up, and so was her courage as she kept pressing toward that dream to cross the Atlantic solo. She completed a flight from Honolulu to Oakland, California, breaking a record again and becoming the first person to cross the Pacific solo, on January 11, 1935. Earhart continued to break records like flying at 18,000 feet, and flying solo flights here and there, but she had bigger dreams.
In 1937 and at 39 years old, she decided to be the first woman to fly around the world. She had made an attempt in March, but ended up with a damaged plane that set her back, but only slightly. This did not stop the determined Earhart. She had the twin engine Lockheed Electra repaired and waited to set off yet again. This was to be her final hooray in her career.
The Fateful Flight
During flight preparations, many pieces of equipment ended up being dumped from the plane to allow for more fuel. The added fuel would give her an extra 274 miles.
Fred Noonan was Earhart's only crew member for the second flight. On June 1, they departed from Miami. The first leg of the journey consisted of stops in South America, Africa, the Indian Subcontinental, and Southeast Asia. They arrived at Lae, New Guinea on June 29,1937 after completing about 22,000 miles of the trip.
The next seven miles would be over the Pacific and were very dangerous. They were already dealing with maps that were inaccurate, but they pressed onward. They were planning to land on an Island only 6,500 feet (2,000 meters) long and 1,600 feet (500 meters) wide, and 10 feet (3 meters) high. This sliver of land was Howland Island. It would be so difficult to find that the coast guard even came out to help guide them to the island.
The U.S. Coast Guard cutter Itasca was sitting just offshore waiting to usher them in. They were to shine bright lights and help the plane see where to land. Sadly, we know they never made it. Rumor has it that they cut the wire to their long wire antenna because they got tired of having to crank it back into the cabin after each use. They also had some new navigation equipment that they did not fully understand how to use. So many things could have been the cause of their not making it to the island.
Upon approach, the strong radio-signaled voice of Earhart rang out. They were being heard but were unable to hear the radio signals from the ship. The Itasca picked up this message at 7:42 A.M., "We must be on you, but we cannot see you. Fuel is running low. Been unable to reach you by radio. We are flying at 1,000 feet."
At 7:58, Earhart asked the ship to send signals so she could take a radio bearing. They sent the strongest signal they had but to no avail. Finally at 8:45, Earhart reported, "We are running north and south." This was the last anyone heard from Amelia Mary Earhart.
Putting to Rest
Many search parties were sent out by air and sea. The most expensive search mission (in 1937) cost a whopping $4 million. Earhart and her only crew member, Noonan, were pronounced missing on July 2, 1937. She was later pronounced dead on January 5, 1939.
Whatever happened to this courageous woman and her wingman has yet to be discovered. The search parties covered 250,000 square miles of sea that day. A lighthouse was placed on Howland Island in 1938. To this day, her birthplace in Kansas is like a shrine to her memory. Many public places and streets are named after her, and scholarships are given out in her name to keep her memory alive. She will be remembered forever in the hearts of her family, fans and admirers.
Resources:
Source: Atlanta Page's own knowledge of the life of Amelia Earhart. Her fascination of her life's story has prompted many history studies on the subject.
Author unknown, "Biography of Amelia Earhart," Amelia Earhart Birthplace Museum https://www.ameliaearhartmuseum.org/AmeliaEarhart/AEBiography.htm
"Family of Amelia Earhart".The Official Website of Amelia Earheart: https://www.ameliaearhart.com/about/bio.html
Image: Amelia Earhart wearing a dress standing beside a plane, circa 1928 by Tilman at en.Wikipedia under Public Domain
This post is part of the series: Fun History Study Guides
These study guides are written with you in mind. Each one is laid out in such a way as to help you enjoy learning about the subject covered. "History should be fun not boring!"– Atlanta Page