History of Colonial Rhode Island
The Rhode Island Colony history is one of independence and fiery determination. The search for religious freedom landed Roger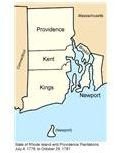 Williams and his followers in Rhode Island. The area was originally named by a Dutch explorer, Adriaen Block. Block named it Roode Eylandt or Red Island.
Founders of Rhode Island Colony
The Rhode Island colony was founded in 1636 by Roger Williams who was an English clergyman. He and a small group of followers left the Massachusetts Bay Colony frustrated. They desired to worship as they wanted. Portsmouth was founded in 1638 by a group led by Williams. They practiced an early form of Quakerism called Antinomians.
Because the area was attractive to other colonists, Dr. John Clark later sought a charter from King Charles II. In 1663, the royal charter called the Charter of Rhode Island and Providence Plantations allowed the colonist religious liberty, self-government and stronger Rhode Island territorial claims. This charter served as a basis for law until 1843.
Research Topics for Rhode Island
After you learn the basics about Rhode Island colonial history, chances are that your teacher will ask you to complete an individual research project on the Rhode Island colonies. The resource section in this article offers you some great websites to start your research. Some individual research project ideas are as follows:
Early Founders:
Roger Williams
Anne and William Hutchinson
William Coddington
Early Towns:
Providence
Aquidneck
Newport
Warwick
Wickford
Pawtuxet
East Greenwich
Indian Groups:
Narragansetts
Wampanoags
Pequots
Niantics
Early Religious Groups:
Baptist Church
Quakers
Jewish congregation
French Huguenots (Calvinists)
Colonial conflict:
King Philip's War
Dominion for New England
Industry:
agriculture
manufacturing
Create a Tri-Fold Presentation Board for a Speech
Once you have completed your individual research papers on the Rhode Island colony history, your teacher may ask you to present your information. Generally, you need a visual aid. One great choice is to make a tri-fold presentation board on your research topic.
You can ask your teacher if you can work in small teams to create a tri-fold presentation board. You may have to create the tri-fold on your own.
Tri-fold Board Directions:
Select five to eight important facts from your research paper.
Write or type research topic(s) clearly on the tri-fold board. You will need to divide them into three sections, as your board will be sectioned in three parts that are connected. The design for the tri-fold is very important. It is best to draw out a draft of what goes where before gluing anything down on the board.
The facts need to be concisely written or typed with large titles. Bulleted information is always a great idea.
Each fact section needs a picture or icon to add interest.
The use of color, placement of information and photos is very important. Generally the boards are white. You can paint them or add construction paper to add color and interest. You need to take your time putting this board together.
The boards are usually assessed on the use of color, neatness, creativity and information. A nicely done tri-fold board can really add to a student presentation.
Learning more about Rhode Island colony history can be fun; however, you need to take your time to complete the research and to make the tri-fold. Do not procrastinate and you can create a very nice product.
References/resources:
13 Colonies of America: Rhode Island,
Photo Reference:
By Golbez (Own work) [CC-BY-SA-3.0 (www.creativecommons.org/licenses/by-sa/3.0)], via Wikimedia Commons, https://commons.wikimedia.org/wiki/File:Rhode_Island_1776_to_1781.png