Starry Night Lesson Plan: Teaching High School Students Impasto Painting Technique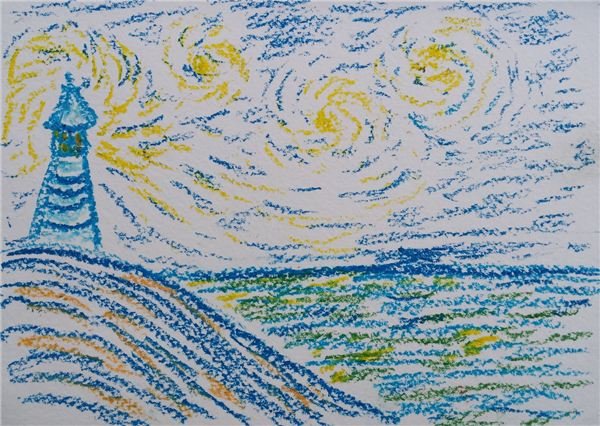 Lesson Objective
Students will design a light source-focused composition and combine directional strokes, thick textured media and outlined shapes to create a painting reminiscent of Van Gogh's night scenes.
Materials
Materials
Paper (for sketching and painting)
Paint boards
Pencils
Crayons
Acrylic paint in tubes (optional) or pastel (oil or soft)
Palette (if needed)
Palette knife (optional)
Brushes
Water
Reference photos
Pre-printed copies of sample pictures for practice
Reference Paintings by Vincent Van Gogh: "Starry Night," "Café Terrace at Night" or "Starry Night over the Rhone"
Lesson Procedure
Step One (Introduction):
Introduce several of Van Gogh's famous paintings, asking students to identify characteristics they see in his popular works. Focus on his night paintings, allowing students to identify some of the elements that make these works stand out: directional strokes, texture, exaggeration of effects of light against dark, warm colors, etc. Point out the absence of black in the colorful night scenes and note Van Gogh's use of line to outline objects.
Give students time to discuss night scenes they would like to paint, particularly those that might involve exaggerated lighting (such as fireworks displays, fairs, amusement parks, city scenes, etc.). At this time, provide students with the opportunity to choose reference photos for their own paintings.
You may want to introduce the word impasto, which is a painting term denoting the use of thick paint applied heavily for extra texture.
Step Two (Presentation of Painting Method):
At this time, distribute copies of a simple drawing for students to fill in. Students can identify light sources in the drawings, and use oil pastels or crayons to fill in areas of color, using directional strokes of broken color to provide visual interest. Students should practice using bright color against dark, with warm lights radiating outward from the light sources similar to those in Van Gogh's paintings.
Step Three (Composing Sketches):
Students should have paper taped to their painting boards before beginning sketches. Using their choice of reference photos, students will create sketches for their paintings, making the objects that will provide light sources the focus of their compositions. Students may sketch in areas of light and dark for reference, but do not need to get too detailed with their sketches. Students may also wish to provide some directional pencil strokes in each area of the sketch as a guide for the final painting. Students should be encouraged to exaggerate elements of light, and can even add stars to the night sky if desired.
Step Four (Final Painting):
Once students' sketches are complete, they can begin adding color. Students should feel free to emulate Van Gogh's tendency to outline objects with darker paint and heavier lines.
Medium tip: beginning students may benefit from using oil pastel, so that they do not have to worry about mixing color on the painting. Middle-level and advanced students can experiment with using color directly from the tube if there is enough paint available; if not, students can be encouraged to try painting with a palette knife, which will allow them to put thick dabs of broken color on their papers to emulate Van Gogh's style.
Students will add paint in thick strokes, with an emphasis on light radiating from the source out into the rest of the painting, keeping strokes directional so that they fit the forms in the picture. Students should be encouraged to stand back regularly to view their paintings, looking for an overall consistency of thick paint strokes and lighting. Because of the impasto painting technique, these paintings will take extra time to dry.
Assessment
Students should be encouraged to self-assess their painting techniques to see whether their use of thick paint, directional strokes and radiating light achieved a look similar to Van Gogh's night scenes.
Extension
Students who enjoy this painting style should be encouraged to explore Van Gogh's landscapes and try painting their own landscapes in a similar style.