Three Engaging High School Art Projects: Digital Photography, Recycled Sculptures & Shadowboxes

Beyond the Traditional
Educators understand that students must have a foundation based in the past on any subject. Learning art history is necessary for building the interests and talents of students. However, if students are not exposed to opportunities for experimentation with what they have learned, then they soon grow bored.
Art has morphed and developed since humans first painted pictures on the walls of caves. Today, with the use of technology, it is possible for students to create art that is new, innovative, aesthetic and functional.
In addition, combining art with other subject matter - history, civics, science, literature - adds another dimension to the work students do.
Digital Photography
Many schools could not afford to offer digital photography classes. However, today, any school that has computers can offer photography classes in which the students can create amazing images.
Materials needed:
Computers
Digital Cameras (Students can use cell phone cameras if the quality is high.)
Color/Black & White printer
Photo Paper
Photo Editing Software (Note: The higher the quality of the software, the more the students will be able to do with their images.)
Photo Release Forms
Lesson - Combining Art and Civics:
Students will pick an issue within their community. The issue can be environmental, political, social, etc. They will take pictures, with permission by those being photographed, of various aspects of the issue.
After downloading their images onto the computer, they will create a photo essay on the issue.
A photo essay is a series of photographs that tell a story. Photo essays appear in newspapers, blogs, websites and magazines.
_
Students may enhance their photographs with the editing software. If the school has a website, have them create their photo essay for the website. If the school has a newspaper, have them set their essays up for print in the newspaper.
Their photo essays may be framed as a montage or as a collage. They should fill one print page.
If the school has a printer capable of taking poster-size photo paper, the students may be given the option of creating photo essay posters of their work.
The objective of this assignment is
to create a critical eye of inquiry within the student
to develop photographic skills
to explore an issue through art
to create a statement through photography on an issue
Recycled Art
Students learn in school that protecting the environment through recycling is essential. However, they seldom learn ways to recycle other than throwing items into bins, which eventually go to the recycling centers.
This art lesson teaches students to look at recyclables in a different light.
Materials needed:
odds and ends of items to be recycled
glue, wire, or other means to hold pieces together
paint
framing, if needed
kiln for ceramic pieces
wire mesh
Lesson - Combining Art and Environmental Science
Explain to students that they will create a three-dimensional piece of art using discarded items. These items can be bits and pieces of hardware, auto parts, glass, ceramics, plastics, textiles, and/or paper. Allow them to figure out how to create their work of art, but be available if they have questions.
Finish works of art might include clothes made from scraps of cloth or other items, sculpture made from auto parts and hardware and/or paper mache statues created from old magazines. Students should be encouraged to research their concept before beginning in order to assure that they have everything they need to proceed.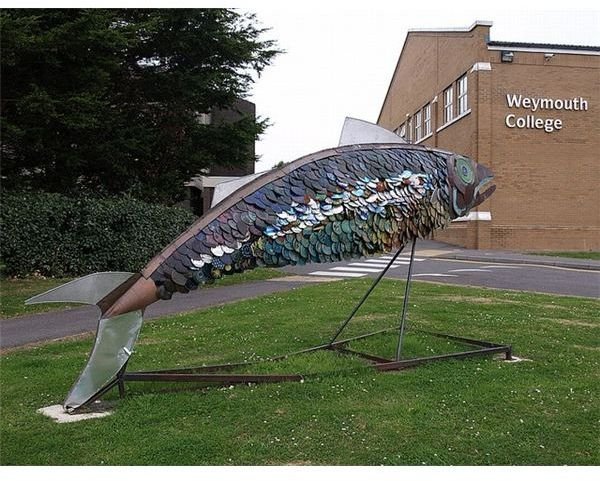 The objective of this assignment is
to discover new ways to recycle materials
to develop various art skills
to enhance awareness of the environment
to produce something functional from waste
Historic Shadowboxes
History is a subject that many students find boring. Facts and dates blur into a fog of information. Developing a project gives students a memorable lesson by creating awareness for a particular time in history as well as producing a long-lasting work of art.
Materials needed are:
shadowboxes - one for each student, or one for pairs of students (Shadowboxes can be made by students from old shoe or gift boxes or purchased at craft stores. If purchased, obtain the type that have multiple compartments (similar to typeset boxes) to be decorated.)
odds and ends of materials that convey a sense of the time period of the box
old magazines
paper scraps
paint
glue
Lesson - Combining Art and History
Have each student, or pair of students, pick an event in the history unit they are studying. They are to create shadowboxes that will represent this period. The students decorate each compartment in the shadowbox with items or artifacts that represent the period.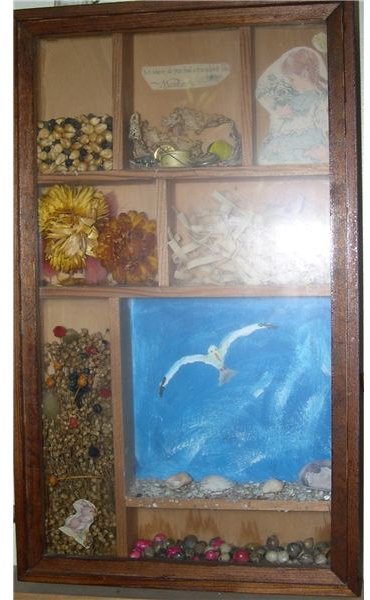 Shadowboxes are similar to dioramas, however, rather than being a realistic interpretation of an event, shadowboxes provide more of an impression of the event through the bits and pieces placed inside the compartments of the box. For instance, the picture to the right is an impression of summer at the beach in the 1950's.
If cardboard boxes are used, have students make dividers with corrugated cardboard.
Once complete, display shadowboxes securely for parents and friends to view.
The objective of this assignment is
to explore historic events
to develop critical thinking by ascertaining the items that would represent the period chosen
to create a representation of a particular historic period
to demonstrate an understanding of that period of history
Resources and References
Content from author's experience.
Photos: