Explore the Mind by Writing!
Paper Journals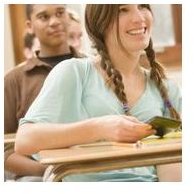 Request marble-covered composition books for students each year. Give them out at the start of the year and assign topics as a "Do Now" at the start of class. Some days you can give students unstructured time to do free writing in their journal.
Online Journals
You can also introduce students to online journal-writing sites. Online journaling sites offer writing prompts, art and design prompts, and other ideas to foster your students' enjoyment in writing. Some interesting online journal-writing sites include:
Why Journaling Is So Important
Journal writing is very important during the high school years. Teenagers are full of conflicts and whirling emotions. Writing helps them focus their thoughts and use analytical skills to work through any problems they may be having.
Daily writing assignments on a wide variety of topics also helps students prepare for the rigor of standardized testing where they are given topics and have to write an essay within a certain amount of time. Use timed writing assignment and even timed journal writing to help students become accustomed to the idea that they have only a certain amount of time to complete an assignment.
Journal writing is also very important during times of crisis in the school or the community. For example, there are occasionally stories about a school shootings these days. Perhaps there has been bullying in the school. When that happens all involved–students and members of the community–find thsemselves in shock and terribly upset. Journal writing helps students work through those feelings and get their emotions out. Writing during times of crisis is very therapeutic.
Journal writing is also a wonderful tool during times of celebration. During times of joy it helps one document life events and capture the feelings of achievement, and it makes a wonderful memento to look back on a journal from a special time.
Peer Editing
Some students like to discuss what they have just written in their journal with a friend. Other students consider any journal writing to be top secret. Give students a few moments occasionally to do "peer editing" and discussion with a partner but do not require it. Journal writing is often very personal and students may not want to discuss it in a classroom setting.
Use Journals as Rewards
Journals are also a great reward to use with students. Most students are delighted to win a journal for highest test score or making the Honor Roll. You can buy inexpensive journals at thrift stores or garage sales and then bring them to school to add to the supply of "rewards" for academic achievement used to motivate students. There is always a flurry of excitement when students see a pile of journals sitting on my desk; they know they will be given out as rewards.
Assessing Journal Writing
Circulate the room while students are writing in journals. This gives them a chance to ask any questions they may have. Give them a grade for their participation in writing. Also hold occasional spot checks on journals; call each member of the class up to the desk to just quickly flip through the journal to ensure he or she has been doing the writing prompts. Pick several writing prompts and look over paragraph structure with the student.