AP Literature Review: Resources to Review English AP With Your Class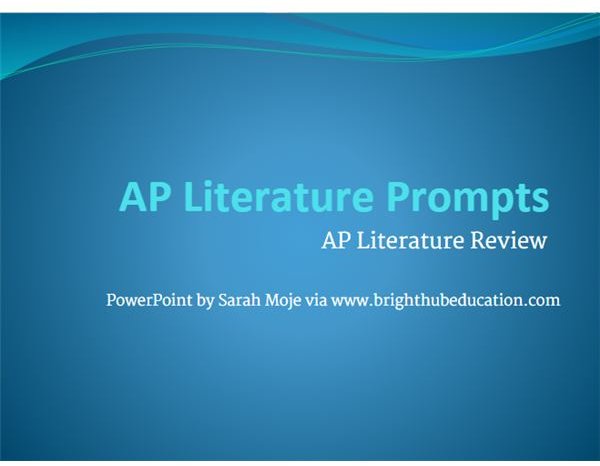 The AP English Literature and Composition exam can be quite a challenge for many students. The test can draw on over four hundred approved authors and on any work of poetry, drama, or fiction written by any approved author. It is nearly impossible to read every work that may appear on the exam.
However, those who teach AP Literature do have a sense of what "important" works of poetry should b e read; even if the particular poem does not appear on the exam, there are a group of twenty poems that clearly capture the various writing styles and elements of poetry that appear fairly often. Knowing twenty key poems and their authors is always helpful to students when they prepare.
In much the same way, there is no failsafe way to tell what particular open ended essay prompt will appear each year. However, it is certain that the writing task will be accompanied with a list of ten to twenty books that are considered of "considerable merit". The student is encouraged to write about one of these works, or about another work of "comparable literary merit."
If you are teaching AP Lit, then chances are the works you cover in class will fall under that category. However, the stress of writing such an important essay under time restraints can really put the pressure on your students.
Use these two downloadable power points to help them out during the year. The expression "practice makes perfect" was never more fitting than it is in this instance. Have them read, write and think, by engaging in weekly poetry reading and analysis and by practicing writing prompts using works they are reading in your class. If they spend the week before the test re-reading all they have written, a wealth of knowledge will be called to the forefront of their minds, just when they need it most!
Downloads