Themes for a Preschool Curriculum for ESL Students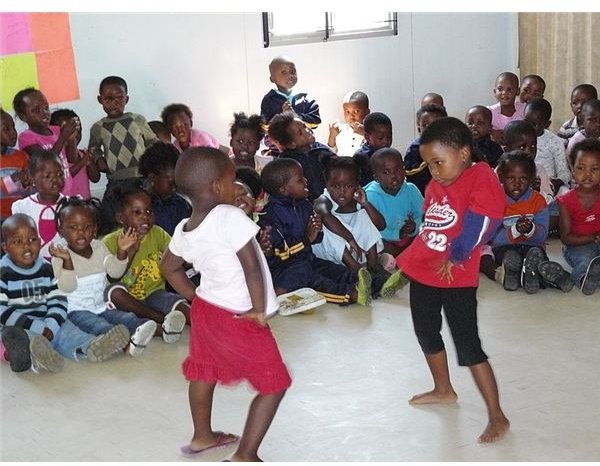 Topics
Your preschool curriculum for ESL students should incorporate a few of several basic themes. These themes will introduce students to new, related vocabulary words. This will help them remember the words they learn as they move through other lessons. Preschool ESL teachers get to come up with creative and fun ways to teach the vocabulary to their students, making the job more fun and challenging. Although the themed lesson plan ideas here are not all-encompassing, they give ideas of how to structure your curriculum. Try to do a different theme each week or two to keep your students interested.
Greetings and Commands
In the first days of school, teach your students greetings. Show them how to say their names and say hello and good-bye in English. Other words to learn in this unit include please, thank you and excuse me. As you will be telling students to do certain actions on a regular basis throughout the year, also introduce them to commands like sit down, stand up, come here, close the door, or use the restroom. Demonstrate these commands and other vocabulary words yourself. Repetition is key with preschoolers. Do the same actions and games to teach these concepts over and over until your students master them.
Rooms
Teach students vocabulary for objects in the classroom and in their homes. Words like pencil, paper, computer and book can be taught for classroom objects. Bed, table, chair, kitchen, bedroom, television and yard may be taught for household-related words. Bring in examples of these objects or pictures of them to show students. If you can have centers in your room, you might set up a house center and tell students to point out objects in it and name them, or bring objects from the center to you and then name them.
Body
Body parts and explaining pain or problems to their parents or to a doctor is another good unit to teach to ESL preschoolers. Teach students body and health-related vocabulary using as many active games as possible. You might sing "Head, Shoulders, Knees and Toes," or come up with other chants or songs that will engage your students' attention. Puppets can be another way to teach body parts or to demonstrate how to talk about pain through a role play.
Food
Food vocabulary is used on an everyday basis. You can bring in real examples of different foods to show students. You might make a banana split one day or another treat to discuss different types of foods. You might also make a fruit salad one day to learn the names of different fruits. Preschoolers love to touch, feel and participate in their lessons, and cooking is a good way to incorporate some active learning into your ESL lessons.
Seasons and Weather
Outdoor weather and seasons are parts of students' everyday existence as well. They begin to notice the changing seasons in preschool, and it is a good idea to capitalize on this growing awareness in your lessons. You can talk about weather patterns, what makes plants grow, clothes to wear outside in different seasons, and seasonal outdoor activities. You could also combine some food-related activities into your seasons/weather lessons by making some hot chocolate in the winter or ice cream in the summer.
Family
Students can use dolls in the classroom to demonstrate family relationships and to learn the names of different family members in English. Family vocabulary at the preschool age should be kept simple and be limited to the immediate family and grandparents. You might include aunts, uncles and cousins if you think your students will understand the concepts. Preschoolers who are native English speakers may have a difficult time conceptualizing these more extended relationships.
Shapes, Colors and Numbers
Students will also need to learn shapes, colors and how to count in English. You can also incorporate shapes into your counting lessons by having students count some paper shapes out on a table. If you have blocks in different shapes and colors, you might do the same. You could say, "How many blue triangles are there on the table?" to help students combine these different sets of vocabulary.
Animals
Animals are usually popular with preschoolers. Introduce your students to animal names in English with stuffed animal toys, pictures of animals, animal books and games and crafts where they can dress or act like animals. Start with common animals they see on a regular basis, and then, if they are interested, expand their vocabulary to sea animals or other animals exotic to their location.
Interests
Let your students' interests guide you as you develop your preschool curriculum for ESL students. You have to cover certain basic topics in many schools, but you can expand certain activities or themes to incorporate activities on the topics in which your students are genuinely interested. If they are interested in a particular topic, they are more likely to learn more and retain it in the future.
References
Source: author's own experience.
Everything ESL: Preschool Teaching, https://www.everythingesl.net/inservices/pre_school_information_99051.php
2008-02-12 Township Preschool by Chell Hill under CC BY-SA 3.0