Springtime: Cooking Up Tasty Seasonal Recipes for ESL Activities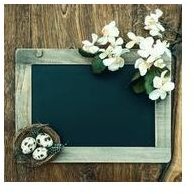 Spring: A Time for Daffodils and Celebrations
Viewed around the world as a time of growth and renewal in nature, spring celebrations are a familiar cultural component of many countries. Shared stories of spring festivities celebrated by various cultural backgrounds can become fertile ground for creating ESL activities intended to enhance cultural similarities.
Easter
Primarily considered a religious holiday, the celebration of Easter has grown to encompass universal themes of renewal. And it's hard to imagine Easter without "Easter baskets" filled with sweet treats, hollow plastic eggs and decorative grass.
Rooted in a blend of cultural traditions, most of which are based in Western Christianity and Judeo-Christian traditions, dating back to pagan customs, the symbolic Easter basket can become a tasty cupcake treat that can be shared by ESL students in celebration of the spirit of Easter as it relates to springtime customs and festivals native to their homeland.
Check out Easter Basket Cupcakes as featured by Hersey's Kitchens in the References section at the end of the article.
Jewish Passover
Beginning at sundown on the 15th day of the seventh month (eighth month, on leap years) of the Hebrew calendar, Passover is an eight-day religious celebration, commemorating the freedom of Jewish slaves from Egypt during the error of Pharaoh Ramses II.
In particular, Jewish families celebrate Passover by having a symbolic meal, with special unleavened breads, foods, songs and customs.
ESL students can partake of a discussion comparing and contrasting the celebration of Passover within the context of similar customs representative of their unique heritages, while sampling a traditional Passover dessert of Flourless Chocolate Honey-Almond Passover Cake as featured on the website of Hersey's Kitchens (see References).
St. Patrick's Day
In Ireland and around the world, St. Patrick's Day is observed on March 17th (and in Dublin for five days!) in honor of its patron saint.
Notable St. Patrick's Day festivities include large parades (150,000 marchers participate in New York's St. Patrick's Day Parade), the "wearing of the green" (folks dressed in green top hats and shamrocks), the green dying of the river in Chicago, and general merriment by people of Irish decent, as well as other non-Irish party goers.
And in traditional Irish manner "Green" beer and Irish Coffee toasts abound . . .
May your glass be ever full. May the roof over your head be always strong. And may you be in heaven half an hour before the devil knows you're dead
May the road rise to meet you. May the wind be always at your back. May the sun shine warm upon your face. And rains fall soft upon your fields. And until we meet again.
ESL students may enjoy sharing in a discussion of celebratory toasts from their native countries, as they discuss the Irish toasts while sampling a serving of Irish Coffee with each other.
Typically, Irish Coffee is made with Irish whiskey; however, the following International Delight® recipe is appropriate for an English as a Second Language classroom environment.
Irish Coffee Delight
8 ounces of hot coffee
¼ cup Irish Crème flavored International Delight®
1 tbsp. Vanilla ice cream
Brown sugar
Spring Picnic: An Earth Day Circle Time Activity
Organizing a class picnic (indoors or outside) as a part of an Earth Day (April 22nd) celebration is a fun way to encourage ESL students of all ages to practice their language skills while discussing how to organize a picnic. Students can practice their English vocabulary while learning to decide where they will hold the picnic, what food they will serve.
Learning a foreign language is in a matter of speaking a renewal that lends itself very well to a variety of springtime ESL classroom activities designed to allow students to enjoy good food while celebrating the joy of learning a new language.
Younger ESL students will particularly enjoy preparing and eating this sweet Dirt Cups treat from Kraft Foods while gathering for their circle time activity (see References).
Mother's Day (U.S/Second Sunday in May)
First celebrated in ancient Rome, Mother's Day is celebrated around the world to honor the hardships and joys of raising a child.
A simple Bacon Spinach Salad from Kraft Foods is easy to prepare and serve in an ESL classroom environment
Memorial Day (Last Monday in May)
A Federal holiday, first enacted after the Civil War, Memorial Day commemorates the death of U.S. men and women who died in the course of their military service. In addition to many people visiting memorial services and cemeteries, American families also traditionally gather together for sporting events, community events, and picnics.
Preparing All American Cheeseburgers and or New York City Style Hot Dogs from Kraft Foods is an ideal way to introduce ESL Students to the time-honored tradition of American Memorial Day picnic food.
Other Entries in This Series
Part 1 features links to on-line resources for selecting recipes and choosing from a great list of ideas for several other cooking and food related ESL activities. Links to a great selection of videos featuring autumn recipes like toffee apples, pumpkin soup, and apple crumble, as well as Web sites related to ESL cooking activities featuring Native American lesson plans
Part 2 features links to Valentine's Day and President's Day recipes as well additional links to resources for creating alternative non-cooking winter food related activities.
Part 4**,** _Cooking Up Tasty American Recipes for Successful ESL Learning Activities Series_, features links to 4th of July, Labor Day and additional summer celebrations unique to America.
References
This post is part of the series: Cooking Up Tasty American Recipes for a Successful ESL Learning Activity
Planning and cooking American recipes together, as an ESL classroom activity, can be a great way to enjoy good food while learning English! Part of a series of four seasonal articles with food and activities for ESL students.