Who Was Aubrey Beardsley? Biography of an Artist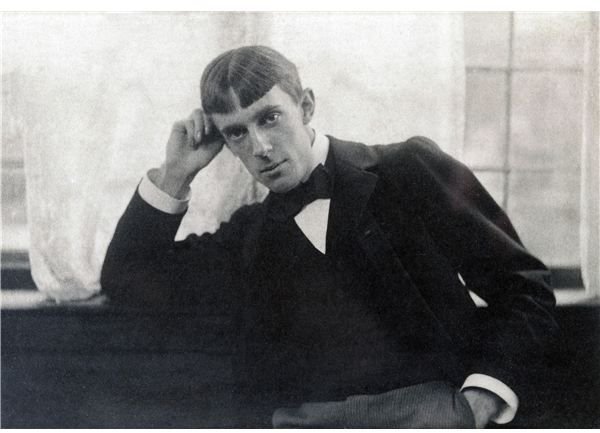 Brighton in Sussex England
The Beardsley house on Buckingham Road was filled to the gills with people. Along with Aubrey and his parents were one-year-old Mabel; Ellen's two unmarried sisters; her father, retired Surgeon Major William Pitt; and live-in maids who provided all the household chores, as Ellen was very ill.
Aubrey's father had originally inherited a fortune from a maternal grandfather, but he lost a great deal of money in court for a breach of promise suit by the widow of a clergyman. That is how they came to live at Ellen's family home.
Sickly Boy
Aubrey was always ill, even as a child. His first bout with trouble came at age nine when he was infected with tuberculosis, a disease spread through the air that affects the lungs. A delicate child, his mother often referred to him as her "little piece of Dresden china." He was packed off to live with an aunt when his mother fell ill and consequently attended Bristol Grammar School.
Aubrey was rather isolated from other children and brought up in mainly adult company. He pored over illustrated children's books in the absence of friends. His mother seems to have fostered her children's sense of specialness. Both Aubrey and his sister were thought of as artists with musical prodigies. His self-worth remained intact and Aubrey became precocious, a trait he held onto the rest of his life.
First Publication
Aubrey had childhood success with a poem in the Brighton Grammar School magazine, but it brought him little attention from the rest of the world. However, when his family moved from Brighton to London in 1891, a famous incident moved his career along.
Aubrey and his sister made an impromptu visit to the studio of painter Edward Burne-Jones. A servant sent them packing, but then Burne-Jones spotted Mabel's red hair and called them back. The painter was impressed with a style of Aubrey's work called Pre-Raphaelite. It seems he was in the right place at the right time, as Oscar Wilde and his wife were there for tea, which helped to seal Aubrey's future.
Important years in his education followed as Aubrey began producing illustrations and covers for books with a singular style developed and adapted from an ever-changing world of art. His first commission was a massive attempt, 300 different illustrations for J.M. Dent's edition of Malory's Le Morte D'Arthur. He was now a professional artist. The art had an extravagant, William-Morris-feel with its stylized floral borders and repetitive designs.
Fin de Siècle and Art Nouveau
At the close of the 19th century, the literary and artistic climate changed to one of sophistication, world-weariness and fashionable despair. The era was steeped in a period of artistic, moral and social concerns. Aubrey's drawings were a blend of medieval-era floral patterns and romance, along with darker, more decadent themes of sex and death.
The New Women movement came out of the Victorian period and Aubrey's androgynous figures helped to challenge the traditional concepts of sexuality and the Victorian gender roles that so oppressed women of that time. Aubrey Beardsley was at the forefront of the Art Nouveau movement and he brazenly combined line, sensual florid borders with erotic depictions and an open Japanese inspiration.
Yellow Book
As editor Arthur Symons once said, "A friend of mine asked him [Beardsley] whether he saw visions." To which he replied, "I do not allow myself to see them except on paper.'"
Aubrey's fame came with the first volume of "The Yellow Book" in April 1894. Aubrey served as art editor for this famous quarterly of art and literature that was ahead of its time. The critics attacked his drawings as indecent. Aubrey's unique format, the stark black and white drawings and modern details, made for many disparaging comments.
Oscar Wilde
Playwright Oscar Wilde's "Salome" came out in 1893 and was scandalous, especially after being published in the original French version. Beardsley was commissioned to illustrate the English edition.
Wilde was tried and convicted of "gross indecency" in 1895 and Aubrey Beardsley was dismissed from "Yellow Book" in the scandal, even though he was not involved in homosexual affairs and was for the most part heterosexual (little is known about Aubrey Beardsley's private life except that he was sociable but solitary, and created work with doors locked). Nevertheless, the association with Wilde was drawn, and when the windows were broken at work, Aubrey saw his Yellow Book job behind him.
The Savoy
Leonard Smithers, a former lawyer turned publisher, got together with Arthur Symons and created rival publication "The Savoy," where they mused that Aubrey Beardsley would be an excellent illustrator for their periodical. Some of Beardsley's best work was created here because he had the freedom to publish his erotica.
Decadence and Message
Beardsley's audience was often critical of his depictions because his combination of styles. Symbolism, Aestheticism, Art Nouveau and Decadent themes shocked them. He often illustrated the repressive Victorian concepts of sexuality and their restrictive gender roles. Drawings of males demonstrated their vices under Aubrey's pen: men's struggle for power, consumerism and dominance over women.
Victorian women on the other hand, feared pregnancy because of the outrageous numbers of maternal deaths and, in response to this anxiety, Beardsley had a number of drawings of women with fetuses resembling little monsters.
These themes were his way of protest against these biases and meant to provoke readers and viewers out of their complacency. The drawings revealed sexual prudishness and the hypocrisy of the Victorian patriarchal social structure.
Little Life Left
Knowing that he almost certainly had little time to live, Beardsley produced a huge quantity of art in his career of five years, despite periods when he was too ill to work at all. The tuberculosis turned deadly and drove Beardsley to France in 1897 with his mother in tow. Despite the ravages of the disease, when he could hold a pen the drawings continued. His creative energy stayed with him until he died in 1898, at the age of twenty-five.
"People hate to see their darting vices depicted [but] vice is terrible and it should be depicted."
References
Sturgis, Matthew. Aubrey Beardsley: A Biography. New York: Overlook Press, 1998. Book.
Harris, Bruce S., Ed., Arthur Symons introduction. The Collected Drawings of Aubrey Beardsley. New York: Bounty Books (Crown), 1967.