Educational Games For the Classroom: A Review of Education City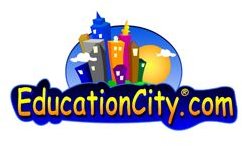 Since 1999, Education City has been providing a visually enticing way for technology and curriculum-based learning to come together. Education City is one of the most thorough educational websites because it uses state curriculum standards in its games and activities, but it is also subscription based. It covers Pre-K to sixth grade curriculum areas.
For Teachers (5 out of 5)
Teachers can direct students to focus on certain skills by topic searches, or they can access what they need through the lesson plans provided, printable worksheets, and forums to enhance the classroom effectiveness of the educational games featured. To save teachers' valuable time, Education City will also evaluate the performance of their students both individually and as a class, reward students and score student work.
Teachers can use Education City for students to practice their weaker skills independently. This can lead to more effective differentiated instruction, as well as also improving computer literacy skills. Instead of drawing the attention of all students to the weak spots of their counterparts, Education City will allow them to learn what they most need to learn while maintaining respect for their privacy as well. Teachers can also use the activities as whole-class learning tools and play games on an interactive whiteboard or projector.
For Students (5 out of 5)
Students play fun games and activities while brushing up on their skills. The animation is colorful, exciting, and eye-catching to keep students interested and stimulated while learning. For example, at the Kindergarten level, language arts vocabulary skills can be built by playing games like 'Fix the Bus' in which students must point out parts of the bus which are being discussed. Second grade Science games include 'Animal Homes', in which students must select the appropriate habitat for the featured animals. Fifth graders can practice math skills with games like 'Slippery Slope' in which they must put negative numbers in order and solve problems with negative numbers. Spanish activities are also available at various grade levels to help both English Language Learners develop their skills in their native language while they learn English or to help dual language students learn Spanish.
Educational Experience (5 out of 5)
Education City's games, activities, and facilities for teachers all contribute to an overall rating of five out of five stars. Teachers will have no difficulty justifying students' spending class time on these games during differentiated instruction or as a whole class to introduce concepts. Students will be excited to play these games to learn. Teachers will be equally excited to know that accompanying materials are provided for them, thus saving them work instead of giving them more. All will be satisfied with Education City and its educational games for the classroom.
Value for Money (3 out of 5)
Although more than just recommendable as an asset to teachers for classroom use, what may hold many back is the pricing. Subscription costs per school (not limited to one classroom) depend on the length of time, spanning from one year to six years, and the package. The packages can be for just one subject area and just one grade level, or can be a few grade levels in a certain subject area. For example, Science grades 3-5 would be about $325, and a one-year whole school package for Math, Language and Science can quickly add up to $2,000. This is a lot, especially considering that there are many great free educational games online.
Worth Getting? Try the Free Trial
Although teachers can easily argue their case on how Education City should be supported by their administration, ultimately it is up to the administration to agree to the cost. One way of helping convince an administrator might be for the teacher to take them on the tour of the resources available to show them how Education City adheres to state curriculum guidelines and can entertain students as they learn. You can always sign up for a free trial and see what you think.