Speech and Language Activities for Toddlers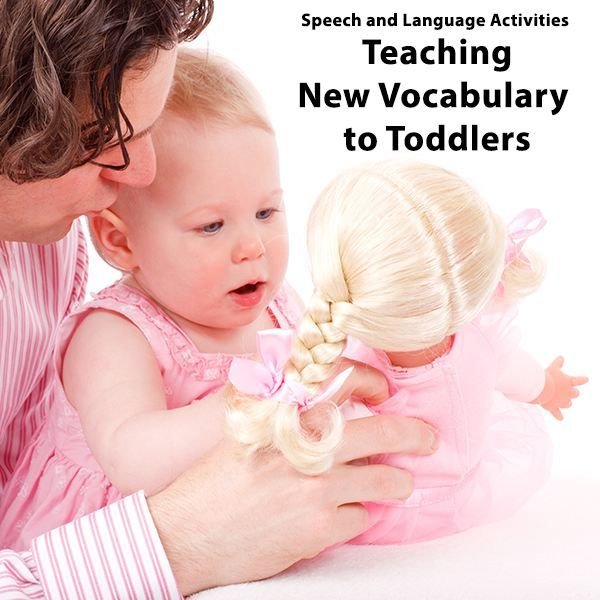 Speech as a toddler usually encompasses two-step directions, naming familiar objects, combining two words into a simple phrase and name recognition. When teaching toddlers verbalization your task is to help youngsters stretch their words into complete sentences. For example, a child may say "Mama's car" when the parent leaves the center, and you can expand on this phrase by replying, "Yes, Mama is leaving for work in her car." Let's face it, toddlers will learn to talk eventually, however using innovative activities (imitation and modeling) makes speech development fun and entertaining. Children learn to 'speak by speaking' so make use of these activities for toddlers daily with your group.
Principles of Good Speech Development
Encourage language with your toddlers in the following ways:
Toddlers learn about their world by observation and hearing your spoken word. Together describe what you are doing throughout the day. Have the toddler speak with you and take advantage of a one-on-one conversation whenever possible.
Ask questions if you don't understand what the toddler wants. For example, if the child says "ba ba" and you're not sure what she wants try asking questions like, "Do you want your blanket?" or "Would you like some milk?" Asking questions will help you find out what the toddler needs and allows you to model language as well.
Toddlers love to point to objects they want and this is natural at this age. While helping them attain the object, add words and phrases and encourage them to repeat them.
You will hear toddlers babble words as they play. Encourage this behavior by adding in correct words as you play together. For example, say "the train goes choo choo'" as you push the train around the track, or say "the baby likes milk" as the toddler gives a bottle to a toy doll.
It's necessary to become a good language role model when speaking with toddlers. Talk to them in complete sentences with good pronunciation and grammar.
Fun With Tube Talking
Make speech development fun with games. Tube talking is not only fun but encourages the toddler to join in with some interesting conversation and sounds.
Provide each child with a cardboard toilet paper tube. Show the toddlers how to hold the tube up to their mouths and talk. The sound will be amplified. The teacher can say words or phrases and encourage the toddlers to mimic and repeat what they hear. This game will help children with listening skills, articulation and speech improvement.
For added fun, invite the toddlers to decorate their own tube with non-toxic crayons and markers. Stickers work well too!
"What Do I Do?" Game
Place an assortment of objects into a box. At circle time, have each child pull an item from the box. Give them time to examine the item and even pass it along to the other children. Then ask the toddlers to tell you the name of the object and what it does or how it is used. Take their cues and create a sentence. Ask the children to repeat the sentence with you. Their verbalization may not be perfect and that's OK - this is the beginning of learning speech.
Use Puppets for Language Development
Children love puppets and these toys make perfect props to encourage language and socialization. Some toddlers may even prefer to talk to the puppets versus people. Use puppets for circle time discussions, reading books, and singing songs.
Help toddlers to make a puppet of their own to talk to or two children may use puppets to speak to each other. Sock puppets are easy and safe. Pull the sock up the arm and the end of the sock inside the toddler's hand to form a mouth. Draw on facial features with markers. An inexpensive puppet is placing two stickers on the child's fingers. Help the toddlers to start a conversation between the sticker characters.
Easy Language Props
Use a toy telephone and pretend to make calls and carry a conversation.
Young children love to hear their voices. A microphone is a fun prop that will amplify the child's voice and encourage conversation. Also, think of using a tape recorder to capture conversations or singing songs. Play back the tape for the toddlers to listen to. Repeat this activity periodically to compare the changes and growth of speech development.
The Bottom Line
These are only a few ways to teach toddlers how to speak. There are many speech and language activities for toddlers in developmental books for children and on the Internet. The most important factor is to have patience and to make learning fun. Through repetition and modeling young children will build their vocabulary daily.
References
Baby Play & Learn by Penny Warner [Meadowbrook Press]
Terrific Tips for Toddler Teachers by Gayle Bittinger, Mary Ann Hodge, & Jenny Cooper Rose [Totline Publications]
An Activities Handbook for Teachers of Young Children by Doreen J. Croft & Robert D. Hess [Houghton Mifflin]