How to Use Toddler Shape Sorters to Maximize Learning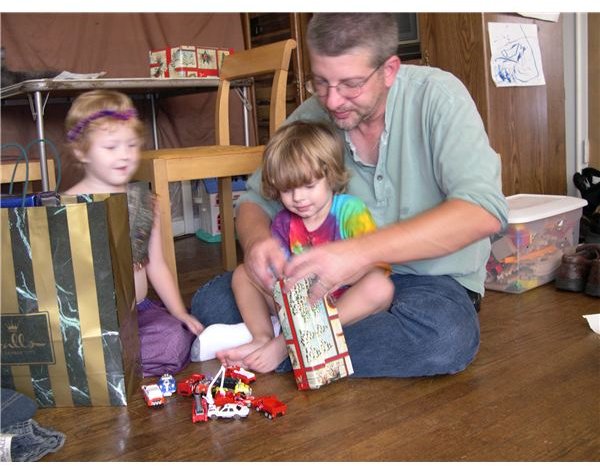 Toddler shape sorters have been around for decades. They are classic toys because they not only entertain children, they work as learning tools as well. The shape sorter consists of three dimensional shapes made of plastic or wood. The three dimensional shapes correspond to shape sized holes in a container. The toddlers manipulate the shapes to correctly fit into their holes and then once the container fills, they dump them back out again. There are many benefits of toddler shape sorters. Teachers and parents can use them in a preschool environment to teach shapes.
Using Shape Sorters in the Classroom
Preschool teachers find toddler shape sorters powerful learning tools in the classroom. First, the child must hear the names of the shapes. While she plays with the shape sorter and manipulates the pieces, the teacher should verbally label each shape. Then, the teacher should take all the pieces except for one. Have the child find the matching hole and move the piece around until it falls through. Work until the child matches all pieces with their cut-outs. Then, lay out all the pieces and ask the toddler to pick up the circle and put it in it's hole. Follow that with the square, triangle, and any other shapes. This shows that the child can identify each shape when she hears it's name. Once she masters this step, have the child point to a shape of her choice and name it before placing it through it's hole. Do this until each shape sits in the toddler shape sorter. Each of these steps could take a week or so before mastery.
Toddler Shape Sorter Benefits
Besides the obvious benefit of exposing toddlers to various shapes and colors, shape sorters have other benefits as well. They improve finger dexterity and help children hone their fine motor skills. This helps with handwriting and using scissors. Also, shape sorters teach young toddlers cause and effect and object permanence. When they put the shape through the hole, it disappears, but once they look in the container, it's still there.
Types of Shape Sorters
Toddler shape sorters come in all different sizes and variations. Some have basic shapes meant only for young children under the age of 2. These usually have a box-shaped container with circle, square, rectangle, and triangle holes. More advanced shape sorters for kids 3 and older have more complex shapes like pentagons and crescents. Sometimes these containers are round and require the child to hold and turn it to find the correct hole. Newer designs even play little tunes or light up if the child inserts the shapes correctly.
Toddler shape sorters make wonderful additions to daycare centers, preschool classrooms, and homes. The skills children learn playing with these classic toys are irreplaceable. When teachers and parents actively involve themselves in playtime shape sorters help toddlers developmentally thrive.