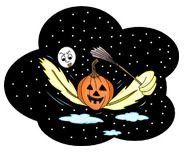 Halloween is October 31st and the little ones are already getting excited about this fun holiday. Making crafts keeps toddlers entertained and helps them to develop fine motor skills as well.
In this article you will find several craft ideas with instructions. Don't expect the final product to be perfect, because with toddlers the process is more important than the final outcome. Focus on providing a variety of interesting art materials to give toddlers good art experiences.
Make sure to display the artwork created by your group throughout the classroom and watch their little faces beam with delight. Praising your toddlers will build up their self-esteem.
Despite the frightening origin of Halloween, make it fun and non-scary for your toddlers. Emphasize happy jack-o-lanterns, friendly ghosts, and fun little monsters. When doing your art projects a 'smiley' face is better than a scary frown.
Using Hands to Make Halloween Characters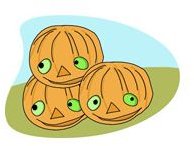 Here are two toddler Halloween crafts where children make prints with their hands and turn them into holiday characters.
Materials:
Non-toxic tempera paints, white and orange
Construction paper, black and white
Non-toxic markers and crayons
Happy Ghosts
Transform a toddler's handprint into a ghost.
Brush on white paint to the toddler's hand.
Press this down onto black construction paper. You will be able to make two prints on one sheet of paper.
When the paint is dry, glue on plastic googly eyes (or make some from scraps of paper) in the palm of each hand.
Help the toddler draw a mouth under the eyes for a "boo-tiful" ghost picture.
The Pumpkin Patch
The teacher can draw a wavy line with a green marker across a sheet of white construction paper.
Show the toddler how to make a fist and apply orange paint onto the four-finger part showing.
Help the toddler to press the painted part of the fist down on the paper along the green vine. This print is to resemble a pumpkin.
Repeat this process to make several pumpkins along the vine on the page.
Show the children how to draw in some leaves with crayons. It's Ok if the leaves are scribble; this is how toddlers learn to draw.
My Mummy
Materials:
Orange construction paper
Black marker
Toilet tissue
Non-toxic school glue or glue stick
Black paper circles for eyes
Red paper circle for the mouth
Procedure:
Explain to the children that mummies are little monsters that come out during Halloween. You can describe this art project as a child who wants to dress up like a little monster and is wrapped with toilet paper.
The teacher can trace around a large gingerbread cookie cutter or template to make a child shape onto the orange paper.
Cut out this shape.
Help the toddlers spread school glue onto the shape.
Invite them to place small pieces of toilet tissue onto the shape until it is all covered.
When finished, glue on eyes and mouth to your finished, wrapped mummy.
A Little White Ghost
Materials:
White paper towel

Rubber band or yarn
Non-toxic markers
Procedure:
Place the child's finger inside a white paper towel. Secure this to the finger with a rubber band (not too tight) or tied on with yarn. Make a face with the markers (two eyes, a nose, and a mouth). Have the toddlers hold up their little white ghost and act out the motions while singing this song.
Tune: "The Little White Duck"
A little white ghost flying through the air (hold the finger up and move it through the air)
A little white ghost flying through the air. (repeat motions)
She flew so high, she almost reached the sky, (move the finger up high in the air)
But she came back down and said, "Good-Bye!" (move the finger down and then make it disappear behind your back)
Repeat this song as many times as the toddlers want to play.
Magic Pictures and Fingerpaint
Toddlers love to fingerpaint. You can use non-toxic fingerpaints, instant vanilla pudding, or flavored gelatin mixed with a small amount of water. Use orange or tint your food paint with red and yellow food coloring. Place a dab on a sheet of white fingerpaint paper and let them use their hands to develop fine motor skills.
To make this art project into a Halloween decoration, cut the dry paper into the shape of a pumpkin. Glue on geometric shapes (circles and triangles) cut from black construction paper to make the face of a Jack-o-lantern.
Magic pictures are also a fun art activity for toddlers. Before class the teacher makes Halloween shapes with a white crayon on white paper. Invite the toddlers to paint the paper with orange paint (that has been thinned out with water). Have them paint the entire page. Magically the Halloween shapes will appear!
There are many more crafts that your class can make. Just be sure to keep the project simple and use materials that are age appropriate.
Also, it's best to keep the characters happy versus scary at this age. Happy Halloween!
References
Additional ideas developed by the author, Tania Cowling
Baby, Play & Learn by Penny Warner
Images are from Classroom Clipart in the Halloween section located here: http://classroomclipart.com/clipart/page-9/Clipart/Halloween.htm:
Note this is a free resource. The editing staff found the pop-ups and advertising to be a 'little' aggressive, but they do have lots of cute and fun images.