House crafts are great activities for toddlers. This is because a majority of the materials are readily available, your child can enjoy making these crafts in the comfort of their own home (great for rainy days), create them at your child's pace and immediately display them or enjoy their output.
This article will provide a few examples of crafts for toddlers to make and pending your creativity, you can extend the projects to include a few customizations or ask your child how they can take the activity further.
Mobiles
Materials Required
Tape
Paper
Scissors
String
Markers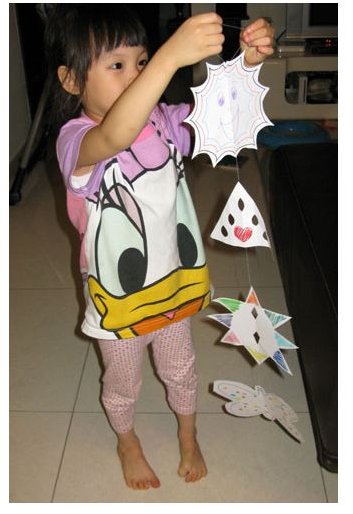 Mobiles are one of the easiest and most diverse house crafts for toddlers to make. Consider using blank paper and scissors and cut various shapes (like snowflakes or circles) for your child to color. You can even have your toddler rip pieces of paper to stick together (if they are not proficient enough with scissors). The mobiles can be as long or as short as you wish and for an extra boost in activity length, you can make a spider web of mobiles across your ceiling.
Observation Pipes
Materials Required
Empty toilet paper rolls
Clear packing tape
Various small "fillers" (example: rice, macaroni, coins, feathers, cereal, washers, soil, etc.)
To make observation pipes, use your clear packing tape to seal one end of the toilet paper roll (use the tape back-to-back so that whatever you are putting in does not stick to the tape). Ask your toddler to help you fill the empty toilet paper roll with whatever you have decided will be appropriate and then seal up the other end. When completed, you should have a transparent toilet paper roll containing your "observation" material. Your toddler can now shake it, roll it, or play with it however they wish. This is great for little fingers and exploratory minds.
Origami
Materials Required
Origami is the most economical and simplest house craft for toddlers to make. Due to the availability of on-line resources, you can search for any type of animal or shape your toddler likes and create it for them. Some origami is simple enough that you and your toddler can do it together (like boats and airplanes) and with some markers or crayons, they can customize their little creation.
Boxes
Materials Required
Empty box
Decoration materials (markers, crayons, streamers, etc.)
Empty boxes make great starting points for a toddler craft. With their imagination, they can turn it into a house, a car, a train, a castle – whatever their heart desires. With more materials, you can entice your child to be more creative in how they create their environment. Some great examples are sticking paper together to form a roof or paper cut-outs for gardens. Consider also using Popsicle sticks, cotton balls, macaroni or toothpicks.
House crafts for toddlers is where you and your toddler can explore together with readily available household materials, time and imagination. There is no limit to creation and will help develop your child's fine motor skills.