Three Crafts for Toddlers on the Color Yellow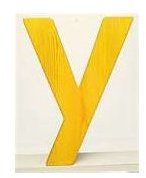 The best way to teach toddlers about colors is through repetition. The more children are exposed there is a greater likelihood of their ability to recognize colors. Toddlers can only remember a few colors at a time so start with a couple favorites at first. Since yellow is a primary color, pursuing crafts for toddlers in the color yellow is a good beginning. Here are a few to try.
Y is for Yellow Yarn
Materials:
Construction paper

Scissors (Adult Use)

Yellow yarn pieces

Glue stick

Black marker (Adult use)
Procedure:
The teacher can begin by tracing a large Y shape onto construction paper using a black marker. Cut out the shapes and give one to each child. Invite the toddlers to glue on pieces of yellow yarn inside the Y shape. As the children work, emphasize that Y is the alphabet letter that stands for yellow and yarn. When dry, help the children use their fingers to trace the letter and touch the yarn. Children do learn with their senses.
Make Yellow Sunflowers With Feet
Materials:
Construction paper in yellow

Pencil or crayon

Scissors (Adult use)

Glue stick

Sunflower seeds
Procedure:
Trace around the child's bare foot (including the toes) on construction paper. Make five shapes per child. The teacher and adult helpers can cut around each child's foot shapes. Invite the children to use crayons to decorate their feet shapes. Arrange the five shapes into a flower shape and glue the feet together in the center. Help the children to glue a few sunflower seeds in the middle of the flower.
You Are My Shining Yellow Star
Materials:
Yellow construction paper

Adhesive sticker stars

Scissors (Adult use)

Photo of child (brought in from home)

Glue stick
Procedure:
Cut a large star shape from yellow construction paper for each child. Invite the toddlers to decorate their star with designs they can draw (scribble) with crayons and to place star stickers randomly on their star shape. Ask the parents to send in a photo of their child that can be glued in the center of this star. The teacher can write "You Are My Shining Yellow Star" at the top with a marker. Punch a hole at the top stringing yarn to hang these in the classroom, or attach the stars on the classroom bulletin board.
These are only a few of the many activities you could try. Think about other yellow-colored objects that would make good topics for color-themed crafts, such as bananas, lemons, chicks, the sun, butter, yellow school bus, and a yellow submarine. Don't forget about using other art mediums such as lemon pudding fingerpaints, non-toxic yellow tempera paints, yellow crayons and chalk, and yellow food coloring in future projects.
Photo credits: