Babies and toddlers are naturally inquisitive and creative creatures. Even the youngest children are fascinated by the things they can manipulate and make with their own hands. However, classroom craft projects must be appropriate for the development levels of the individual child. The following projects are recommended for teachers and caregivers of young children in a daycare setting.
Plaster Hand Molds
Making plaster hand molds with babies and toddlers results in a cherished keepsake that parents can treasure as their children grow up.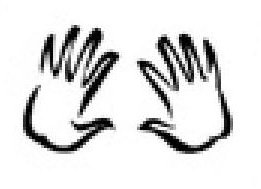 Materials: plaster of Paris, mold (shoebox lid, old cake pan), nontoxic paint
Preparation: Prepare the plaster of Paris according to the directions on the package. Pour the mixture into the mold and allow to set until the consistency of pancake batter.
Instructions: Help the children press their hands into the plaster. Thoroughly wash the children's hands with warm, soapy water. Allow the plaster to harden. Help the students decorate the mold with the nontoxic paint. Carefully supervise to avoid consumption of the paint. Allow the paint to dry before displaying.
Paste Paper
Making paste paper, which can be used as wrapping paper or within other crafts, is a fun art project for young children who love to paint.
Materials: large sheets of blank paper, wheat paste, nontoxic acrylic paint, plastic containers, paintbrushes, sponges, paint smock, water
Preparation: Prepare the wheat paste according to the directions on the package. The paste should be the consistency of pudding. Divide the paste into the plastic containers. Mix in a teaspoon of paint into each container. Prepare a variety of colors.
Instructions: Place large sheets of paper on a flat, washable surface. Moisten both sides of the pieces of paper with water. Allow the children to paint the paper with the colored wheat paste using sponges, paintbrushes, or fingers. Allow the paste paper to dry completely. Carefully supervise to avoid consumption of the tinted paste, and thoroughly wash the children's hands with warm, soapy water after painting.
Nature Collage
Babies and toddlers will love learning about nature through this simple collage.

Materials: poster board or cardstock; nontoxic glue; nature items such as leaves, sticks, flowers, and small pebbles
Instructions: Take the children outside to collect nature items. Talk about the items while gathering them. For example, talk about how leaves and sticks come from trees. Bring the nature items inside. Help the toddlers glue them to the poster board or cardstock. Continue talking about nature while making this craft. Allow the collages to dry thoroughly before displaying. Carefully supervise the children to avoid injuries or consumption of the glue. Thoroughly wash the students' hands after using the glue and touching the nature items.
Making crafts appropriate for the infant or toddler classroom is often difficult because of the varying levels of motor skills of such young children. However, even the smallest kids will delight in making these fun and easy crafts in a daycare setting.