Eyes-On, Hands-On Room Themes
Sometimes teachers think solely of decorations when creating a themed daycare room. Ideas should, however, also include hands-on activities and toys to go along with that theme. Children learn with more than just their eyes. The four seasons are great themes for a preschool or daycare room. Use your walls, ceiling, and floor to immerse your students into Winter, Spring, Summer, and Fall.
Begin a wall or a bulletin board with a barren tree. Include several branches with no leaves. If you have room, make the tree as large as a real tree on the wall. Simply use brown construction paper cutouts. If you don't have as much room, put the tree on a bulletin board.This tree will stay up year round, but you will change it to correspond to the seasons. This is a lesson in science.
Winter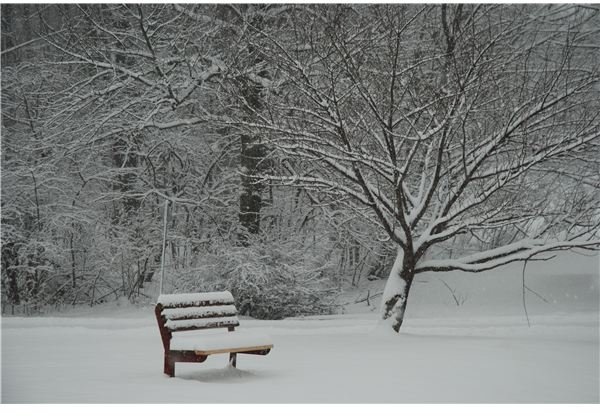 During the winter months, cover the branches with cotton to represent snow. Cut out white snowflakes and write each child's name on each of the snowflakes. Then, staple the snowflakes around the tree. This represents the cold winter months, but also encourages name recognition.
Teach the children how to make paper snowflakes. Fold a square piece of paper in half and then in half again going the other direction. With child-safe scissors, have the students cut shapes around the edges of the paper. When you open up the paper, they each look like unique little snowflakes. Hang these from the ceiling as a fun decoration.
To encourage play with winter-themed toys, try to find snowplow toy trucks or miniature snow mobiles. Also add hats, mittens, coats, and scarfs to the doll dress-up area. Let the children dress the dolls for the colder weather. This practice encourages self-dressing when going outdoors and improves fine and gross motor skills.
Spring
Spring brings new life to plants and animals. Show that with your daycare room ideas. Remove the snow from your tree and decorate it with bright green construction paper leaves and flowers. Explain to children that trees don't die during the Winter, they stay dormant until the weather warms in the Spring, then they begin to grow once again.
Write a child's name on each leaf and put them on the tree. Have them point out their names. If they have already mastered first names, add the last names as well.
Also, take some bulletin board space or wall space to depict the life cycle of a flower. Find large 8 by 10 pictures or draw your own pictures and place them in order. Start with a picture of a seed; show rain and sunshine with seed growth. Then, show the seed growing a stem and then a flower. This helps teach children ordinal concepts.
Encourage water play during the spring. Explain that water and rain help plants grow. Gve children turns at the sink playing with water toys. If you have a water table, lay some towels down on the floor and let a couple of children play at the table. If the weather is nice enough, move the water table outside and don't worry about the mess.
Summer
During the summer months, remove the flowers from the bulletin board tree and add construction paper apples. This time, have the children identify their names on the apple cutouts. Explain that all fruit comes from plants. Give them examples: oranges, blueberries, strawberries, peaches, and grapefruits.
Then, dedicate the three other walls to summer-related things. One wall should center around bugs. Give each child a construction paper oval. This represents a bug's body. Have them decorate their own bug. Then, give them construction paper legs and have them glue six legs onto their bug. This teaches them that insects have six legs. Post the creations on one wall.
Decorate another wall with a baseball diamond, bat cutouts, and baseballs. This American pastime is a quintessential summer sport. Then, on the largest wall, hang a big orange sun cutout. Nothing says Summer like the sun.
Fall
Fall is a beautiful time of year. Leaves change colors and gifts of nature surround us. Remove the apples and green leaves from your bulletin tree and replace them with cut-outs of orange, brown, and red leaves to represent the changing of the leaves. Again, place a child's name on each leaf.
Then, take your class or daycare group on a nature walk. Have them collect unique items like nuts, twigs, berries, and leaves. Bring them inside and decorate one wall with their collections. You can display larger items in a basket on the floor.
If you want some fall-type fun for the playroom, find a few gallons of dried corn (to represent the harvest season) and use it to fill a child-sized swimming pool. Let the children play with cups, spoons, and sand toys in the corn.
Decorating Across the Curriculum
Decorating your room for the four seasons introduces science concepts such as weather and plant growth. Not only can you use the room to visually please your students, you can teach them a thing or two at the same time. Use the ideas in this article and your imagination to create a room full of color and educational fun for Winter, Spring, Summer, and Fall.
Image Credit:
Kconners at morguefile.com https://www.morguefile.com/archive/display/653543
Ideas in this article come from my own creativity and experience