Introducing Preschool Children to Acting & Drama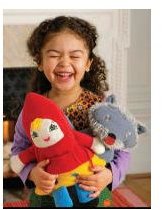 Drama in preschool doesn't have to be a multi-act play or big production. We imagine a play with a stage, several acts, scenery, costumes and an audience, but acting out stories doesn't have to go that route. In fact preschool children will gain more from the experience and less fear if it is not. At this age, it's best to let them act naturally and spontaneously with favorite stories. Our job as teachers it to let them do this providing the tools and information that will give them a sense of accomplishment and success. Below are simple ideas on how to introduce a little drama into preschool classrooms.
Choose a Story and Prepare Your Play
How do you choose the right story to act out in class? Think about which stories the children interact with and enjoy at storytime. Any favorite story will do, although here are a few recommended ones:
Brown Bear, Brown Bear, What Do You See? by Bill Martin Jr. - this story has animals, rhymes, colors, senses and plenty of opportunity for children to be creative and act upon these ideas.
Goldilocks and the Three Bears - this classic fairy tale is one children love to act out.
We're Going on a Bear Hunt - has plenty of motions to act out as a group.
Quick As a Cricket by Audrey Wood - this story tells about animals and what's special about each one.
The Three Billy Goats Gruff - this story lets the children explore size, order, repetitive story lines and the excitement of the "troll."
To begin creative dramatics, invite those children who take an interest in this activity and form a group. Talk briefly with them about what they need to know and how they might act the story out. Start your discussion with questions like:
Who are the main characters in the story? These can be people or animals.
Where does the story take place? (Setting)
What happens in the story? (Plot)
Together brainstorm ideas for:
What items can be used that will help you to pretend you are that character? (Props)
Can we make a mural or picture that will remind everyone where the story is taking place? (Scenery)
How can we remember what comes next in the story? (Lines director)
Next, it's time to choose characters. This can be done by drawing names from a hat or simply let the children decide the cast. Each day, do some preparation toward the play, searching for props and costumes, and making simple scenery on cardboard, butcher paper or even using a movable bulletin board as your backdrop.
Ways to Present Your Script
There are several ways to help the children with their story lines. Remember it may not turn out perfect (and don't expect it at this age), but it will probably include the best highlights.
An adult can re-read the story while the children act it out.
The story can be tape recorded so that the children can act while the words are spoken.
The teacher can make a large poster putting the story into sequence, using a picture to remind children what comes next.
The children can simply re-tell what they remember of the story in their own words.
Make it fun and your students will love doing it! Children can simply take turns being the audience or the actors. Children love to act out favorite stories and in turn the children come to love the stories they act out - this is the beginning of drama!
Photo credit: https://www.ticastoys.com/images/nabear/9588-small.jpg