Colors, Colors Everywhere
These color sheets/media files include color-themed images intended for early childhood learning. Every page shows four photos of different objects, each featuring the same color. The full set includes the six basic colors of the rainbow: red, orange, yellow, green, blue and purple. Images are intended to help students practice color, letter and word recognition.
Print each of the sheets to use as flash cards or for color matching and memory games. Flip through the color word flash cards and encourage preschoolers to repeat or sing the names of each color together. You can also cut out the individual objects and allow your students to group similar colors or arrange objects in the order of how they would appear in a rainbow.
If you plan to use the cards for a matching or memory learning game, place each piece of paper upside down. Students can take turns flipping the pieces until they have found all objects of the same color group.
Below you will find multiple files that can be used as educational media in both PDF and JPEG format. Downloads can also be used for digital flash cards or media presentations about the different colors of the rainbow. Use the illustrations to enhance basic worksheets or for other educational purposes.
Exploring the Colors Around Us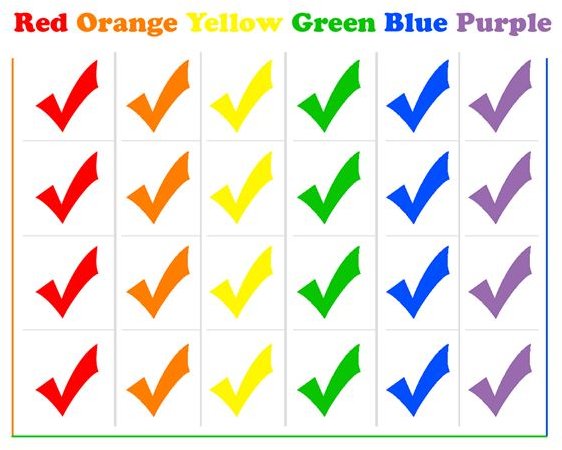 A "rainbow check mark" sheet is provided for use with other activities. Cut out these check marks and use small stickers or tape for children to affix them to the corresponding color sheet photos. Check marks can also be used for children to go on a "color scavenger hunt" to find objects of matching colors around the room.
Color Matching for Preschool – Rainbow Check Marks (PDF)
Color Rainbow Check Marks (JPEG)
These media downloads can also be used for bulletin boards or other projects. The basic vocabulary used for the color word flash cards include a variety of summer-themed concepts. However, the content is very generic and can be used throughout the school year for lessons and activities that relate to colors. Vocabulary used for the printables includes fruits, flowers, toys and related objects.
A handmade book of colors is another fun art project that these pages can be used for. Preschool teachers can staple or tie the color pages together using a hole puncher and string to create a book for each student to practice their colors.
Red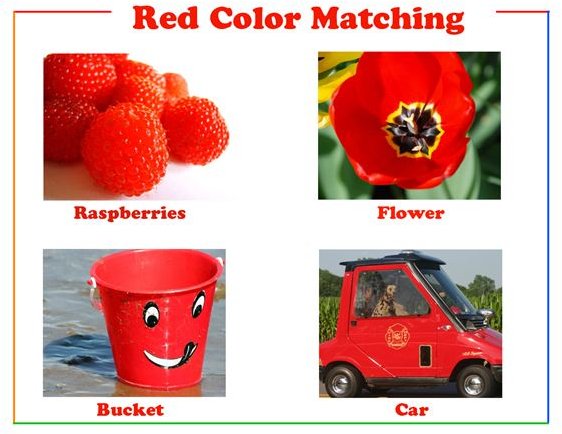 Red Color Matching (PDF)
Red Color Matching (JPEG)
The red color matching page includes the following vocabulary: Raspberries, Flower, Bucket, Car
Ask your students if they can find the same objects shown on the activity sheet around their home or at the neighborhood park. When using these activity sheets for a matching game, print out multiple copies. Cut out each image and glue them to cardboard or laminate them so that they are more durable.
When teaching children about the color red, ask them to name or draw other objects that are the same color. A few ideas to get started include fire engines, barns, apples, tomatoes or cherries.
Orange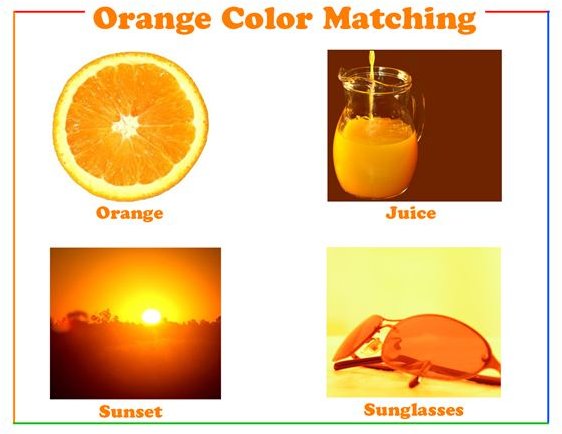 Orange Color Matching (PDF)
Orange Color Matching (JPEG)
The orange color matching sheet includes the following vocabulary words: Orange, Juice, Sunset, Sunglasses
Use the photos to engage preschoolers in conversation about their favorite foods, drinks and outdoor activities. Orange is a color often associated with the heat of the sun. Throw a "summer fun" preschool party asking children to wear orange clothing and sunglasses. Allow children to squeeze their own orange juice from real oranges or dig into papayas to find the orange-colored interior fruit.
Yellow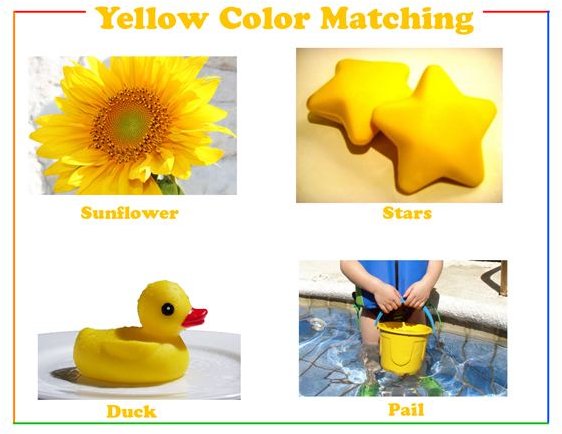 Yellow Color Matching (PDF)
Yellow Color Matching (JPEG)
This yellow color matching page includes the following vocabulary: Sunflower, Stars, Duck, Pail
Encourage your preschooler to go on a "yellow scavenger hunt" to find other objects of the same color. Ask children to bring a favorite yellow object from home for show-and-tell. What are students' favorite yellow foods? A few to suggest include squash, corn, bananas or lemons.
Green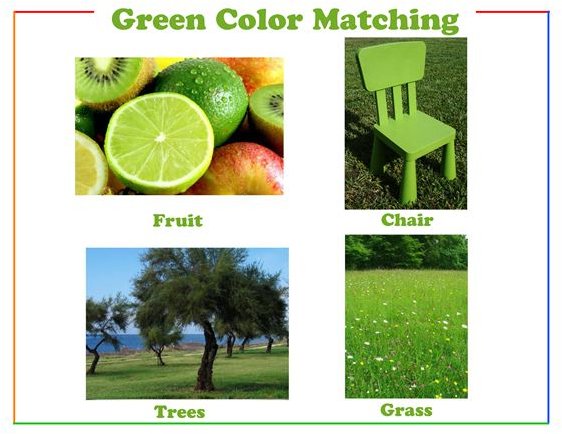 Green Color Matching (PDF)
Green Color Matching (JPEG)
This green color matching page includes the following vocabulary: Fruit, Chair, Trees, Grass
Create a "green color collage" by pasting photos on green construction paper. Find other green objects in old magazines to cut out for your creation. Allow preschoolers to create collages using construction paper or cardboard.
Learning about the color green provides a great opportunity to teach children about taking care of our Earth and its resources. Ask children to create a collage featuring the green growth and plants found in nature. Images of green foods can also be included in children's projects: green apples, grapes, pears, artichokes, lettuce, broccoli, asparagus, cucumber or celery.
Blue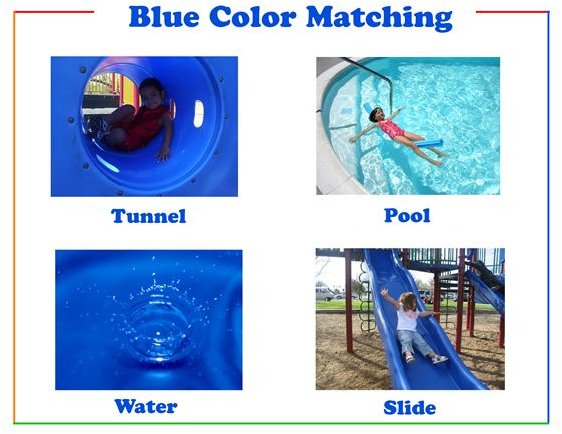 Blue Color Matching (PDF)
Blue Color Matching (JPEG)
The blue color matching page includes the following objects: Tunnel, Pool, Water, Slide
Use the blue color matching sheet to get your preschooler's creative mind in gear for a "color picture day." Give your preschoolers an old digital camera or a one-time/use disposable camera to take pictures of other objects that are blue. Can your preschooler find a blue slide or a tunnel like the one on the activity sheet during their next outing with family?
Purple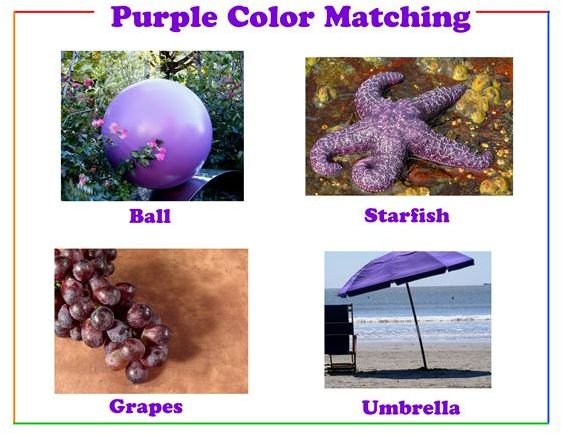 Purple Color Matching (PDF)
Purple Color Matching (JPEG)
The purple color matching page includes the following vocabulary: Ball, Starfish, Grapes, Umbrella
If you are saving the color word flash cards to your computer, iPad or similar device, create a slideshow of purple objects. Add images of a favorite purple toy or a photo of your preschooler wearing a purple shirt or hat.
The purple flash cards can also be used for vocabulary practice. Tape a piece of paper over each of the images leaving the word visible below. Name or describe one of the objects and ask students to uncover the correct image by finding the correct word.
Be creative and share your own ideas for teaching children about the colors that are all around us! Be sure to let us know how you used our preschool downloads in the comments below.
References & Image Credits
These color word flash cards were created by the author using images under free license from morgueFile. Please view each download for respective image credits.