13 Cute Bulletin Boards Quotes & Decorating Ideas: Preschool Displays for Seasonal and Holiday Themes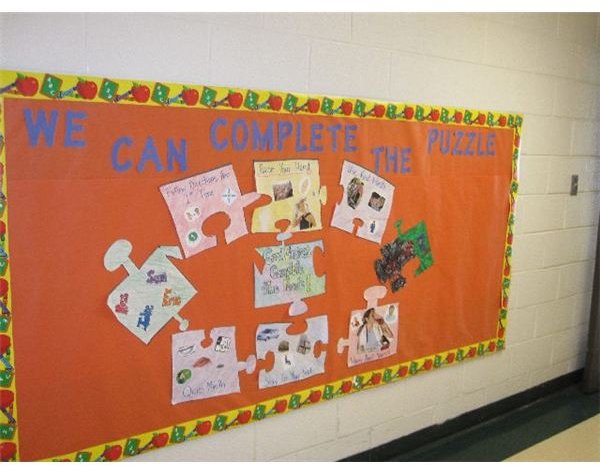 Why Use a Bulletin Board?
Bulletin boards are key elements in your early childhood classroom. Pick a topic and invite the children to help you with the creation. Through the children's involvement, posting a bulletin board is a learning aid and an important resource for everyone who views it. As you use a bulletin board with teaching units, children make connections between the abstract ideas of the unit and the concrete objects on the board. It's a great teaching tool to use.
Let your imagination run wild - creativity thrives when there are no boundaries. Use the ideas below or brainstorm cute bulletin boards quotes. Preschool themes can take on new dimensions when matched to the interests and personalities of your group. They also build a child's self-esteem when they can show off their artwork. Bulletin boards should center on a theme; here are a few ideas that are popular in preschool classrooms.
Seasonal & Holiday Themes
Back to School - "Welcome To Preschool Where All The Pieces Fit" - cut out large jigsaw pieces from construction paper, posting pictures drawn by the children and even photographs of your students.
Birthdays - "Whoo-ooo Knows His Birthday?" - invite the children to make owl creatures and on each owl shape post the child's name and birthday.
Halloween - "Going 'Batty' Over Halloween" - make bats using two handprints connected together with an oval body. Let the children decorate the faces and add each child's name.
Thanksgiving - "Gobbling Down Turkey Lane" - have the children make turkey shapes and decorate them as they wish. Above each turkey on the bulletin board, make a conversation bubble and write the child's dictation about what they want to eat for Thanksgiving dinner.
Christmas - "The Children Were Nestled All Snug In Their Beds" - the teacher can create a gigantic bed on the bulletin board. Each child can create a facial self-portrait on a paper plate, and these are attached as if their heads were on the pillows tucked inside the bed.
Winter - "A Mug Of Cocoa Keeps Us Warm" - give each student a mug shape cut from colorful construction paper. Let them decorate their mug and add their first name. Attach these to the bulletin board. Bring out a bag of cotton balls and let the children help you to glue the balls near each mug to represent marshmallows.
Valentine's Day - "A Teacher's Mailbox Is Filled With Love" - the teacher can construct a large mailbox with heart shapes overflowing the opening. Each heart shape has a student's name on it. The rest of the bulletin board can be adorned with pictures drawn by the children.
Spring and Easter - "Hoppin' Into Spring" or "Hippity Hoppity Easter's On It's Way" - give the children a bunny shape and let them decorate them with various art mediums. Place the child's name on their bunny and attach them randomly on the board. Add touches like Easter eggs and cellophane Easter grass on the board as well.
Earth Day - "We've Got The Whole World In Our Hands" - make a large Earth to place in the middle of the bulletin board. Have the children make handprints (using tempera paint) and have the hands circle around the Earth shape.
Earth Day/Global Awareness - "Living In Harmony" - place an Earth shape in the middle of the board. Invite the children to draw pictures of children, maybe suggest outfits from other lands. Provide construction paper in a variety of skin tones to show diversity.
April/Spring - "April Showers Bring Mud Puddles" - we all know that April is notorious for rain showers and where there is rain, there is mud. The teacher can cut out a character jumping in a mud puddle for the center of the board. Give children an oval sheet of white construction paper and let me create handprints or footprints using brown tempera paint. Place the child's name on these print sheets and attach them to the bulletin board.
Mother's Day - "Sprinkled With Love" - the children can make flower pots with flowers to attach to the bulletin board. On each pot, have a tag that says 'To Mother, Love Kayla' (child's name). The teacher can add a large watering can to the board with aluminum foil raindrops. As it gets close to Mother's Day, the pots of flowers can be taken down off the board and taken home to present to the mothers.
End of the Year/Summer - "Stepping Into Summer" - have the children step into tempera paint and make a print onto a sheet of construction paper. Let them draw a picture and dictate what their plans will be for summer vacation. Add these to the bulletin board.
Preschool children love the vivid displays of art, and these bulletin boards become an extension of the children's involvement and an important learning aid.
Sources:
Personal experience in the classroom
The Best of Mailbox Magazines, Books 1 & 2 [Education Center, 1993, 1996]