Why Is Outdoor Play Important for Children? Theorists Weigh In On Benefits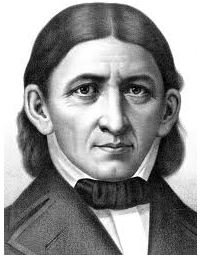 Many early childhood pioneer theorists had introduced the importance of outdoor play for young children long ago. Their ideas and influence on the evolution of early childhood practices and provision is undeniable. Who are these outdoor play theorists?
Rousseau (1712-1758) and Johann Heinrich Pestalozzi (1746-1827)
Rousseau and Pestalozzi, inspired by the former, were precursor theorists on outdoor play by introducing and sustaining the original idea according to which nature and the natural environment had a definite and positive role in the education of children.
Friedrich F
**
roebel (1782-1852)
Friedrich Froebel, founder of the Kindergarten and inspired by Pestalozzi, strongly emphasized the significance of outdoor play. The name he gave the schools for young children he created, themselves testify of the latter. Kindergarten literally means 'garden for children', demonstrating Froebel's endeavor to highlight the importance of the 'outside world' and nature. Froebel's kindergarten was knwon to be tripartite and one of the three essential element consisted of a garden in which children and their educator grew plants, harvested and made something out of the harvested product. Not only did such activities stimulate young children's awareness of the natural world, they taught children the existing connections between the natural environment, food and health (Froebelweb).
Margareth Mc Millan (1860-1931)
In 1911 Margareth Mc Millan and her sister established an open-air nursery for poor children in Deptford, England. With a strong emphasis on children's health and well being, Mc Millan's theoretical and practical education of young children incorporated exercise and fresh air at the heart of children's play ventures (Young-Ihm Kwon, 2007).
Susan Isaacs (1885-1948)
Susan Isaacs, psychologist and teacher was highly influenced by Froebel's educational ideas. She believed outdoor play to be extremely important and beneficial to young children. The Malting House School, which first opened as an experimental nursery school, and of which Susan Isaacs was in charge, had a well equipped garden with a play house, sand pit, tool shed, plots for gardening and one of the first climbing frame in Britain (Pound, 2005 in Mickleburgh, 2007). Although such outdoor provision may seem banal and hence taken for granted nowadays, it was highly innovative and original then. She also organised occasional trips away for the children in her care, which again was not something common to do by then.
Outdoor Play Benefits: Gross Motor Skills and Physical Exercise
Why is outdoor play important for children? Outdoor play is important for several reasons and first and foremost for spatial reasons. While physical activity is usually limited in indoor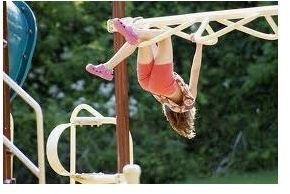 settings, such restriction does not apply to outdoors. Children are free to run outside, something they can't do indoors. Large apparatus such as climbing frame, swings, slides or else can be installed outside while not inside. Other equipment such as wheeled toys may also be part of the outdoor play equipment. All the latter is known to be extremely popular amongst children who most often happily wander from one apparatus to the next.
The type of activities made possible outside therefore is bound to have huge benefits on children gross motor skills' development and favour physical exercise. As well as free flow active play, there are a number of structured activities and movement games teachers can organize in order to maximize outdoor play opportunities.
While increasing their confidence in their young bodies, the latter is also directly linked to their mental and physical well being through the actual exercise resulting from such outdoor activities. Moreover, kinaesthetic learners who may struggle during classroom activities could excel in physical control and agility and hence, highly benefit from outdoor play, which is prone to then, even boost their self-esteem.
Outdoor play theorists Mc Millan and Isaacs appeared to have already known in their time why outdoor play was important and in particular the connections between physical activity and health. Mc Millan had already stressed the link between health and exercise and Isaacs provided for gross motor skills development in the garden attached to her school.
Outdoor Play Benefits: Natural Environment and Learning Experiences
Another reason why outdoor play is important is directly linked to young children' learning experiences of the outdoor environment. The natural environment offers a wide range of potentially rich activities which would not be suited to an indoor setting, and children are highly likely to both enjoy and learn from experiences they have when playing outside.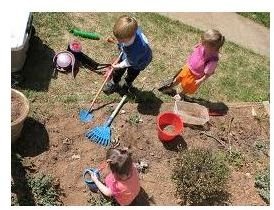 Outdoor settings favour access to many things for examle which may not conveniently be kept or easily managed in indoor settings. Gardening for example, as was introduced by some early childhood pioneer theorists such as Froebel as seen, is a great way to teach children about food, the natural world, how things grow, and the environment.
However, while the latter may be limited to growing flowers or plants in a pot if done in an indoor setting, gardening activities and associated learning take a different dimension if and when carried out outdoors. Children can have a greater input in gardening if done outside, and digging, planting, watering all consist of the types of activities they can most freely and potentially safely have a go at. On the contrary, they would not be able to do so indoors as it is not convenient for obvious practical and spatial reasons.
Exploring the natural world by spending time outdoors is bound to also enhance children' understanding of the world they live in. Lessons on seasons, insects etc will be enhanced by outdoor access and play as children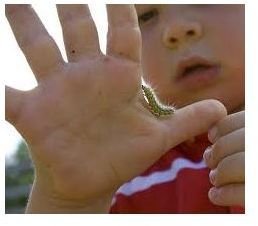 are given concrete opportunities to interact with essential elements of the material taught.
Playing outside may also help them become accustomed to the features of the natural world and they will learn to distinguish harmless natural elements or living organisms from harmful ones. For example, coming across a variety of natural things, parts of their environment, they will learn to either be careful of certain things (bees, wasps, nettles, thorns etc) or 'not scared' of others (worms, flower, tree, grass etc).
Outdoor Resources and Materials
The outdoor environment offers a wide range of significant resources, which can be used for and by children and teachers or early years practitioners in a variety of contexts. Teachers can organize nature games utilizing outdoor resources. Moreover, sticks, stones, grass can all be used in random or planned creative activities or crafts. Collecting different types of leaves or different types of shells for example can also be at the heart of making a themed poster or scrapbook on a specific topic. Children learn about the richness of the natural world and how they can use it.
Natural seasonal occurrences are equally interesting and beneficial as potential catalysts of both fun-filled and enriching activities. Snow in the winter for example may leave children in awe and admiration while offering them an opportunity to experience a wide range of activities to be done outside in and with snow. Connection to the sciencific area of knowledge part of the curriculum can also be cashed on by teachers and children may have a first hand experience on understanding ice turning into water, for example.
Outdoor Play: Opportunities to Cover All Areas of Learning
While the opportunities for outdoor play looked at above are mostly informal and at the root of teaching children about the world and their environment, there are numerous opportunities to design a variety of activities with the potential to cover the more formal aspects of the curriculum in its entirety (Surestart). All areas of learning can be included in outdoor play activities, and the latter can be done in fun and original ways. This is extremely important as while some children may not relate well to formal learning activities, concrete elements found outdoors together with the informality of the setting, may ease more formal or more academic orientated learning.
This is why outdoor play is so important as that had long been explained by early childhood theorists. Although most early years teachers know that, providing adequately and widely for outdoor play can be challenging due to practical or financial reasons for instance. Nevertheless, it is increasingly important to do so, as for many children nowadays, opportunities to spend time and play outside are few. Modern life has contributed to diminish outdoor play ventures. Many parents are often very busy and taking their children out to play is more often than not exceptional rather than the norm. Consequently, TV and computer games tend to be predominant in children's home and spare time.
References
References
Figures in Education: 19th and 20th Century - https://www.vam.ac.uk/moc/childrens_lives/education_creativity/19_20_centuries/index.html
Froebelweb.com - https://www.froebelweb.org/
Jean Jacques Rousseau on Nature: Wholeness and Education - https://www.infed.org/thinkers/et-rous.htm
Mickleburgh, J. (2007) Educational Pioneers: Susan Isaacs, 1885-1948 - https://www.foundation-stage.info/articles/article.php?Educational-Pioneers-Susan-Isaacs-1885-1948-41
Surestart - Outdoor Play: The Unique Value of Outside Environment - https://www.learningwithsouthglos.org/eyfs/acrobat/resources/outdoorplay.pdf
Young-Ihm Kwon Changing Curriculum for Early Childhood Education in England ECRP (Early Childhood Research and Practice) Vol 4, No 2 - https://ecrp.uiuc.edu/v4n2/kwon.html
Image Credits
Friedrich Froebel by C. W. Bardeen - https://www.commons.wikimedia.org/wiki/File:Frederick-Froebel-Baarden.jpeg
Child on Climbing Frame by Kcds - https://www.flickr.com/photos/Kcdstm/2679834385
Children with Gardening Tools by James Emery - https://www.flickr.com/photos/[email protected]/512358440
Child with Caterpillar by Tom Woodward - https://www.flickr.com/photos/bionicteaching/1450543394