Capture the eagerness of an emerging reader by sending preschool literacy bags home with your students. The bags provide books, both fiction and nonfiction, that relate to a particular theme along with connected activities. Show the child that home and school are working together on a common goal: learning!
What are the Steps to Prepare Literacy Bags?
1. Make a list of topics.

2. Choose two or three books for each topic. Try to mix fiction and non-fiction.
3. Decide on a craft, experiment or activity for each topic.
4. Make a list of necessary supplies such as tote bags, craft supplies, books.
5. Prepare a letter to the parents.
6. Prepare a list of what will be included in each bag. One list will be kept at school and one stays in the bag.
Topic Ideas
The choices of topics for preschool literacy bags seem endless. Choose topics that would fit the needs of your classroom.
Here are some ideas: Birthday Bag, I have a new brother/sister, Weekend fun at home, Learn to love veggies, Fall, Winter, Spring, Pets, Farm animals, Weather, A bag for each alphabet letter, A bag for a favorite author, A bag for a holiday, A bag for a special theme.
Parent Letter
Briefly explain the purpose of a Literacy Bag in general. Generate enthusiasm for parents and teachers working together for the common goal of educating the child. Then write a few sentences about the objective of the specific bag. Leave a space for the due date. It is nice to send the bag home on Thursday and have it returned by the following Tuesday. Provide a space for comments from the parents.
It's in the Bag!
Here's an idea for a Caterpillar to Butterfly Literacy Bag.
Books: The Very Hungry Caterpillar by Eric Carle (Fiction)
From Caterpillar to Butterfly by Gerald Legg (Nonfiction)
Just a School Project by Mercer Mayer (Fiction-Little Critter studies caterpillars for a school project.)
Activity: Felt Board Set of butterfly life cycle with a 1' square piece of felt
Craft: Decorate and cut out butterfly
Supplies: Copy of a blank butterfly.
Plastic baggie with colored pencils, colored tissue paper, sequins and small bottle of school glue)
In the parent letter, encourage parents to read a book each night with the child. After reading all three books, place the felt board figures on the piece of felt in the order of the butterfly life cycle and talk about it with the child. Then decide how to decorate the butterfly. They can use materials from the bag or things from home like colored cereal, paint or colored chalk, etc.
What's New?
Here are ideas for Our New Baby Literacy Bag: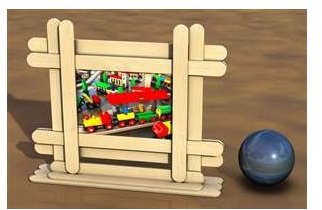 Books:
What Baby Needs by William Sears (Nonfiction)
The Berenstain Bears' New Baby by Stan Berenstain and Jan Berenstain (Fiction)
Wild Animal Baby by National Wildlife Federation (Nonfiction)
Activity:
Make a picture frame for the baby's picture
Extension Idea:
Bring in a picture of the new baby to share with your classmates.
Supplies:
Craft sticks/popsicle sticks Foam cutout decorations, sequins, or similar to decorate the frame.
The word "literacy" means the ability to read and write. Most preschoolers are eager to learn to read and write. What better way to join with the parents in a common goal than to send home preschool literacy bags? Literacy bags have become so popular that grants are being written to provide the materials. The bags are fun for the families and fairly easy to assemble. Check for sales at crafts stores to arm yourself with supplies and ideas. Order books inexpensively from children's book clubs. The time and effort will pay off in the long run as you see children grow and learn.
References:
Inexpensive Tote Bags: https://www.conventiontotes.com/BlankTotes/ProductList.aspx?cid=5
Felt Board Supplies and information: https://www.teachersbagsbooksandbeyond.com
Image Source:
https://3d4me.wordpress.com/2009/07/12/popsicle-stick-photo-frame/