Layout
When planning for infant-toddler classrooms, it is important to remember that they will look very little like a typical preschool classroom. Infants and toddlers have very specific developmental needs, and those should be addressed through your curriculum as well as the layout of your classroom.
Remember that infants and toddlers are learning to move their bodies in different ways and should be given plenty of space in which to crawl, stand, climb, and roll. Cribs should be kept in a space of their own away from curious crawling babies if possible. Ideally, cribs would be behind a half wall where they can still be easily monitored by teachers even if they are engaged with other children in the main play area.
Toys and equipment can be arranged in centers if you'd like, but the centers will not resemble what you would see in a preschool classroom. For example, all sensory toys such as musical instruments, "feely boxes" of different kinds of fabrics, and noisemaking toys can be contained on one shelf. Chunky puzzles and other manipulatives such as Duplo blocks can be kept together in another area. Provide baskets for toddlers to fill and dump as well as push toys such as shopping carts for mobile infants and toddlers. Soft spaces for smaller babies to roll and reach for toys should be kept clear of the busier areas of the classroom for safety reasons. There should also be comfortable adult seating such as a couch or gliding rockers for teachers and parents to feed infants. A low table and chairs are sufficient for feeding toddlers and older infants.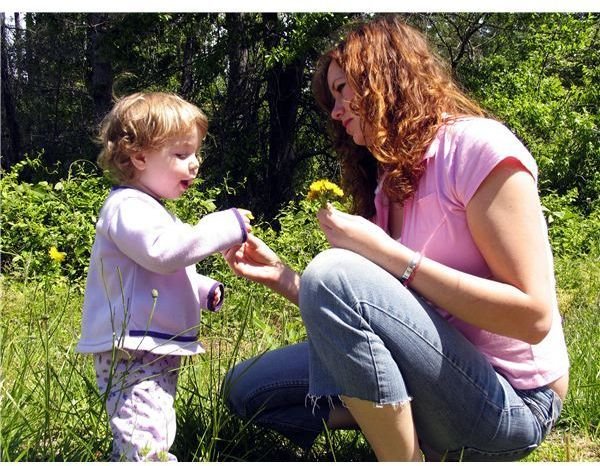 Lesson Planning
Lesson planning for infants and toddlers is best done on an individual basis. Infant and toddler lesson plans will rarely follow a theme but rather be based on the individual needs of the child. Developmental needs will vary greatly in infant-toddler classrooms, and the individualized lesson plan should reflect that. Careful observation and documentation of each child in your care will help you decide what types of activities should be included in their individual lesson plans.
While many of the activities planned will serve more than one child, the objective of the activity may differ from one child to the next. For example, you may attempt a finger painting activity with three toddlers. The individual lesson plans for this activity may look like this:
Jenny (age 13 months): Finger paint activity – encourage Jenny to use her whole hand to explore the paint. Practice making a fist and stretching her fingers. Praise any efforts to unclench her fists.
Robby (age 21 months): Finger paint activity – Show Robby how to use his pointer finger to make long streaks in the paint. Allow him to choose the colors by name. Talk about the colors used while painting.
Neil (age 18 months): Finger paint activity – Allow Neil to explore the paint at his own pace. Use sensory words to explain what he is feeling as well as color words to describe the paint.
From these individual lesson plans, we can gather that Robby is learning the names of colors and has started using his pointer finger as a tool to move toys or food. Jenny may be having difficulty unclenching her fists to reach and grab for toys, and Neil is beginning to enjoy sensory play.
Daily care activities such as feeding and diapering can be scheduled into your individual lesson planning as well with objectives for this important one on one time. Keep in mind that infant feeding and sleeping schedules can change often, and the child should be fed and allowed to sleep on their own personal schedule, not only when the lesson plan calls for it.
Teaching in infant-toddler classrooms is definitely a challenge. With a little bit of planning and the ability to be flexible, it can also be a very fun and rewarding career choice.
References
"Infants, Toddlers, and Caregivers"; Janet Gonzalez-Mena and Dianne Widmeyer Eyer; 1993
Photo Credits
https://morguefile.com/archive/display/65670