Good Book Series for Middle School Boys that are Reluctant Readers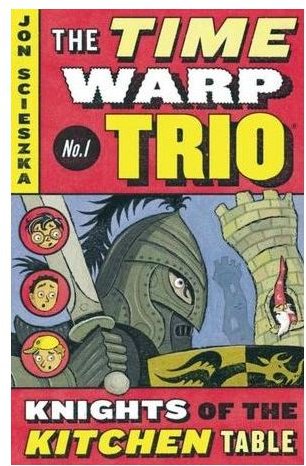 Below are some book series that are great for middle school boys, or for upper-grade elementary students. By choosing a series, you can entice the reluctant reader to 'keep reading' by tapping in to the student's natural curiosity about the new tales and adventures that await them in subsequent books.
All the books listed can usually be obtained through your community's local library. Purchasing information is also provided.
The Time Warp Trio by Jon Scieszka
These books tend to be fairly short, usually under 100 pages, and the fast pace and short chapters make them really quick reads. They are also very funny, exciting, and (shhhhh!!!!!) actually quite educational, as most take place in different historical time periods. Author Jon Scieszka, a former teacher, says he thoroughly researches each setting to make them as historically accurate as possible, but this is definitely education at its most painless – and most fun.
The first book in the series is "The Knights of the Kitchen Table" and retails for around $5.00, new, with used copies available for much less.
The Monday Night Football Club/Jersey Series by Gordon Korman
The Monday Night Football Club series was written by Gordon Korman in the late 1990s, and features a group of boys who get together to watch football games on TV – until a jersey with magical powers somehow allows them to enter the bodies of their favorite players and join in the actual games. While boys today may not be familiar with some of the names, as the players featured (John Elway, Junior Seau, Jerry Rice, etc.) have long since retired, sports-lovers will nevertheless enjoy the action.
A 1999 Disney Channel series known as "The Jersey" was based on these books, and it, in turn, spun off book series of its own featuring different sports and sports stars including skateboarder Tony Hawk and boxer Laila Ali. Although these books were written by different authors, they are often credited to Gordon Korman as they were based on his idea for the original series.
The books are no longer available new, but you can usually pick up copies from used-book resellers.
Baseball Card Adventures by Dan Gutman
This series actually combines elements from the first two in the list – it has both a time-travel and a sports motif.
Joe Stoshak, a sports-loving 12-year-old boy, is able to use baseball cards to travel back in time and meet different baseball players at pivotal points in their careers. Although some of the players are likely to be unfamiliar to kids (Honus Wagner, Ray Chapman), others are names just about every child will be familiar with (Babe Ruth, Jackie Robinson).
These books are somewhat longer than the Time Warp Trio and Jersey series, coming in a little over 150 pages each, and the humor is a bit more restrained than in the former, but they are highly entertaining for any boy interested in baseball or history – and are likely to make any baseball fan a little bit more into and aware of the history that lies behind his favorite sport.
The books are available new, in paperpack, hardcover or digital format, and used copies are readily available. Here's a link to the Jackie & Me book on Amazon.
Alex Rider Series by Anthony Horowitz
These books, a series of novels about a teen spy, are meant for somewhat older readers, middle-school aged at the least. They are about 250 pages long, and although they do not contain any "adult" content, there is still a fairly high level of violence and very risky behavior on the part of the 14-year-old protagonist.
The chapters are short, many of them leaving off with cliff-hanger-style endings, so even boys uncertain about committing to a novel-length work may find themselves zipping through this exciting series.
The books are available in hardcover, paperback or digital format. These books are a bit more pricey if purchased new than the ones listed above, at $8.99 for the paperback version. The good news is, used copies are very plentiful. The first book in the series is "Eagle Strike."
Scary Stories Series by Alvin Schwartz
The three books in the Scary Stories series are often found in libraries shelved under nonfiction (398.25 SCH, to be exact), as they are actually adaptations of folktales and legends retold by author Schwartz to make them perfect for reading aloud – preferably in a dark, dark room or in a tent with a flashlight.
Although the first volume in the series was published in 1981, these books have remained in print ever since, and are very popular with boys and girls, not only around Halloween, but all through the year.
The first book of the three is appropriately titled "Scary Stories to Tell in the Dark: Collected from American Folklore", and is available in hardcover and paperback format. A new paperback is priced at $5.99 through Amazon. Used copies can also be easily obtained.
Bone Series by Jeff Smith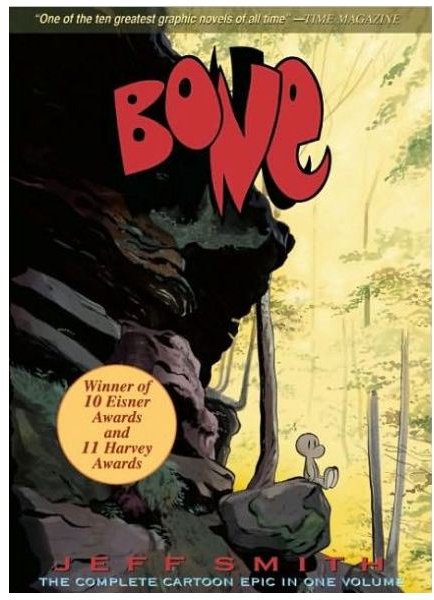 These books are actually graphic novels, which appeal to the strong visual learning preference that many boys have. The storyline involves three cousins who are forced to leave their hometown of Boneville after one cousin unsuccessfully runs for mayor.
After a number of adventures they eventually settle in a mysterious place called the Valley, only to find out their new home is threatened by the evil Lord of the Locust. Their quest to defeat this dark lord combines classic high fantasy with slapstick humor, a very guy-friendly combination.
Bone, Vol. 1: Out From Boneville, is available in paperback or hardcover, with new or slightly used copies easily available from online booksellers. You can also puchase all 1300 pages together in "Bone: The Complete Cartoon Epic in One Volume", ISBN-13: 978-1888963144.