Interactive Activity: Make Your Own Recipe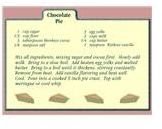 Cooking Is Fun!
Who said teaching and learning had to be boring? An interactive activity makes learning both fun and fruitful. It enhances the value of your lesson. It engages your students and makes them willing participants in the process of education. Your students will learn more and retain the information you want them to assimilate for a longer period because they have been personally involved in the construction of that knowledge.
This "Make Your Own Recipe" interactive learning activity is meant for junior high or middle school children. The game-show format is simple and easy to set up and I guarantee that your students will have a wonderful time as they teach themselves how to create an original, balanced and healthy entree.
Learning Objectives
Through this activity, your students will learn:
The five food groups and why they are needed in the human body

Healthy cooking methods

How to create a balanced meal

How to write a recipe

How to use their critical thinking abilities

Creative problem-solving

Collaborative group work
Standards
This interactive activity ties in with your life science or health curriculum because it deals with nutrition, healthy eating habits, a balanced diet, and it teaches your students about food groups and how they are needed in the human body.
If you have children with special needs in your class, you will need to think about their specific capabilities and modify the activity accordingly. Instead of cooking methods involving heat for instance, you could ask physically challenged students to prepare recipes for salads and microwave cooking. Instead of having the children cut and chop, you could buy pre-cut provisions. Students with dyslexia needn't write down their recipe—they could make an audio-visual "training" video or even a step-by-step "podcast" of their recipe.
Preparation
At the teacher's end, the following will need prior planning and preparation:
You'll have to ensure that you have equipment and utensils for steaming, grilling, baking, microwaving and frying.

You'll have to shop for the provisions. Keep your list of ingredients small and simple–one of each food group for each pair or team.

Create a format within which your students will write their recipes before they actually cook. This format should provide space where students can describe their dish, list the ingredients and the quantities required for a family of four and write the step-by-step method.

Make color-coded slips for each food group ( for example: red for proteins, green for vitamins, orange for minerals, yellow for fats and white for starches and cereals). On these, write the names of the provisions you have selected and bought.

Make sure all your safety procedures are in place.

Since you'll be working with children aged 11-14, you will need to find adult volunteers who will supervise and help each group of students wherever cutting or heat is involved. Perhaps you could involve a family member of one student from each group or ask for assistance from some senior students of your school.
The Make-Your-Own-Recipe Game
Divide your class into small teams and allot a station to each team. Designate or ask teams to elect a leader.
Introduce the provisions. Make this an interactive and fun exercise. Tell the kids what each food group does in their body and which food belongs to which group. Then pile all the ingredients together. Also, introduce the cooking methods you have selected and talk to the students about their advantages and disadvantages.
Play a relay "sorting" game and make group members sort the ingredients into slots you have designated for each food group. Award points for correct sorting. Record the points on a smart board or white board
Once the ingredients are correctly sorted, team leaders must pick one slip from each color available.Then they must pick the right provisions from the pool
Teams must now choose one of the above-mentioned cooking methods. Two teams may not use the same method.
Teams explore their ingredients and write a recipe. Their recipe must use the cooking method they have "taken" and each ingredient they have been allotted must be used in the recipe. Award points for best recipe and add to the board.
The adult helpers may pick any condiments and utensils they require after the recipe has been made by their team.
The team must cook the dish they have created using the designated cooking method with the help of their adult helper
The final product must be served to a predetermined and impartial judge who will read the recipe, taste the dish and grade it on visual appeal, presentation, balance and taste
You will declare the winner. The winning recipe will take pride of place in your class soft board!
Follow-Up
Feel free to modify my interactive activity on making your own recipe to suit your specific needs. I know this is one lesson you will enjoy teaching as much as your students enjoy learning.
Bon Apetit!
Image Credits:
lpb.org/programs/lucy/recipes/chocolatepie.htm
tips-and-tutorials.com/weight-loss-tips/the-5-main-food-groups-for-a-healthy-diet.php