Ideas for Comments on End-of-the-Year Report Cards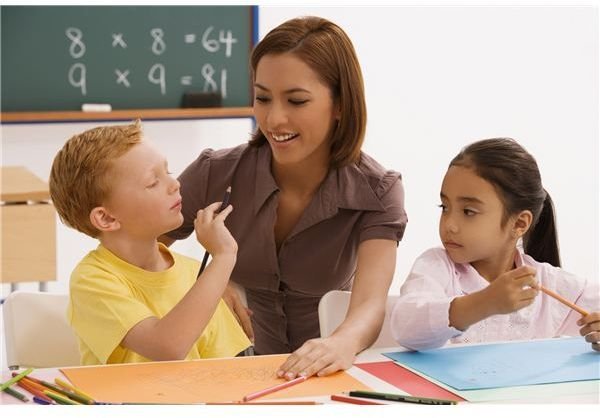 The Whole Child
To teach the whole child means to take into consideration the child's intellect, emotions and physical abilities. When educators are able to see the whole child, they are better able to give the student ways to improve and grow.
Knowing a student's likes and dislikes, abilities, struggles and passions makes assessing a student much easier. This knowledge allows the teacher to grade the child fairly, based on a holistic view of the student's work as opposed to a tunnel vision view of the student's ability to perform certain prescribed tasks or tests.
When considering the reports at the end of the year, teachers can also base their comments on their knowledge of children's work for the entire school year. In addition, planning will allow the teacher to track some accomplishments or gains students make during the school year that can then go into reports and/or awards. Having comments individualized can mean a world of difference in motivating that child to continue his learning when the new school year begins.
Ways to Praise
There are many ways to praise even the most difficult student. Positive reinforcement goes much further than words of condemnation do. Adding positive affirmations is one of the best ways to help students gain confidence.
Year-end report comments can include:
Great job on…(name a project)
Thank you for always being… (helpful, kind, responsible, etc.)
I appreciate the way you… (sing, dance, paint, read, etc.)
When you… (helped a classmate, tried to read a difficult word, told a story, etc.) I was very proud of you.
This year you improved greatly in… (name a subject)
Super Student Awards
For younger students, teachers may think of creating a special award that ALL the students get. I have used "Super Student Awards" and have listed everything from, "Best Cleaner-upper" to "Best Improvement in Language Arts." What I found was that many of the students never receive any recognition. Being able to show them that you appreciated them for something makes students feel good about themselves and gives them something to share with their friends and family, as well.
Other awards that can be considered for the entire class are:
Thematic awards based on a special unit the class studied, such as The Rainforest Ranger Awards or The Stupendous Space Scientist Awards.
Awards based on the teacher's name, such as Ms. Scott's Super Readers or Mr. Brown's Best Buddies
"Outstanding" Awards, with which the teacher lists something the student did that was outstanding
Final Words
Positive and affirming comments on report cards at the end of the year is one way to help students view school as a nurturing place to be. Showing appreciation for the little things they do as well as the big ones makes students more willing to take an active part in their school environment.