U.S. Students are Falling Behind in Reading: Here's What You Can do to Encourage Your Students to Read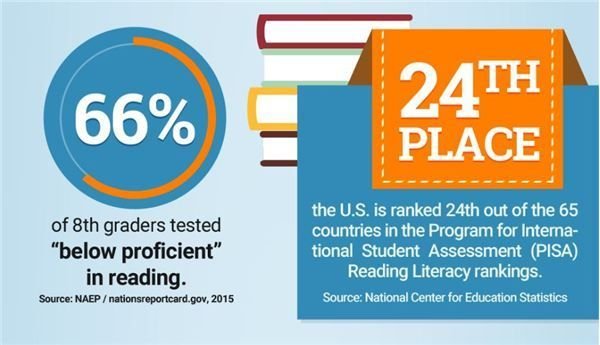 The U.S. continually places low in education scores like math and science—but reading too? Yes. The U.S. ranked 24th out of 65 countries in the Program for International Student Assessment Reading Literacy rankings.
Luckily, as an educator, you're in a powerful position to make a significant impact on your students, teaching them to love reading and to do it more often. While it will take more than one teacher to change the fact that 66 percent of 8th graders across the country scored below proficient in reading, there are many small things you can do to make a difference.
Here are a few of them.
Make More Time for Reading at School
Surprisingly, 52 percent of students say they love class-reading time, but unfortunately, only 17 percent says their school does it every day. An easy way to make more time for reading is to include more texts and reading opportunities in your other lessons.
Choose a supplemental text for the science lesson and give students 30 minutes to read it. You can discuss as a class afterward, ensuring the connection the lesson is made. You can easily do this for history and geography as well. These texts can be from a newspaper, a book, an encyclopedia and more.
Let Students Choose Their Books
A whopping 91 percent of children ages 6-17 say, "My favorite books are the ones that I have picked out myself," according to The Scholastic Kids & Family Reading Report: Fifth Edition.
Luckily, this is an easy one to make happen. While there will always be assigned books for various lessons and units, allow students to pick their own books as much as possible, like during free reading time or for their independent reading at home.
Note that students are also more apt to pick up a book when they have more reading materials to choose from. Using websites like CouponBox or Slick Deals to purchase discounted books and magazines allows you to fill your classroom with reading options. Better yet, let the top reader each month choose a new book for the classroom, providing even more motivation to read more.
Go for Funny
Something you may not consider as an educator: 70 percent of kids ages 6-17 say that they want books that make them laugh. Luckily, there are dozens of humorous children's series—think: Captain Underpants—that are funny and will keep students wanting to read more.
Choose one day a week, or even one day a month, to read a funny story together as a class. This gives students more in-class reading time while also giving them something funny to read and look forward to.
Another simple idea is to keep kid-friendly comic books in the classroom. Not only do comic books often include humor, but they also teach students about emoting and give them a chance to experience a different type of literature.
The reading problem in the U.S. is a scary one—but it's not impossible to fix if educators like yourself choose to tackle it in the only way you can: within the four walls of your classroom.
Check out the infographic Grim Stats on the State of Reading in the U.S. for more statistics and tips on how to incorporate more reading into your classroom.
About the Author: Jessica Thiefels is an education blogger, and has been featured in publications such as EdTech Digest and Daily Genius. Her favorite books growing up were My Side of the Mountain and The Giver, and she hopes to inspire a similar love of reading in students and educators.