How Schools Are Using Smartphones & Cell Phones in the Classroom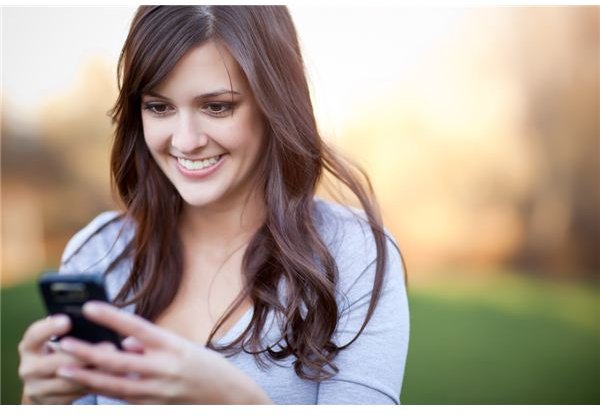 With the Common Core standards embracing collaborative teaching methods and emphasizing students' ability to identify and synthesize relevant information, many schools have integrated technology in innovative ways into the classroom. 1:1 laptop programs are some of the boldest examples of schools putting the power of technology into students' hands. Teachers are embracing the use of online textbooks and assignments as well as using tools like Web Assign and Moodle.
But, true to the ever-changing nature of technological evolution, educators and students aren't stopping there. Schools are breaking even newer ground with the latest tool for classroom use: the mobile smartphone, something a large percentage of students carry with them. Easily accessible, smartphones can encourage quick and convenient information sharing that can enhance teachers' ability to give and receive feedback.
Methods of Teaching with Smartphones
Teachers know that one of the best ways to reach students is to speak their language. This takes on a new and literal meaning when teachers invite students to make use of the language they use fluently via texting. Embracing the colloquialisms of texting enables students to express themselves in the classroom. Teachers can still maintain strict requirements for formal language in major writing assignments, which can be a great way for English teachers to demonstrate the importance of knowing one's audience and adjusting one's writing voice. Teachers can also use the medium of texting and twitter posts to practice the skill of succinct writing. Getting students to narrow down word choice and eliminate wordiness can be a fun activity when using the smartphone, a tool students feel familiar with.
Some other ideas are drawn from renowned education consultant and scholar, Robert Marzano. On his website he suggests that teachers allow their students to use cell phones to take pictures of notes on the board. Doing this allows instant access to these vital resources. Teachers also can play "Jeopardy" to help students learn or review a concept. Working in teams, students text the team answer to the teacher. This eliminates some of the confusion and ambiguity that comes from having a teacher attempt to identify which group had its hand up first. Using the tool Poll Everywhere, teachers can get instant feedback from students via their cell phones. This can even be a research tool! With anonymous cell phone surveys, teachers can create lessons around asking for student answers or input via their cell phones to create an atmosphere of immediate feedback.
Schools will have to ensure that all students have access to a smartphone in order for exercises like this to work. One possible technique is to have students pair up so that each group has one phone.
Risks & Drawbacks
Still, many schools have banned the use of cell phones in class or even during the school day in order to avoid the inevitable loss of community that would result. In a recent article in theatlantic.com, Robert Earl outlines the pros and cons of cell phone use while concluding that at the end of the day, nothing replaces the personal relationship between teacher and student.
Even riskier implications of cell phone use in the classroom include cheating. Students have been caught using cell phones to take pictures of test pages and/or to access outside sources during a test.
Teachers and administrators are familiar with the risks of cell phone use that led to rampant cheating on a city language exam in NYC. A strict cell phone policy in New York City has even caused students to pay to store their cell phones at locations off campus in order to fulfill schools' policies.
Trusting Students to Make Smart Choices
While all of these are very real dangers, cell phones also have a great potential for increasing student learning. One key to successful cell phone use is instilling in students responsible use of technology. In one school in Saskatchewan, Canada, teachers decided to embrace the capabilities of cell phones instead of viewing them as a problem. They found that high school students were more trustworthy using the technology than previously thought. The majority of students were eager to use their phones for educational purposes and followed guidelines on proper use.
Indeed, it seems that smartphones are the way of the future. As with anything, monitoring and rules must play a role in student use. Teachers should create classroom norms for smartphone use, thus allowing students to make use of smartphones' great potential power while also following rules.
References