When Using an iPad in the Classroom Will Do More Harm Than Good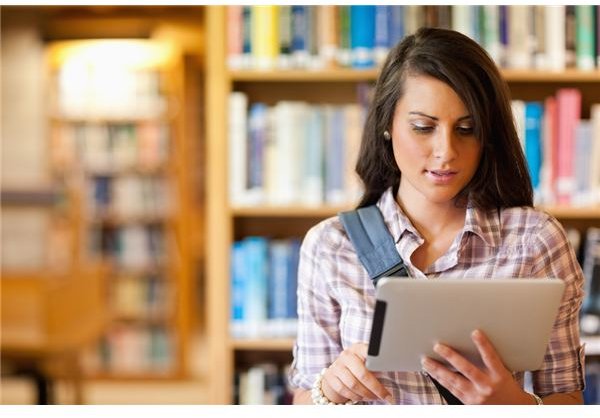 Teaching students about reading, writing, and arithmetic has come a long way in a short amount of time. Technology such as computers, smartboards and digital camera equipment is helping students learn about the world around them by connecting beyond the classroom. Instead of scavenging the school library for encyclopedias and books about American heroes, students today can simply do a quick search online from one of the most popular technological classroom advancements of the 21st century: iPads.
However, just because a teacher has access to an iPad to use in the classroom doesn't mean he or she can throw away a textbook and have free reign on the Internet or with various apps. An iPad will work only as well as the educator operating the device and school system supplying the means and support. These tablets are an undeniably beneficial classroom tool, but there are times when they should be put away.
Using iPads in Today's Classrooms
Computers are not new to the classroom environment. Before the introduction of the Apple iPad in 2010, teachers used laptops, PCs and even iPods as hands-on, learning tools. However, there's something different about the iPad that makes teaching – and learning – more desirable. By 2012, more than 1.5 million of these tablets were already in use in various educational institutions in the United States and around the world. For use with these devices, Apple's iTunes store offers more than 20,000 educational apps from science to sign language for all kinds of learners.1
Apple's iPads are used two different ways in a classroom. A teacher can have one and project its image on a whiteboard via a projector or connect it to a television screen. This allows the educator to have complete control over what the students are viewing. In some schools, each student is given his or her own iPad for some textbooks, and the device is used at both home and school for reading, completing assignments and keeping a digital record of each student's progress. These situations are typically more difficult for a teacher to manage.
When Not to Use iPads in a Classroom Environment
Most teachers already know how iPads enhance classroom learning, but there are also instances in which they hinder it:
With Unsupervised Students: Whether there's one or 20 iPads in a classroom, students should not use them without adult supervision. Even if the school's network is already set up to block unauthorized websites, downloads, and apps, there are still ways in which some students will work around those controls. This is easier to manage if only the teacher has an iPad. However, in a one-on-one program, additional adult supervision may be needed to make sure students don't "wander" onto other sites or apps during class time, which is not only tempting but easy to do. Unsupervised students will find themselves playing games or surfing on a social network instead of paying attention to what is being taught. Much of this unbeknownst to the teacher because it takes only a split second to flip back and forth between "Angry Birds" and a classroom textbook.
When Teachers are not Properly Trained: Even with all the tutorials and training tools available, not all teachers have the proper skills needed to use iPads effectively in a classroom environment, especially if they are not technologically savvy. In these cases, teachers will fumble with logging on, understanding how an app works, getting a video to play or adjusting the projector or television set. These are all considered time-wasters and do more harm than good. Nonetheless, a teacher loses a bit of his or her credibility, and when the lesson is figured out, the students are distracted and have moved on to something else. School districts should have a "pre-rollout plan," which includes having the iPads loaded with the proper apps and professional development or training in place long before the devices ever reach the students' hands or eyes.2
When the Lesson's Website is not Previewed: If a teacher has not readied the day's lesson, he or she should not jump around to different apps or websites in front of the students. Even with firewalls and security controls in place, typing a title into an Internet search engine can be easily misconstrued and you could very quickly have inappropriate content up for everyone to see. It is important to know what your students are viewing before they even see it.
When iPad is in a Classroom's Dead Zone: As most school campuses go wireless, there are more opportunities for dropped or slower connections to the classrooms' tablets. Another problem teachers and/or students may find is that certain areas of the room are dead zones, and some of the devices won't run at full speed. You can extend the wi-fi signal by installing wireless routers in various areas of the campus and linking them together. You could also take a few simple measures such as turning off all wireless devices in the classroom (such as cell phones), standing in the middle of the room and not against a wall and slowly raising and lowering the iPad to see whether you can get a better connection.
If Not Everyone Can Benefit From It: Small fonts, bright text colors and tiny images are just some of the ways that using iPads in a classroom will not benefit the entire class. If an image or page text is projected onto a screen, make sure it is seen from where all the students are sitting. Using brightly colored, highlighted text may be fine for those sitting in the front row, but if you have a class of 20 to 30 kids, the same effect won't be felt from the back. Teachers should preview the views from different sections of the classroom.
Mixing Business with Pleasure: One of the biggest mistakes a teacher can make with a classroom iPad is using it for personal use. Checking non-classroom emails, Facebook statuses or even movie reviews will show up in the tablet's browser history and can easily be checked by the school's IT department. Unless a teacher has permission from the administration to do such things, it's best not to use the classroom iPad for personal reasons.
The Future of Classroom Learning
It is clear that technology such as iPads and computers will continue making their way into classroom lessons. Once educators are on board about how and when they should be used to enhance learning, understanding when they disrupt a child's education will become more commonplace.
References