Ice-Breaking Activities for the First Day of School: Student-Made Bulletin Board & a Candy Get-to-Know-You Activity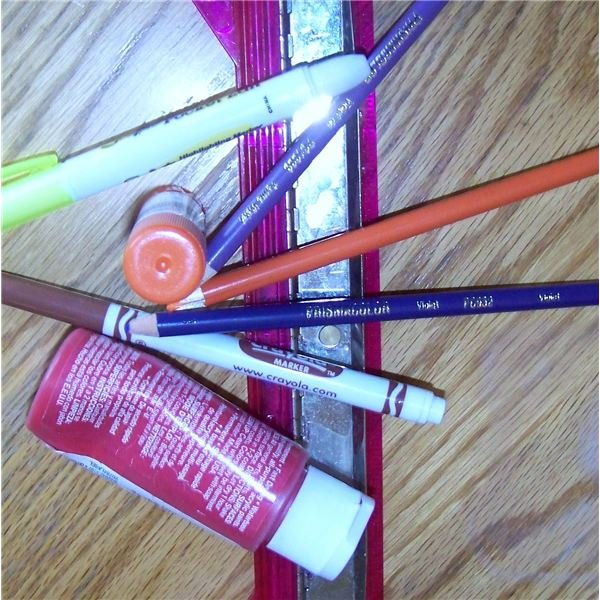 First-Day Student-Made Bulletin Board
Let's face it. Bulletin boards take a great deal of time. There is so much to do before the first day, and making one bulletin board can take hours. One way to avoid making it all by yourself is by asking students to pitch in on the first day. Students will get to know each other and decorate the room.
Steps for a Student Made Bulletin Board
The background paper should already be stapled to the bulletin board before the students arrive. In addition, the die-cut words "My Top Ten List" should be stapled as well.
**
Materials needed: construction paper, markers, scissors, colored pencils, pens, etc.
Step 1: Students need a piece of construction paper. They should choose their favorite color. Then, students should cut it into a shape that shows an interest, such as a football, baseball, soccer ball, dog, cat, fish, horse, volleyball, megaphone, skateboard, running shoe, video controller, etc.
Step 2: Students need to write their whole name in bold letters with a marker. Then, they need to write Top 10 List under their name.
Step 3: Students need to choose items to place in a top ten list. This should allow students to learn about their fellow students. Students can use the following list of things or activities to help them to come up with their top 10 list of favorites:
music or song
television show
movie
actor
band
food
candy
family member
color
video game
game system
clothing item
book
friend
sport
hobby
Step 4: After students have written their top ten lists on notebook paper, they need to neatly copy it on the construction paper shape.
Step 5: When the writing is complete, students need to staple them on the bulletin board so that the whole board is covered with student shapes.
"Get to Know Each Other" Activities
From an elementary science class to a high school English class, students always like name activities. Students love candy or any kind of treat and can be easily motivated to play along to get to know others in the class. Plus, it can be a beginning activity for collaborative activities in the future.
Ice Breaker Activity
For this back to school activity, teachers will need to buy assorted "fun size" candy pieces. Teachers need to make sure that there are enough pairs of candy so that students can be paired up after they choose their favorite kind of candy. Before the students arrive, the teacher needs to place candy in bowls. In front of the bowls, the teacher needs to write a note: "Choose one but don't eat yet." They need to meet their partner before they eat the candy and throw away the wrapper.
Candy and Five Things in Common
After the students have settled down in the classroom, the teacher needs to announce that each student needs to find one other student with the same type of candy. These two students will interview each other and try to find five things that they have in common. Students should write down their list of five commonalities to share with the class.
If students are stumped on five things that they might have in common, they already chose the same candy, which can count as one item. They can try these ideas as well:
letters in a name
friends
favorites: music, television shows, movies, YouTube videos
video games and game systems
sports
hobbies
Students will share what they find with the class as a pair. It can go in order of a volunteer group and then the next group should have something in common with the first group until every group has gone.
Candy and Mixed Pairs
The pairing up of people can work in any situation where a teacher wants to mix students up randomly. Teachers can also use this "mixing technique" to pair students up to write a back to school story, a back to school poem or a back to school important list.
The bulletin board activity and the ice breaker activity are both ones that teachers can do on the first day or the first week of school. Most students love candy and they can eat it happily while they do the class tasks.
Setting the Tone for Your Classroom
It's great to devise activities like these that let your students get to know one another. But it's even more important to set the right tone for the first day of school. Students who are returning to the school but who do not know you yet will relax in this creative atmosphere. New students will have an opportunity to talk to those who have attended this school since kindergarten.
It will also give you an opportunity to watch out for kids who might be left out. You will notice which of the long-time students are friendly to new people and eager to help out. Besides making things easy on your students, you are also utilizing activities that will let you assess this new classroom of personalities as your new school year gets underway.