Strategies for Improving Literacy Skills in Boys and Language Arts Activities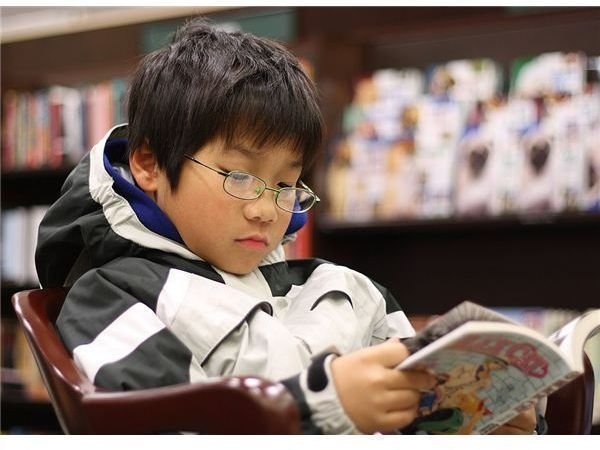 Reading Programs for Boys?
Education studies have produced an increasing amount of evidence that gender is a significant factor in the reading achievements of boys and girls. Boys have been shown in many studies to have weaker reading and writing skills, factors that will undoubtedly affect their performance in all other subject areas.
The studies find that boys typically take longer to read than girls do; boys read less than girls do; and they provide lower estimations of their own reading abilities, later claiming themselves as 'non-readers'.
Classroom practices show that reading programs have more relevancy to the learning interests of girls than to boys: reading programs often feature a limited selection of genres, teachers provid little guidance on suitable reading material and reading strategies, and reading was often being used as a time filler.
In order to provide an equitable environment for students to learn in, thought must be given to the individual reading needs of both boys and girls in the class.
Choose Appropriate Resources for Boys
Keep in mind what boys like to read and choose reading materials for your classroom that reflect an image of themselves and what they aspire to be, that make them laugh, and appeal to a sense of playfulness or mischief. Select books in the science fiction or fantasy genres, or those that are action-driven, with a strong forward-moving plot
Include newspapers, magazines, and especially, comic books and graphic novels – resources which are not often considered as valuable in the classroom, and thus not included in the typical reading program. For hesitant readers who have already decided they don't like to read, age-appropriate comic books and graphic novels can spark an interest to read that had yet to surface.
Understand Boys' Learning Styles
When you create learning activities for your class, note these circumstances that boys best respond to.
Assign work in smaller, manageable pieces. One idea is to using a time-limit strategy for work completion.
Design lessons to include opportunities for active learning. When reading a book, think about adding opportunities to investigate side stories or current events that relate to the book using computers for research purposes.
Make work relevant to boys' daily lives. They can learn better when they have a definite purpose in mind.
Include an element of competition: this can also mean setting short-term goals for the lesson, and trying to achieve them in the time provided.
Provide regular positive feedback, so they can see that progress is occurring.
Focus on Writing Skills
Improving your students writing abilities as well as their ability to communicate what they are thinking is an important part of developing strong literacy skills.
Writing frames are an excellent way to give students some structure to what they want to say. These frames can involve sentence starters, connective words, or question prompts, around which students will learn to focus their ideas.
Seeing the teacher model the use of writing frames helps students understand generic structures and even helps them learn about narrative structure. Through breaking text down and organizing it, students learn how writers develop a story, and they then improve their own abilities in communicating their thoughts through writing.
Some examples of writing frames could be:
I want to explain why…
One reason for this is…
Two things to remember are…
The first thing to do is…
Embrace the Arts
Create a strong language arts lesson by using ties ….to the arts!
Arts provide a means for boys to make their learning meaningful by allowing them to create, explore, and express themselves. Students can be powerfully impacted by story-telling, music, drama, dance, photography and sculpture. These are key tools for teachers to use in the classroom, and if used properly, can promote boys' understanding and enjoyment of texts they read.
Promote visualization strategies. Allow students to create art relating to pieces of their writing. Have them do their reading as in theatre, so that they can perform their pieces, thus connecting to characters and stories. Use drama activities to simulate creative thinking, and to tie the written word to real-life scenarios.
Have students actively listen to music. In music without lyrics, students can create words and phrases to match, learning about mood and feelings. In music with lyrics, students can learn about theme, images, titles, or can continue the lyrics with some of their own.
Embrace games. Have students be on a television show in which they play the characters and respond to questions from the audience. Get students to write letters, advertisements, or diary entries in the voice of a character from a piece they have read. Design a news broadcast for events from a text.
These are but a few ideas that will engage boys in their learning and improve their literacy skills. Hopefully they will provide you with a good start in building an equitable learning environment for both boys and girls.
References
Girls bridge math gap, but boys lag in reading, by Amy Hetzner, Journal-Sentinel, March 17, 2010
What Boys are Reading, Sandra Stotsky, Gender Differences, Special Education Contributor, Education.com
Image Credit: Young Boy Reading Manga - By Ragesoss (Own work) [GFDL or CC-BY-SA-3.0-2.5-2.0-1.0], via Wikimedia Commons