Adapting to the New Common Core Standards in your Elementary Class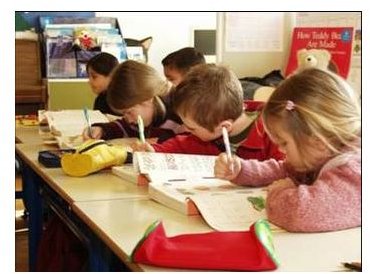 The "new" Common Core State Standards Initiative is part of raising the bar for students across the country. Adopted by 48 states, it is part of a collaborative educational effort to improve student success and better equip them with the tools necessary to be confident, enthusiastic college students. This includes enriching students with not only literacy instruction, but with knowledge of science, history and the arts. This will create well-rounded, educated adults that will enter a work force which is dramatically different each year.
Students need a full education, especially those who are perhaps unlikely to acquire knowledge of history, or the arts, or the wider world outside of the classroom. These Common Core standards will allow students to develop literacy in a humanities-rich environment.
Common Core Curriculum Maps
Educators have developed Common Core Curriculum Maps for all grade levels which align with the new Common Core Standards adapted by each state. These maps allow teachers in all 48 states to teach the same curriculum and for the same outcomes. This will benefit students as they move to other schools or eventually attend college or work in other areas of the country.
Common Core Curriculum Maps all start off with the Essential Question which highlights the benefit of the unit and is clearly aligned to specific standards. For example, in Grade 2, Unit 1, "A Season for Chapters" students would focus on the beauty of language in chapter books, informational texts and poetry which are related to the four seasons. The unit would state its focus standards (In this case RL 2.2, RL 2.r, RL 2.5, SI 2.1, SI 2.2 and W2.7). The unit contains an Overview, Focus Standards, Suggested Works and Suggested Lessons. Common Core Curriculum Maps are available on each state's education website. They are organized by Grade Level, as well as by Literacy and Math standards.
If you look more closely at the Grade 2 Seasons Unit, you will notice that many of the recommended texts used in this unit are pieces of literature that you have used in Grade 2 prior to development of Core Curriculum Maps. Specifically, looking at these maps guides you in aligning your teaching with Standards that are mandatory at a particular level. The maps list many texts which can be used and rate them as Exemplar text. Therefore, a teacher who has taught a unit on Seasons would be aware of most of the texts on this list. The maps do not tell you to use all texts, they just list many recommendations. The texts are cross-referenced with standards that they are aligned to. For example, the Poppleton series by Cynthia Rylant is a perfect opportunity to tackle the Grade 2 standard where students can answer who, what, where, when, why and how after reading a fictional book. These Poppleton books also allow students to compare and contrast informational text on the four seasons.
Generally speaking, the new Core Curriculum Maps take existing unit plans and expand them to include standards that are covered as well as recommendations for lessons and assessments. These are all recommendations which allow teachers to continue to be flexible and use their creativity in lesson planning.
Teacher Concerns
Many educators were very concerned and confused about these new Common Core Curriculum guidelines and felt that this would inhibit their "creativity" in teaching. On the other hand, these maps are very detailed and offer many different variations and suggestions. It is a necessary guide to successfully prepare students for their next grade level.
In addition to these maps, educational curriculum publishers have offered updates to curriculum with specific correlation to the NEW Common Core. These publishers are in the business of education and teachers should not feel left "out in the cold". They are ready to provide new common core updates at no additional charge. For example, the publishers of the Making Meaning Literacy Curriculum (K-5 Language Arts Program) will have their common core updated curriculum changes available free of charge to all participating educators in January 2013. You will find this to be the case with most, if not all, educational publishers.
Adapting to Change
Teachers are currently undergoing many changes in their professions. With new APPR observations and assessments from state governments, as well as embracing these New Common Core standards and curriculum, teachers are facing new opportunities and challenges that are often confusing. It will take some time but at some point these curriculum changes will be seen nationwide and the benefits to our students will be obvious and rewarding.
For more information or for Specific Common Core Curriculum Maps visit commoncore.org or visit your states education website.
References