Fun First Day of School Picture Books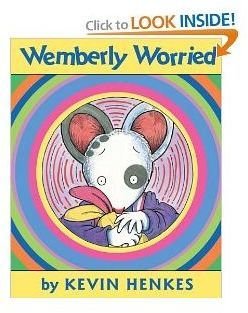 As the school year begins, many children (and teachers) find themselves feeling anxious about the new year. What will the teacher be like? Will they have friends in their class? Will the work be too hard? Reading picture books where the main characters share similar thoughts and feelings about the first day of school helps them feel that they aren't alone in their worries.
Wemberly Worried by Kevin Henkes
Kevin Henkes always seems to know just what kids are thinking. Wemberly worries about everything, big and small. Will her parents disappear in the middle of the night? Is the playground safe? Will she be the only butterfly at Halloween? And as the first day of school approaches, she finds a whole new list of things to worry about. As a first grade teacher, Wemberly Worried is always on my list of books to read on the first day of school. The children can always relate to Wemberly's worries about school. After reading it, we always discuss the things that they were worried about and whether they are still worried or not. And like Wemberly, most of the children find that school isn't so scary after all.
Back to School Tortoise by Lucy M. George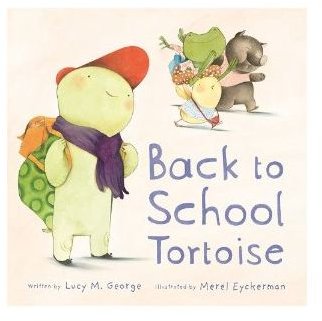 Tortoise isn't ready to go back to school. What if he trips and falls? What if he drops his lunch? What if he does both? But what if the kids are nice and things go well? After weighing both positives and negatives about going back to school, Tortoise decides to be brave and face the first day. Children will get a kick out of the surprise ending.
Before reading the book, get your students thinking about the things that can go wrong, and right, on the first day of school by making a contrast chart. Divide a large sheet of chart paper into two columns and label them Good First Day of School and Bad First Day of School. Then brainstorm ideas for each category with your students. For older children, make several charts and let the students work on them in small groups and then share.
Butterflies in My Stomach and Other School Hazards by Serge Bloch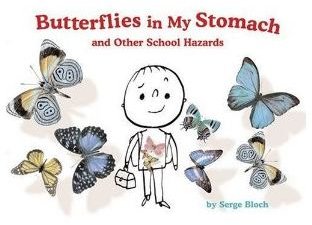 Butterflies in My Stomach and Other School Hazards is a great choice for students in older grades who have already heard many of the typical first day books. It begins with a boy getting up "on the wrong side of the bed" on the first day of school and follows him through the day using common idiomatic expressions. The simple drawings illustrate the text in a very literal way. Students will be amused by pictures of the boy's teacher who is "all ears" and the kid in class who "laughed his head off" and had "ants in his pants" during story time. After reading the book, allow the children to choose one of the idioms and illustrate it. Then let them share their drawings. Bind them together for a fun class book.
Pete the Cat: Rocking in My School Shoes by Eric Litwin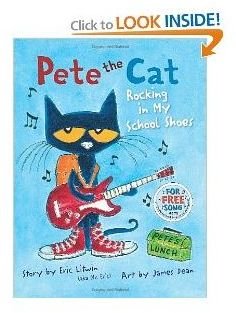 This is the second book about Pete the Cat and this time he's putting on his school shoes and heading for school. Take a tour of the school with this cool cat as he visits the library, cafeteria, playground and other important locations. You can even download the song that accompanies the story. After reading the book, do a quick sorting activity with your students. Have each child take off one of his school shoes and then see how many different ways you can find to sort them.
First Day Jitters by Julie Danneburg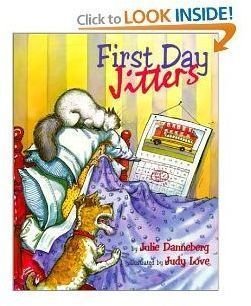 Sarah Hartwell does not want to go to her new school. She starts her day hiding under the covers as Mr. Hartwell tries to convince that she will like her new school. She imagines a classroom full of children throwing airplanes, pulling hair and blowing bubbles. When she finally gets herself ready and arrives at school, your students will be surprised to learn that Sarah is not a new student at the school, but a new teacher. Children who are feeling nervous will find it reassuring that even teachers get the jitters on the first day of school. Discuss First Day Jitters with your new class and tell them some of the things that you feel anxious about at the beginning of the year.
Sea Monster's First Day by Kate Messner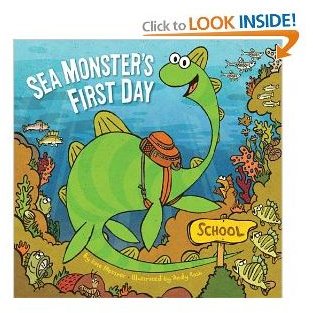 When you're a sea monster in a school of fish, fitting in can be tough, as Ernest the sea monster finds out on his first day of school. As he spends his day learning, reading and singing, he eventually manages to find a few friends. This book will especially appeal to younger children who may not know many other kids in class. Read this book near the end of the day and have the children draw a picture and write about something they did on their first day that they liked.
Read a few of these first day of school picture books to your students and they are sure to be excited for the second day!
References
Bloch, Serge. Butterflies in My Stomach and Other School Hazards. Sterling, 2008

Danneburg, Julie. First Day Jitters. Whispering Coyote, 2000

George, Lucy M. Back to School Tortoise. Albert Whitman & Company, 2011

Henkes, Kevin. Wemberly Worried. Greenwillow Books, 2010

Litwin, Eric. Pete the Cat: Rocking in My School Shoes. Harper Collins, 2011

Messner, Kate. Sea Monster's First Day. Chronicle Books, 2011

Harper Collins Children's, http://www.harpercollinschildrens.com/feature/petethecat/