Making Fun Awards for All Students
Finishing the year with a superlative award show is a lighthearted way for teachers to tell the students that they enjoyed working with them throughout the year. Plus, the stress of end of the year achievement tests can take the stuffing out of any person, students and teachers. So teachers, end your year right and spread positivity with creative certificates.
Select Award Types
It is my opinion that if you are going to give out fun awards that you need to give one to every student in the classroom or class. Many students are hoarders and keep this kind of stuff in special places in their bedrooms. One or two students may throw the certificate it into the trash as soon as they leave; however, more students will take them home and put them on the refrigerator.
So, you do not want to leave out anyone out of the award process. As the teacher, you need to be thoughtful in your award giving. Each students needs to feel special.
Certificate Awards Categories: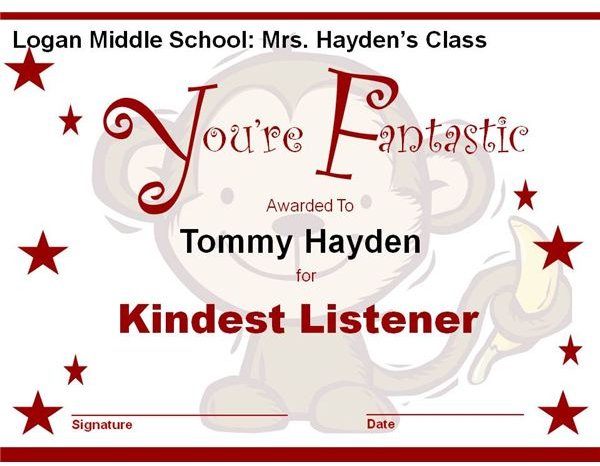 Silliest Story Teller
Silliest Joke Teller
Best Sharer
Most Creative Drawer
Neatest Coloring in the Lines Artist
Best Giver of Compliments
Best Conflict Manager
Neatest Desk or Binder Keeper
Most Organized Cubby or Locker Keeper
Strongest Speller
Sweetest Smile
Best Story Teller
Strongest Multiplier
Kindest Helper
Kindest Listener
Best Dancer
Strongest Hop Scotch Player
Best Jump Roper
Best Line Leader
Best Fashionista
Strongest Aloud Reader
Best Collector of Items
Best Cleaner Upper
Best Getting Teacher off Topic Talker
Best Note Taker
Nicest Handwriting
Most Creative Thinker
Most Creative Decorator
Strongest Group Leader
Strongest Follower of Directions
Most Outrageous Outfits
Most Interesting Collection of Items in Locker
Making the Certificates
Once you have chosen the awards for the students, you need to make them. This can be a time consuming process, unless you use templates. If you happen to have PageMaker Software you can make certificates using this software. They can be very personalized.
However, you can also go online and use free certificate templates for Microsoft Word. I tried to use this website with my Mac computer and had little success. However, with my PC I had little problems downloading the two example certificates in the article. Some certificates on this website are able to be manipulated in many ways. However, some only allow you to type a few different phrases, such as the school name, your name, and the student's name. It will take a little time to choose the right certificates and personalize them for your classroom.
These fun awards can make students walk away from the year on a positive note. They take a little time; however, the smiles they will bring will be well worth it.
Resources/References: