All Saints' Day and All Souls' Day in Germany: History and Vocabulary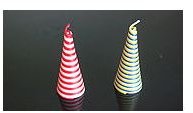 History
Both Allerheiligen (All Saints) and Allerseelen (All Souls) are religious holidays. The Catholic church knows of many saints, those that have officially been sainted and those who have not, as well as a variety of faithful Christians who have done good deeds without official recognition by the church.
The idea originated to establish a special religious holiday to honor all saints of whatever category. In 609, Pope Bonifatius IV dedicated the heathen Roman Pantheon to the Virgin Mary and all saints. All Saints was first celebrated in May. 100 years later, Pope Gregor III dedicated a chapel in the basilica of St. Peter to all saints and the date was changed to November 1. This date was finally confirmed by Pope Gregor IV and since that time, All Saints is celebrated on the first day of November.
A day later, the Roman Catholic church remembers the poor souls in purgatory, which is called Allerseelen (all souls). Allerheilgen is a public bank holiday in the German Bundeländern with predominantly Catholic populations like Bavaria.
Traditions in Germany
Allerheiligen is what is know as a silent holiday, which means that no dancing or loud music is allowed in public places. Allerseelen is celebrated by lighting candles in the churchyards, and often this custom starts on the afternoon or evening of Allerheiligen. A special form of candle known as "Newweling" is used in Mainz.
Another custom is the preparation and consumption of a pastry, called Hefezopf. It's more bread than pastry, as it is not sweet, but a dough made of yeast and formed in the shape of a twist. In some parts of Germany it's a traditional gift on Allerheiligen from godparents to their godchildren.
Vocabulary
Allerheiligen – all saints
Allerseelen – all souls, or faithful departed
Candle- Kerze (f)
Church – Kirche (f)
Cemetery – Friedhof (m)
Grave – Grab 8n)
To go to mess – zur Messe gehen
Pope – Papst (m)
Holy – heilig
Sacred – Gott geweiht
Catholic – katholisch
Bundesland – Part of the Federal Republic of Germany, state
Godfather – Pate (m)
Godchild – Patenkind (n)
Twist – Zopf (m)
Yeast – Hefe (f)
To adorne – schmücken
Silent holiday – stiller Feiertag (m)
Public holiday – gesetzlicher Feiertag (m)
Soul – Seele (f)
Purgatory – Fegefeuer (n)
Saint – Heiliger (m)
Virgin Mary – Jungfrau Maria
To celebrate – feiern
Custom – Brauch (m)
Celebration – Feier (f)
Tradition – Tradition (f)
To dedicate – weihen
Heathen – heidnisch
Heaven – Himmel (m)
Hell – Hölle (f)
Angel – Engel (m)
Chapel – Kapelle (f)
Basilica – Dom (m)