Free Welsh Online Language Learning Course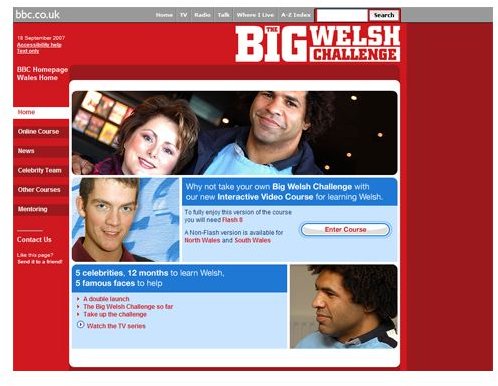 What Is Welsh?
Welsh is a language that stems from the Brythonic branch of Celtic languages. The language is native to Wales on the main island of Britain, but there are modern Welsh speakers residing in the whole of Great Britain, Australia, New Zealand, Canada and the United States.
For more information on other Celtic family languages, see The Difference Between Gaelic, Goidelic, and Gaeilge and An Introduction to Scots Gaelic.
Learning Welsh in an Interactive Way
The language can be a confusing one in the beginning stages of learning. Usage of the letters Y and W dominate many words in the vocabulary. Overall, once one becomes accustomed to speaking words in Welsh, the writing and reading comprehension on the language becomes easier. Welsh is a language best learned through sound recognition, and luckily there are a variety of free online Welsh programs that can help you get started.
Here we are going to take a look at the best free program available online when it comes to learning Welsh. The BBC has created an interactive language learning tool through their The Big Welsh Challenge program. The program offered is all based on an interactive video course that takes new learners of the Welsh language on an easy to understand journey of basic words, meanings and practice pronunciations.
Within the challenge there are eleven interactive courses broken up by category, each with the option of choosing North Wales or South Wales. The categories start with How's Your Welsh?, Complete Beginners and pick up in learning with Everyday Welsh, Welsh at Home and Welsh in the Workplace. The start of the program in How's Your Welsh? offers a quiz to those new to the language and those who are intermediate in Welsh. You'll answer a series of questions that will choose which course would be the best one to start with on. The majority of people who take the How's Your Welsh? Quiz are directed to begin their study with the courses listed in Complete Beginners.
Under the Complete Beginners section, there are three courses available: Colin & Cumberland, Living in Wales and The Lloyds. In Colin & Cumberland, new Welsh language learners are guided by cartoon characters through a series of games, shows, reference items, chat and pocket print outs to learn beginning Welsh on the go. In Colin's Little Black Book reference they break down each episode into language lessons with audio. Example lessons from Colin & Cumberland look like the following:
English - Welsh (Southern)
Hello - Helo
How Are You? - Sut mae?
How Are You? - Sut wyt ti?
Within the main video interactive section, Welsh language learners have a variety of options to choose from. There are English subtitles, Welsh subtitles, translation and word reference. For more information on the BBC's free online Welsh language learning program visit The Big Welsh Challenge through the the BBC main web site. It even offers free language mentoring to help you get conversational in Welsh.
Image provided by and owned by the BBC © MMX