Learn How to Celebrate Mother's Day in German: Muttertag and Other Vocabulary for Mother's Day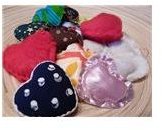 Be Prepared to Honor Your Mother
Muttertag or Mother's Day is celebrated in Germany on the second Sunday of May. Although Mother's Day is commemorated in many countries around the world, the dates vary. Spain celebrates Mother's Day on the first Sunday in May, Mexico always on the 10th of May and Argentine in October.
Words and phrases
Die Mutter - mother
Die Kinder - children
Die Liebe - love
Die Blume - flower
Der Blumenstrauss - bunch of flowers
Ich hab dich lieb - I love you
Das Herz - heart
Das Gefuehl - sentiment
Der Kuss - kiss
Die Umarmung - hug
Das Gedicht - poem
Das Geschenk - gift
Der Sonntag - Sunday
Der Mai - May
Der Feiertag - bank holiday
Die Feier - celebration
Das Fruehstueck - breakfast
im Bett - in bed
Brief History
Although the ancient Greeks and Romans already dedicated gods and festivities to mothers, Mother's Day as we celebrate it today originated in the 20th century and, more generally, the women's movements in America and England. The 'founder' of Mother's Day is Anna Jarvis of Philadelphia. On May 9, 1907, she attended a memorial service for the second anniversary of the passing away of her mother and, on leaving church, distributed 500 white carnations to other mothers. The next year, the tradition continued and a special service was held in honor of all mothers. The tradition caught on and resulted in today's various Mother's Day celebrations in the month of May.
Muttertagsbraeuche
Die Muttertagsbraeuche - Mother's Day customs
It's the children who honor and give thanks to their moms with good behavior, pampering, flowers, cards and gifts.
Die Muttertagskarte - gift card
Gutes Benehmen - good behavior
Verwoehnen - pamper
Die Nelke - carnation
Die Muttertagsblume - Mother's Day flower
In memory of Anna Jarvis, the traditional flower in Germany is the carnation. White carnations are reserved for dead mothers, the living ones receive red carnations and of course a big bunch of any other spring flowers and roses.
Weiss - white
Rot - red
Die Rose - rose
Fruehlingsstrauss - spring bouquet
Breakfast in bed is another Mother's Day treat. In Germany, Mother's Day is very much a family day. At the beginning of May, the weather is warming up and the day is often used for excursions.
Das Wetter - weather
Die Sonne - sun
Der Ausflug - excursion
Der Spaziergang - walk
Der Park - park
As it is a Sunday, Muttertagsgottesdienste are often held and attended.
Der Gottesdienst - church service
Zur Kirche gehen - attending church
A poem
No Mother's Day is complete without a poem. There is a rich choice of Muttertagsgedichte, from the classics to modern. Enjoy a very
short one which, nevertheless, says it all.
Was soll ich Dir sagen?
What shall I say?
Ein langes Gedicht?
A long poem?
Ich hab Dich lieb
I love you
mehr weiss ich nicht
and that's all I know.
Frohen Muttertag
Happy Mother's Day.