History
The Velveteen Rabbit is a children's picture book that was written way back in the 1920s but is still as popular today as when it was first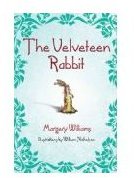 written. Generations of children have responded to the simple and subtle illustrations and touching storyline. Many a parent too, has found themselves thinking back to their own childhood favorite toys and the importance of a special toy to a child.
The book is easy to read and understand for young children, as it has a simple storyline and only two key characters (the boy and the rabbit). The story follows the journey of the rabbit as he learns what it means to be 'real' and there for his little boy when he needs him most. As readers, we feel the anguish of the rabbit as he is nearly thrown out because he has been contaminated by germs when the boy is ill. Then we share his joy as he is made real and goes to live with the real rabbits in the woods.
Before you read with your child, you could even test your own memory with this Velveteen Rabbit quiz!
Shared Reading
One of the simplest and best ways of your child learning from The Velveteen Rabbit is to simply share the story with them. It is an easy read for an adult, even if you are not a fluent or confident reader. It helps if you let your child hear from your voice that you are engaged with the story yourself, and that you really believe for a moment that the rabbit is real.
Talk about the storyline, and discuss any parts that may have been confusing for your child. Some children enjoy little 'story catch-ups' while they are reading. Perhaps you can share a comment at the end of each page or two about what you have just read, or explain any tricky words as you go along.
Fun Learning Activities
Here are some other Velveteen Rabbit activities that you could try at home:
Line up some special soft toys at home so they can share in the reading of the story.
Choose a special toy and create a short, non-scripted play about an adventure that the toy goes on when they leave the playroom or bedroom.
Share some learning about rabbits: where they live, what they eat, how they behave, why they are considered a pest in some areas, how they can be kept as pets, where else or when we talk about rabbits (such as times of year like Easter).
Make a water color or pastel illustration in a similar style to The Velveteen Rabbit, and hang it on the wall.
Choose a favorite toy to use as a model for a 'toy portrait' done by your child.
With a slightly older child, do some research online or in the library about the author of the book, and find out some interesting facts about her and her writing (for more detail on The Velveteen Rabbit, try this article about using the book in schools at elementary level)
Choose a favorite place that you and your child like to visit together and make a list of reasons or draw a picture together to show why this place is special
Choose some challenging words from the book and practice writing them out on a sheet of colored paper
Re-Reading
A great way of supporting the Velveteen Rabbit activities you have shared with your child while enhancing his or her learning and language and reading development is to simply re-read the story a number of times. It is such an easy book to read that I'm sure you won't find it a bother to re-read it (again, and again, and again…)