Teaching Feelings to Children with Autism

Channeling Feelings is Key
The autistic child does not lack feelings, but does have difficulty in verbally expressing them. When teaching feelings to autistic children, educators must first polish their own communication skills and be open to new avenues of instruction. Here we share specific ideas and methods from experts which work for both educators and parents.
In Elaine Hall's book, Now I See the Moon, and in her upcoming book, Seven Keys to Unlock Autism, the nationally renowned author, speaker, and founder of The Miracle Project Theater provides amazing insight into teaching feelings to autistic children - specifically, how to express them. As the mother of a teenage son with autism, she continues to experience firsthand the phenomenal results creative techniques accomplish.
In teaching feelings to autistic children using music, art and drama, children can productively channel frustrations and help express locked away emotions. With her theory that "behavior is all communication," Ms. Hall earned the title "The Child Whisperer" in a recent N.Y Times article. When many traditional methods failed to help her non-verbal autistic son relate to his surroundings, she garnered a field of professional singers, dancers and actors who used their expertise to devise ways to reach these and other special needs children. Their work, under her direction, resulted in the HBO Documentary, "Autism:The Musical," which is showcased more fully at www.themiracleproject.com.
Practice Makes Progress
A child with autism can share the most isolated feelings by acting out those feelings, using sign language, hearing social stories or looking at picture stories. Art therapy also provides ways of expressing more complex issues in the life of a child with autism. Since a child with autism may actually experience hurt from loud sounds, too close eye contact, or even certain smells or tastes, it is vital to use other means of self- expression, and art, music, and drama are proving extremely productive whether in combination or individually.
In addition, the non-verbal child benefits greatly from the use of adaptive devices such as voice augmentation software, icons, iPods and the iPad. These are available in several price ranges across the country and are great supplements to creative teaching methods. Check with your child's physical or occupational therapist about the possibility of utilizing one or more of these devices. Whether an autistic child is engaged in a play production, musical, or art project, life situations (manners, respect issues, for example) are more easily understood when role-played. Practicing how to handle various everyday situations is a must. Repetition helps achieve goals and provides a comfort zone for the autistic child.
Going to the Dogs
Autistic children are also benefiting from another wonderful therapy detailed at www.eclcofnj.org. ECLC 's non-profit organizations in New Jersey are seeing amazing results with service dogs leading the way. According to Principal Vicki Lindorff at the Ho-Ho-Kus Campus, sessions with Patrina, the school's working service dog, are part of all students' prescribed physical and occupational therapy.
"Patrina is able to make a connection and breakthrough with some of our students who do not respond to other therapies," she said. "She lifts their spirits and helps motivate them to succeed!"
These dogs are trained to do specific tasks which are helpful to the child with a disability. They also do a great job assisting with posture, strength, balance development, and make movement in general less of a chore. Ms. Lindorff says that Patrina engages the student unconditionally, and without words, which in turn creates a feeling of true partnership between the child and the pet. A special needs child loves to just cuddle with these animals sometimes, and that alone can bring a child out of a lonely and dismal mood. Teaching feelings to autistic children is a rewarding experience if one knows how to utilize pet therapy, or a combination of all the other therapies, in a loving, relaxed manner.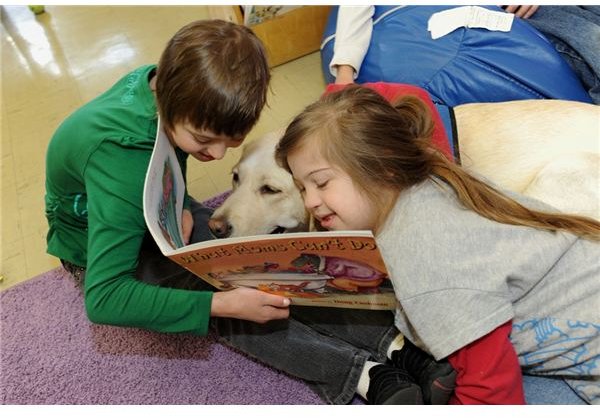 Sources
The Medill Reports, Chicago, IL "Art Therapy Creates New Hues" (article by Eleanor Perry Smith)
Elaine Hall, Ongoing UN Representative for Autism Awareness, author, film maker, and mom to an autistic child (phone interview, 11/9/10)
Vicki Lindorff, Principal, ECLC School for Special Needs, Ho-Ho-Kus, NJ
Image Sources: MorgueFile.com (Y.042a.jpg) ECLC File Photos (Lacey, Enrico & Gaby)