Use Hippotherapy to Help Develop Fine Motor Skills in Autistic Children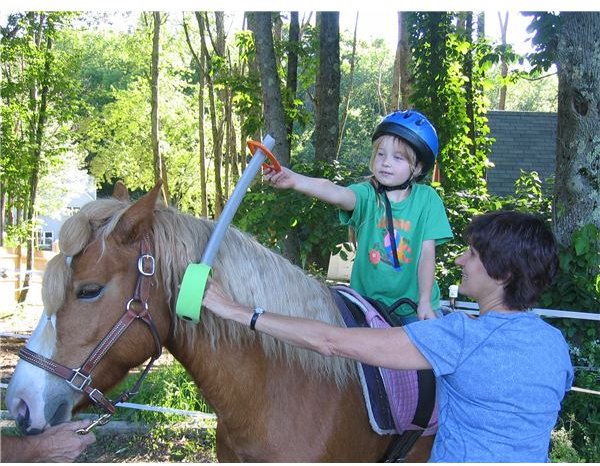 Physical and Occupational Therapists use the Horse as a Treatment Tool to Develop Motor Skills
Horses have traditionally been used as treatment tools by physical therapists with the goals of improving a child's balance, strength and coordination. This specialty area is called "Hippotherapy" and is done as a child rides or performs various motor tasks such as turning around to face backwards or kneeling while the horse is walking. Occupational therapists also do hippotherapy to work on these skills. However, therapeutic objectives may center around helping children with autism and other developmental disabilities improve sensory processing and develop fine-motor skills.
Unlike many other treatment tools, children find horses exciting and motivating, tapping into their social-emotional needs to connect. Children who typically have difficulty focusing to sit are unable to run away from fine-motor demands while on the horse. At the same time, the vestibular (balance sense) stimulation provided by the horse's movement and proprioceptive (body awareness sense) stimulation to muscles and joints as the child bounces promotes sensory integration and attention to tasks. All of these factors contribute to making the hippotherapy farm an ideal setting for teaching children who have autism or other developmental disabilities.
Hippotherapy Helps to Develop Eye-Hand Coordination and Visual Perceptual Skills
Promoting hand skills while the child is riding may be as basic as asking for high fives, pointing to indicate "go" or popping bubbles. Hand activities such as pulling the reins to stop and say hi to a parent also promote communication skills. Many children enjoy tossing balls into a basket or hoops over cones while the horse is stationary or moving depending on the child's skill level. However, tasks such as the following that require greater eye-hand coordination and visual perceptual skills can also be encouraged:
Pushing blocks through a square opening in a container lid
Finding puzzle pieces on the wall to insert into a board
Reaching for pop-it-beads hidden in the arena and then connecting them
Lacing shapes that have large holes
Ring stacks
Both the Horse and Activities Provide Sensory Stimulation that Motivates
These types of coordination tasks are most easily performed while the horse is stationary. However, children with autism often prefer to be moving and may learn best when alternating a fine-motor step (i.e. inserting the block) with the horse walking. The sensation of movement, stopping and then more movement is very alerting and integrating this routine with fine motor activities often leads to increase visual attention and motivation. Some children may be able to sequence several steps (i.e. placing 5-6 rings on the stack) when they know that they can look forward to a horse trot (fast movement) afterwards.
Like children - horses also have sensory needs and they must be introduced to and desensitized to any sensory toys that involve unusual sounds, flashing lights or vibration before the child begins the session. One such toy is called the Princess Wand. It makes a funny noise when turned on, vibrates, has flashing lights and many children love to use it as a ring stack. Hippotherapy helps children with autism develop fine-motor skills because the combination of sensory input from the horse's movement and touch and the child's motivation to perform enjoyable horse-related activities promotes sensory processing, motor planning and eye hand coordination.
Eye-Hand Coordination Activity during Hippotherapy