How Service Dogs Can Protect Autistic Children and Improve Their Quality of Life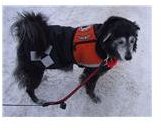 If you are like most parents of children with autism, you understand that even a simple event like eating a meal at a restaurant can
rapidly turn into a nightmare if an autistic meltdown occurs.
Chances are your freedom is more limited because, for example, a quick trip to the store to pick up a quart of milk requires pre-planning and energy, and it could still end in disaster if your child has a sensory or behavioral meltdown
Helping your child cope with daily challenges like these make it pretty easy to imagine that a well-trained autism service dog could be a definite asset. These dogs can ensure a child's safety, relieve your anxiety, provide a calming influence to minimize behavior disruptions, empower your child to enjoy a fuller life, and even help your youngster learn to give and receive affection.
Definition of "Service Animal"
The ADA's (Americans with Disabilities Act) definition of a service animal is: "Beginning on March 15, 2011, only dogs are recognized as service animals under titles II and III of the ADA. A service animal is a dog that is individually trained to do work or perform tasks for a person with a disability."1
Be aware that state and local laws for your state may have a broader definition of a service animal than the ADA. However, according to the ADA, "The ADA provides greater protection for individuals with disabilities and so it takes priority over the local or state laws or regulations."2
It's probably a good idea to check with your state attorney general's office or your local school district for specific guidelines before adding a service dog to your family. It's better to be informed about such situations upfront rather than being blindsided by them when it's time to start school or travel about with your animal.
How Service Dogs Can Help
For starters, autism service dogs may guard the safety of autistic individuals, provide an alert and intervention during seizures or behavior meltdowns, and locate the individuals by scent tracking if necessary. The organizations that train and provide these service animals can certify whether or not the dogs are ADA-compliant and provide full details of the animal's abilities.
In general, you can expect your child to be able to take his or her service dog when he or she goes to places such as schools, sports events, hotels, restaurants, theatres and concerts or retail stores.
What Are the Advantages?
The two key areas where these animals provide the biggest advantages are in safety and behavior.
They can alert a parent or caregiver to an impending crisis and intervene to stop behaviors by nudging or placing a paw on the child. The dogs provide a calming effect on these children and may reduce the occurrence of the ritualistic or repetitive behaviors and motions which many autistic children exhibit.
Because the child is tethered to the animal, parents or caregivers have more peace of mind about the child's safety. Most autistic children are well-known escape artists who can disappear in the twinkling of any eye.
As many of these children either lack verbal communication skills or refuse to use them, once they are hidden, they may or may not respond to attempts to get them to reveal their location or respond to their name. In such situations, knowing that a dog can track and find the child quickly is a great stress reliever.
In addition to the benefits mentioned above, service dogs can enable a child to develop relationships and learn to show affection, which is generally difficult for these children.
Many children are able to sleep by themselves or sleep for longer periods because of the dog's presence. They have more freedom to go more places. Aggressive behaviors such as kicking or pinching may be reduced or even eliminated, and the children begin to interact and form relationships with others.
Finally, family trips to the movies or amusement parks, which should be an enjoyable outing for everyone, can cause a traumatic sensory overload for these special needs kids. However, the calming presence of their service dog can allow these kids to better enjoy such fun family adventures.
Are There Disadvantages?
There are some definite reasons to carefully consider all the ramifications before deciding to apply for an autism service dog. For example, your child may be allergic to the dog's dander or scared of dogs. The dog's smell, saliva or fur could trigger sensory disorders for them.
Your local school district may be reluctant or even refuse to allow the dog to accompany your child to school, which means you could be facing a lengthy, expensive battle to try to win the right - which is granted under the ADA - for the child to have his or her animal with them at school.
Another possible disadvantage is that the dog and your child may not bond. If that happens, it could affect the quality of their relationship and limit the dog's potential usefulness. Even worse, the dog may bond with another family member to the detriment of the autistic's child's welfare.
There are more children than service dogs, so waiting lists can be long. Many organizations have age limitations so you may discover your child is too young or old to qualify to be considered for a placement.
Where and How to Get a Service Dog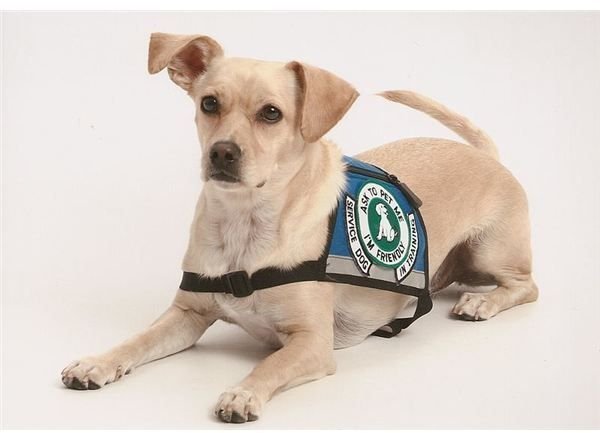 There are many organizations that specialize in training and providing service dogs for special needs kids. Two of the most well known agencies are 4 Paws For Ability and Autism Service Dogs of America.
Autism Service Dogs of America only offers one type of service animal, which is an ADA compliant autism service dog, while 4 Paws For Ability offers a wide range of service animals, which includes service dogs for autism.
According to their website, 4 Paws For Ability is the only organization that offers service dogs for autism that are trained to track the individuals, and they were the first such organization to offer this type of service animal.
Families who want a service dog do not buy the dogs because the dogs are not for sale. Rather, they make a donation to the organization. The donation amounts are specified by each individual organization and typically range from $10,000 to $20,000.
These donations help offset the tremendous costs that these organizations incur in breeding, training, socializing and otherwise preparing these dogs for a life of service. Families raise the necessary funds in many different ways depending on their individual circumstances, but some typical methods include: community grants, fundraising, loans or donations from friends and family.
Families will need to go through the providing agency's application process and comply with all their requirements. While specifics vary according to the placing agency, families can expect to receive an ADA compliant animal as well as training. The specific amount of training provided would be one of the variables that depend on the organization from which the dog is obtained.
Are You Willing to Make a Lifelong Commitment?
Dogs, like children, are a lifetime commitment. This is not a type of therapy or intervention that can be stopped and started at will, and you can't simply give the dog away if you find it does not fit into your lifestyle or you tire of it.
The expense of owning a service dog does not stop with the initial donation. These animals will require food, housing and veterinarian care for the rest of their lives.
When and if they are no longer able to work and assist your child, they will still require care. They cannot, nor should they be, cast aside simply because they are no longer useful to your family.
While there are definite benefits of service dogs for autistic children, the decision to obtain such an animal is ultimately a personal one. Families should consider the pros and cons for their child and weigh the financial and emotional costs.
Would You Consider Getting a Service Dog for Your Child With Autism?
I'm the parent of an autistic child myself, and our interest in applying for one of these animals was the impetus for writing this article. However, what we ultimately discovered was that adding a service dog to our family was not actually in the best interests of our child at this point in his life. Like most parents, we will be evaluating and assessing the situation periodically to see if our decision is still valid.
I'd love to hear from others who are considering this avenue or success stories from those who have service dogs already. Please share your thoughts in the comments section below - I'll be waiting to hear from you!
References
1 - U.S. Department of Justice, Civil Rights Division, Disability Rights Section, "ADA Revised Requirements: Service Animals."
2 - U.S. Department of Justice, Civil Rights Division, Disability Rights Section, "Commonly Asked Questions About Service Animals in Places of Business."
Autism Service Dogs of America (ASDA).
Grandin, Temple, "Service Dogs and Autism." The Autism Education Site.
Albers, Katherine, "Judge: Autistic Student's Service Dog Unnecessary at School," The Naples Daily News.
Image Credits
Image: Suzi Q the Service Dog by Truehistoryjvba under CC BY SA 3.0
Image: A psychiatric service dog in training by Crjs452 under CC BY SA 3.0