Types of Social Interventions for Special Ed Children and Teens: Help With Social Skills Training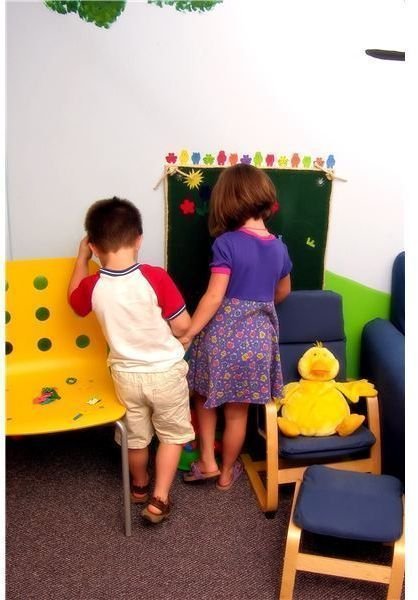 When Social Interventions Are Needed
Students who have behavioral disorders such as Asperger's syndrome, autism, and Attention Deficit Hyperactivity Disorder commonly struggle with social conventions in regard to both peers and adults. These children need professional support and guidance in understanding and responding to social cues, engaging in appropriate conversations, and respecting physical and emotional boundaries in all types of social situations. Social intervention services and activities are designed to help young children and teens strengthen their communication skills. These social interventions for special ed students may be offered in a group setting, in the home and community, and in a one-to-one setting with a neurotypical peer.
Social Skills Groups
Social skills groups, led by a trained therapist, allow kids with deficits such as conduct disorder, social anxiety, and impulsiveness to work as a group in acquiring positive communication skills. When enrolled in a social skills group, a person typically participates in:
• group discussions and role-play exercises. The therapist evaluates each group member as he or she interacts with others and acts out various "roles" in mock social situations.
• learning techniques for managing anger and coping with conflict. Working as a group, kids learn to recognize, properly process, and resolve behaviors such as outbursts and aggressive reactions to conflicts with others.
• learning new ways to express feelings and cultivate friendships. Social skills groups serve as a "practice setting" for socially impaired children and teens to make new friends, sustain healthy friendships, and process their emotions and feelings.
Wraparound Services
Wraparound services, often provided through institutes for people with special needs, are individualized social interventions that involve a therapeutic staff support (TSS) worker assisting a child in both the home and community environment. Referred to as "wraparound" because it extends beyond support in a school setting, this type of service is beneficial for kids with social problems who:
• struggle with behavior and communication within the family dynamic. A TSS worker will help both the child and members of the child's family to find effective strategies in handling conflicts and establishing productive relationships.
• need assistance with socializing in public settings. The worker will accompany the child and the family on social outings in the community, such as trips to a restaurant, a park, or the library. The child's strengths and weaknesses in regard to public social behavior are assessed and specific techniques for improvement are then determined.
One-On-One Peer Communication
Children with social deficits may also respond well to engaging in one-on-one activities with a classmate who is not impaired in communication skills. Typically overseen by a special education teacher, an aide, or a school guidance counselor, these peer-to-peer exercises encourage the child in need of social intervention to "model" appropriate behaviors. The child may wish to ask a friend of his or her choice to participate, or a teacher may ask for volunteers.
Some examples of two-way communication activities include:
• playing board games. Through playing games such as Connect Four and Candy Land (for younger kids) or checkers and Scrabble (for older kids), students can develop social skills such as taking turns and dealing graciously with winning and losing.
• working together on a craft or project. When working with a partner to design a poster or make an art project, a student learns to listen to another person's ideas, share materials, and collaborate as a team.
• conversing back and forth. Kids can improve their conversational skills by chatting with a classmate about interests, family life, and school. An adult can help by naming a certain topic and asking both kids to look directly at one another and take turns discussing the topic. (Ex.: "Do you have a dog, Johnny?" "Yes, Suzie, I have a black dog named Midnight. Do you have a dog?")
Establishing Social Interventions
Families who are interested in arranging social interventions for special ed students can discuss accommodation options with their public school IEP team or contact private therapists or behavioral centers. Though some children and teenagers with communication deficits may improve to a higher degree than others, social skills training in the home, at school, or in a therapy group provides many individuals with the assistance needed to maintain positive friendships and relationships into adulthood.
References
https://www.ashleypsychology.com/social-skills-group.html
https://www.thewatsoninstitute.org/services.jsp?pageId=0690200091781082058914004
https://butte.networkofcare.org/mh/library/detail.cfm?id=446&cat=40
Photo Credit