Special Needs Sewing Projects: Ideas for the Classroom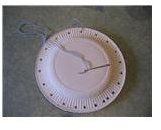 What You Will Need
For this special needs sewing project, each student will need the following equipment:
Two plain white paper plates (with a mat finish is best, as they can then be painted or decorated more easily)
A bodkin needle (split through the center along the horizontal with a large hole for inserting the thread, and with a rounded end to prevent injury)
Lengths of wool (pre-cut them so your students can remain on task rather than having to stop one task to cut their wool to length each time they need another piece)
Art supplies for decorating their finished plate
What to Do
The teacher will need to pre-punch holes around the outside of each pair of plates. It works best if you use a paper clip or staple on
each side of the plates (ie. one at about 3 o'clock and one at 9 o'clock) to hold the plates in place once the holes are made, otherwise some students may struggle to keep the holes lined up.
Thread the wool onto the bodkin needle and double it over with a knot at the end so it cannot come undone during threading.
Students thread the wool through the holes to 'sew' the two plates together. They may like to experiment with their technique–they could pass the wool around the edges of the plate, or use a straight 'in and out' stitch.
When they are finished, use a separate piece of wool to create a small holding loop at the top of the plate so it can be hung on a doorway, on a Christmas tree or in a window as a display.
To finish off the plates, have students use colored paints, glitter, colored paper off-cuts, stickers or other art materials to decorate the plates. Remember to do both sides, especially for plates that will be hung in a window! To create a Christmas gift, use reds, greens and some glitter or Christmas stickers to make a large-scale hanging bauble ornament to put on the tree.
Creative Technology
Technology does not have to mean using computers or scientific equipment. Technology can be about simple, everyday tasks and activities and the items we use to help us perform them. Introducing students to a needle-and-thread task in a safe, enjoyable and creative project such as this one shows them how technology applies to all aspects of their life.
This activity can be extended or modified to suit student needs:
Introduce choice-making through choice of colors for decoration, wool textures and colors, where to display their plate, and how to give it to someone, if it is a gift
Using physical support from a teacher's aide to guide physical movement and encourage independent hand function
Asking the student to perform one part of the threading task while an aide does the rest (if the student completes the last stage, this gives them pride for doing the most important part)
Introducing other types of needles as a student is ready to manage them, or asking a student to thread their own needle
Not doubling over the wool so a student needs to tie a knot at the end and manage to not pull the wool right through the holes
Showing a student how to punch their own holes using the hole punch (and so introducing another piece of technology from everyday life)
Do you have an idea for a special needs sewing project? If so, your comments and suggestions are always encouraged.