Everyday Literacy: Resource Book to Teach Literacy to Students With Learning Disabilities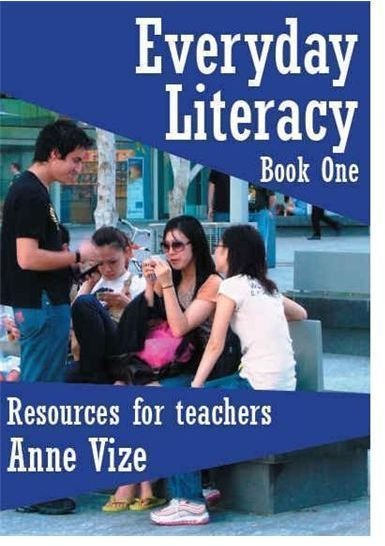 New Literacy Teaching Books
Many teachers come across students who have learning disabilities in the classroom, sometimes without even realising it. They may be given a formal diagnosis and information on optimal ways of teaching a student with a particular learning disability, or they may simply observe that a student is struggling more than their peers with various aspects of learning such as decoding, retaining information, short and long term memory, handwriting or keyboarding on the computer, applying information or focusing and concentrating. Often these students benefit from tailored programs for literacy development to help reinforce the basic information which may have been missed in the primary years of schooling.
Who Are These Books For?
This set of two literacy teaching books for teaching adolescent literacy has been written for students who:
have learnt English as a second or additional language
have missed critical periods of their schooling
have an intellectual, reading or learning disability
have struggled with their literacy skill development
have a reading problem such as dyslexia
are struggling adolescent readers who have not been formally diagnosed as having a reading problem
The books have been written to suit teachers of adolescent literacy, but using literacy skill levels which are set at around the upper primary level. The focus of these literacy teaching books is on providing practical, life skills oriented literacy activities and structured literacy lessons that can be done individually, in small groups or as a whole class activity.
Book Sections
Sections included in the books are:
Book 1 -
Shopping
Public Transport
Feelings and Emotions
Personal Communication
Personal Safety
Book 2 -
Healthy Living
Living for Tomorrow
Cooking
Using Forms
In Australia, the books have been popular with Special Education teachers teaching struggling adolescent readers in mainstream schools, as well as in community and vocational education settings.
The books are published by Phoenix Education.
The Advantages
The advantages of using literacy teaching books such as Everyday Literacy to teach struggling adolescent readers are:
it promotes the ability of the teacher of adolescent literacy to adapt the teaching program easily to suit the needs of individual students
the focus of the literacy lesson plans is on practical, life skills activities which relate closely to the everyday life of many teenagers
the use of language and visual images in many of the literacy activities and literacy worksheets is designed to appeal to a teenage audience
the inclusion of easy to use sidebars to order the pages, makes it easy for a teacher working in the classroom with struggling adolescent readers to locate the required page
the use of photocopiable literacy worksheets so teachers can reproduce a worksheet as part of their literacy lesson plans or literacy activities quickly and easily
Some Considerations
Some of the language and examples in the literacy lessons and literacy activities used in the book may be challenging for an American audience, as they have been written initially for Australian students. However, this is likely to be limited only to sections such as 'Public Transport' where the types of transport available and the examples may not be as relevant to American students.
Most sections could be easily used with an international adolescent literacy teaching audience, as the focus is on providing literacy activities and literacy lessons which cover general skill areas such as communication, sustainability, shopping, and feelings and emotions. As most teachers are quite capable of a few quick adaptations, in general these books are highly suitable for teaching students with learning disabilities in the classroom, particularly at the junior to middle secondary level.