Preparing for a Title I Reading Program Audit from the Beginning of the School Year: The Legal Issues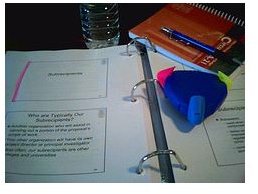 What You Need
The important thing to remember about the Title I reading program is that different states may have different requirements, so you need to check with your administrator and the department of education in your state to make sure you are saving and organizing the proper information for Title I funds from the beginning of the school year.
But in most states, you will need. . .
A scoring guide to show how you rated students that were the most at-risk. As you know, you can not just pick and choose who is in the Title I reading program. As a Title I teacher, you have to serve the students with the highest need first. In the beginning of the school year, you should have had a scoring guide, which you filled out for each student, where they received points for low reading test scores, reading below grade level, free and reduced lunch qualification, poor attendance, and so on. Each student has to be "graded" on the same categories. The auditor wants to see the process you used to find the most at-risk students for your Title I program.
Parent permission slips Parents need to give their permission for their child to take part in the Title I reading program at the beginning of the school year. Some parents may not want their child to be pulled-out of the regular classroom. You need to save all the permission slips that show parents are willing for you to serve their children in the program. Always remember the legal issues in an audit process.
Home-school communication During the Title I audit, the auditor will want to see if you had any family reading nights from the beginning of the school year to the end or sent home an informational newsletter for parents about helping their child to read or tips on completing math homework. Any notes you send home to students in the Title I reading program should be saved.
Your Title I Schedule How is your time accounted for in your Title I Reading Program? The auditor will want to know. When are you serving your students? Where are you serving them? If Title I funds are in your school, then you need to account for your time and show how many minutes you are working with students each week. Short lesson plans can also be included to show accountability.
Organizing Your Information
An auditor is busy and does a lot of work to complete a school district's audit. Make it easy for him/her to audit your Title I reading program. You can organize all this information in three-ring binders or in separate file folders from the beginning of the school year. For example, in one three-ring binder, you could have the scoring guide information with each student's score and the parent permission slips, so the auditor can easily match the children's names in the program to their permission slips. In the other three-ring binder, you could show your schedule, short lesson plans, and any home-school communication information. Make sure to label your binders or folders with your name, your school's name, and the year of the program. It is important to account for Title I funds, and this is not difficult if you keep organized notes throughout the year.