Behavioral Outbursts: Intervention Strategies For Special Education Classroom Staff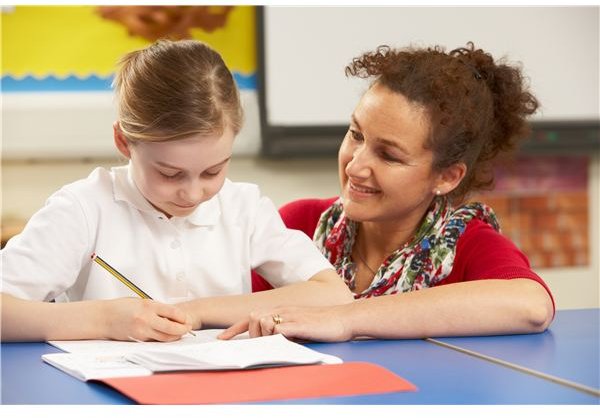 How Do You Know?
Occasionally, special education teachers, paraprofessionals, and other staff members need to intervene when a child is exhibiting
disruptive behaviors. Several intervention strategies for special education classrooms can keep the upset child and all other members of the group on task and safe from potential harm.
Children who are on the verge of displaying behavior that requires adult intervention will often show some warning signs of increased anxiety and agitation. Teachers can watch for early indicators of physical or emotional outbursts such as:
Inability to "move on" from a certain topic that causes frustration (eg: a child may be upset about having to stop an activity that he or she enjoys).

Irritable or tense facial expressions and flushed skin.

Inappropriate verbal language directed toward teachers or other children.

Signs of escalating anxiety (repeating phrases, biting nails, inability to sit still).
When paying attention to these types of behaviors, teachers will have a better chance of successfully intervening on a child's behalf and preventing more severe issues such as outward physical aggression and threatening or abusive language.
Here's What You Can Do
Behavioral interventions can be performed in several ways. Depending on the circumstances of a particular situation, teachers can help to soothe and redirect a child using one of the following methods:
Giving the child an opportunity to remove himself or herself from a problematic situation. A paraprofessional or student teacher may accompany the child on a brief walk through the school halls or on a classroom errand. This type of intervention can help a child "cool down" before resuming regular activities.

Sending the child to a quiet space located inside the classroom but apart from other students (such as a beanbag chair or pop-up tent).

Talking one on one with the child in an attempt to discern the problem and offer potential solutions.

Taking the child to speak privately with a school counselor or administrator.
Proactive Intervention Methods
Special education teachers and staff can also be proactive in assisting children who tend to exhibit emotional or behavioral problems. These strategies, which promote and encourage positive behavior, can be used on a continual basis in the classroom:
Allowing the child to "self-manage" behaviors by creating a chart that measures daily academic performance and social interactions. Children can place stickers or smiley faces on their charts when exhibiting positive behavior.

Offering the child concrete choices in regard to completing tasks or engaging in activities (eg: "You can complete this math worksheet now or during free time this afternoon.")

Integrating a child's "preferred activities" into social interactions or classroom assignments (eg: a child who enjoys collecting coins can have the opportunity to show them to the other children or to use them in math activities).
Intervention strategies for special education classroom members can be adjusted according to the individual needs of each child. In order for these strategies to be effective, teachers and other personnel need to be consistent with regard to facilitating behavioral interventions.
References