A Lesson and Activities for Spanish Vocabulary About Professions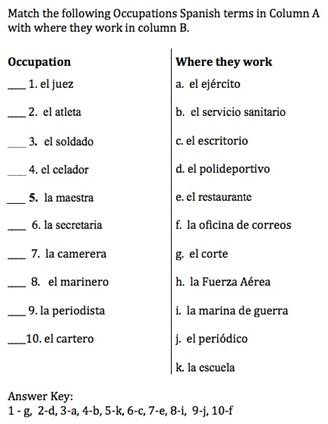 People and What They Do
Let's start with three lists: the professionals in the world around us, the things associated with them, and the places where they work. The lists are followed by suggested activities, and there's a quiz you can click on, print, and distribute to your students.
List 1 - Spanish Vocabulary for professions
airman - aviador(-ora)
athlete - el atleta
bank teller - cajero(-era)
banker - banquero (-era)
barber - barbero(-ra)
bus driver - el chófer
businessman - el hombre de negocios
doctor - doctor(-ora)
janitor - celador(-ora)
judge - el juez
lawyer - abogado(-a)
mailman - cartero(-era)
movie star - el (la) cinesta
painter - el pintor
plumber - plomero (-era)
policeman- el policia
professor - profsor(-a)
reporter - el (la) periodista
sailor - el marinero
secretary - la secretaria
soldier - el soldado
taxi driver - el taxista
teacher - maestro(-a)
waiter - el mesero
waitress - la camerera
List 2 - Terms Associated with List 1
airplane - el aeroplano
automatic teller machine - el cajero automática
bank account - la cuenta bancaria
brooms and mops - las escobas y las aljofifas
bus stop - la parada del autobús
client - el cliente, la clienta
college student- universitario(-a)
criminals - los criminals
fare - la tarifa
film - la pelicula
food - la comida
haircut - el corte de pelo
health - la salud
mail - _el correo
_
menu - el menú
news - las noticias
paintbrush - la brocha
plumbing - la plomería
private enterprise - la iniciativa privada
sea - el mar
shorthand writing - la estenografía
sports fan - el (la)deportista
student - el (la) estudiante
trial - el jucio
war - la guerra
List 3 - Where They Work
air force - la Fuerza Aérea
army - el ejército
bank - el banco
barbershop - la peluquería
bathroom - el cuarto de baño
behind the bank counter - atrás del mostrador del banco
buildings - los edificios
bus station - l_**a estación del autobús**_
café - el café
cleaning service - el servicio sanitario
court (of law) - el corte
courtroom - el tribunal
desk - el escritorio
hospital - el hospital
movies - el cine
navy - la marina de guerra
newspaper - el periódico
office - la oficina
police station - la comisaría
post office - la oficina de correos
restaurant - el restaurante
school - la escuela
sports arena - el polideportivo
taxicab - el taxi
university - la universidad
Suggested Classroom Activities
This list provides an opportunity for students to apply their own imagination and input. Poll the class and see if they can come up with at least five more professions, associated words and "where they work." Students who suggest new terms should be prepared to use a Spanish dictionary and write the list on the board.
This list can be used in the exercises suggested in the Bright Hub articles on Spanish medical vocabulary building (Parts 1 and 2). Specifically:
♦ Dividing the class into three groups, having the students circulate and confer with other students, and completing the worksheet. (See the suggested classroom activities where you can click on an image and download it as a worksheet).
♦ Pairing off the students, assigning an approriate number of terms from list 1, and asking the students to compose sentences using terms from each list. (See the suggested classroom activities for additional information and examples.)
Consider adding a vocabulary matching quiz (based on these terms) to a regularly scheduled quiz. (See the suggested matching quiz below.)
Download this quiz as an example
Downloadable Vocabulary Sheet
A downloadable version of the occupational vocabulary in this article is available at Spanish Vocabulary for Professions.
More Specialized Spanish Vocabulary is available at:
Intro2Spanish.com Vocabulary Lists
Learn Spanish - The vocabulary of jobs and professions in English and Spanish